The 5 Best Free Antivirus Software Programs for Windows
Software
The 5 Best Free Antivirus Software Programs for Windows
Everyone that has a computer knows that you need some type of protection on the computer to prevent viruses and malware. A virus or malware attack can shut your computer down and cause the blue screen of death. You need to protect your computer and information from an attack. You do not need to spend a penny for computer protection. There are great free programs you can use. Here is a list of the 5 best free antivirus software programs available. Any one of these free programs will protect your computer as well as the paid programs.
AVG Antivirus Free 2013
One of the best free antivirus software programs available is AVG Antivirus Free 2013. It has full antivirus protection, automatic background updating, and premium level features. The program will detect and stop all viruses, malware, and threats before they can harm your computer. By stopping and removing threats, the program keeps your computer running smoothly. You get 24/ free phone support with the free program download. The free program is not the same as the free trial of the paid version. When downloading the program, make sure you choose the free version instead of the free 30-day trial.
Features:
Easy to download and install
Easy to use
Automatic updates
Protection from malware and viruses
Antivirus and antispyware engines
Linkscanner
Email scanner
Compatible with Windows 2000/XP/Vista/7/8
Free phone support
Ad-Aware Free Antivirus+ 10.5
One free antivirus program is Ad-Aware Free Antivirus+ 10.5 for personal use. The program gives you real time protection against malware. It offers rootkit protection and protects against a virus attack. When you scan your computer, the program will find any threats. You have the option to ignore, quarantine, or get rid of the threats. You are able to see a summary of the scan before deciding what to do with threats that were detected. It has a system restore point. The track cleaning tool is used to clean cookies, history, cache, and browsers.
Features:
Easy to install
Easy to use
Choice of three scans
Free auto updating
Track cleaning tool
System restore point
Compatible with Windows XP/Vista/7
Bitdefender Antivirus Free Edition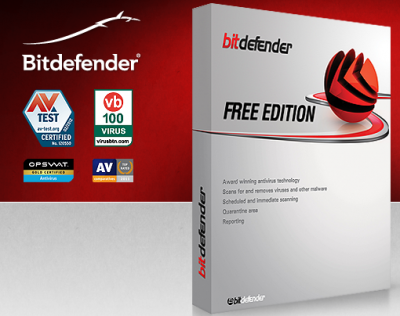 When you download Bitdefender Antivirus Free Edition, it quietly does its job and does not intrude on your computer or slow it down. The program has proprietary technology that provides maximum protection against threats. It will automatically run a scan on your system when it boots up to detect any threats. You will not be bothered with unnecessary messages from the program. The real-time shield protects your computer from threats that come from the outside.
Features:
Easy to install
Easy to use
Automatic scans
Real-time shield
Intrusion detection system
HTTP scanning
Active virus control
Anti-rootkit
Compatible with Windows XP/Vista/7/8
Microsoft Security Essentials

The free download of Microsoft Security Essentials  is for use on Windows based computers. It will give you peace of mind in knowing that your computer is being protected at all times. The program protects against viruses, malicious software, and spyware. It runs in the background and does not interfere with your computer in any way. The program has an indicator that will let you know if you are protected. Green means you are protected and red means you are not protected and need to run a scan.
Features:
Easy to install
Easy to use
Resident protection
Automatic and regular updates
Scheduled scans
Compatible with Windows XP/Vista/7/8
Comodo Internet Security Antivirus

Another excellent free program is Comodo Internet Security Antivirus that has advanced features to protect your system fully. It combines antivirus and firewall to stop threats from getting into the system. The program scans hidden registry keys and detects threats from viruses and spyware and it will block all malware. You can scan easily with the one-click virus scanning. Safe files and applications are easy for the antivirus program to identify with the Default Deny Protection. The Comodo Antivirus is compatible with Windows but also has a version for Mac and Linux users.
Features:
Easy to install
Easy to use
Cloud-aware security
Secures connections
Malicious website filtering
Game mode
Anti-rootkit
Bot protection
Default deny protection
Improves computer performance and efficiency
Compatible with Windows XP/Vista/7/8
With some of the best free antivirus software programs available, you will never need to pay to protect your system. Any of the five free programs listed will protect your computer from threats. The programs hold their own against any of the programs you would pay for.  They protect just as well and have the important features that you need to keep your computer safe. The biggest difference in the programs is that they are free and the others are not.