Up Close and Personal with Stellar Phoenix Photo Recovery 5
Software
Up Close and Personal with Stellar Phoenix Photo Recovery 5

One of the most horrifying moments is when you pick up an old memory card, expecting to view photographs of your favorite family pets, vacation or children, and finding out that, for one reason or another, the photos are no longer there. Those types of precious memories cannot be replaced, so losing them can be devastating. But there is hope, according to Stellar Phoenix, the developer of Photo Recovery 5.
What does Photo Recovery 5 Do?
The photo recovery software is intended to be a "rescue service" to get your photographs back safely in the event of data loss. According to the developer it can be used to restore not only photographs, but music and video files as well. The software works on removeable memory cards, USB flash drives and hard drives alike, making Photo Recovery 5 an all in one data recovery software for the media aficionado. Touted by the company as a professional photo recovery tool, the software specifications claim to be able to recover lost files from any type of storage media with capacities up to 2 terabytes. Of course, we all know that software companies often make large claims, so let's take a hands on look at how it actually works in reality.
Installation and Configuration
The software is available for purchase and download from the developers website. After downloading the small (10 mb) installation package and double-clicking to install it, it only takes a couple of minutes. Once the software is installed, you're presented with the main interface.
If you have purchased the software, you should have received activation details. Simply click on the "Activate" option in the "Tools" menu, put in those details, and you're ready to start recovering your lost photos.
Recovering Deleted Media
In order to recover potentially lost media you will need to select the proper drive, whether hard drive, USB flash drive, or removable media card. To get started, simply click the gigantic button that says "Recover Photo, Audio & Video". You can't miss it, as it's the most prominent thing on the interface. After doing so, you will be presented with a list of currently attached drives.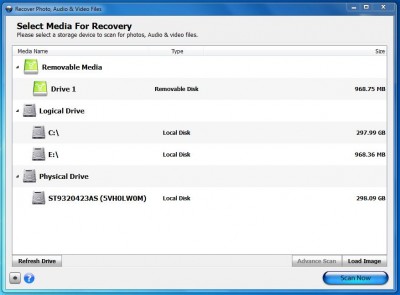 This list, at first glance, is a little bit confusing, as some drives end up listed twice. But you probably know the size of the drive that you are trying to recover from, so go ahead and select it and click the blue "Scan Now" button on the bottom right corner of the interface. Now just sit back and wait for a little bit. Since Photo Recovery 5 scans each individual sector of the media to find the missing or corrupted files, it takes a little bit of time. A 1 gigabyte SD memory card was used for this test, and the scan took about 10 minutes. While this doesn't seem too bad, keep in mind that larger drives could take much longer.
Once the software finds your files, you will have the option to select the files you wish to save. The interface offers a preview (which can be disabled in the settings if you wish) of each file. Choose the ones you wish to save by selecting the corresponding check box, then simply click the "Recover" button. Again, this will take some time, but when it's finished you should have a folder full of recovered files.
Does it Work?
When I started testing the Photo Recovery 5 software I wasn't actually expecting much out of it. Many software programs make wild claims, and many of those fail miserably. Not so with Photo Recovery 5. This software works exceptionally well. As mentioned above, I started the test with a 1 gigabyte SD memory card, onto which I had placed eight images. Imagine my surprise when, after scanning the card, the software reported that it had found 228 photos and videos, files that I hadn't even realized had previously been on the card. But were they actually recovered? Yes! Out of the 228 files reported, all but 1 file recovered flawlessly. That lone failed file was saved, but the image was corrupted. Still, though, 1 out of 228 photos is pretty great odds. But what about formatted cards? After saving the recovered files I formatted the SD memory card and tried again. Sure enough, it once again found the same 228 lost files and recovered them.
Conclusion
Overall, Photo Recovery 5 is a great piece of software. It does the job it's supposed to do, and it does it better than I even expected. The only real annoyance I found is the amount of time needed to fully recover media, but considering that the software scans each individual sector on the drive, this is understandable and, quite frankly, probably necessary. The interface is sleek and easy to understand, and is well worth the small cost. After all, how can you put a price tag on memories?