How to Spot a Scam Fashion Websites like RoseGal – What to Watch Out For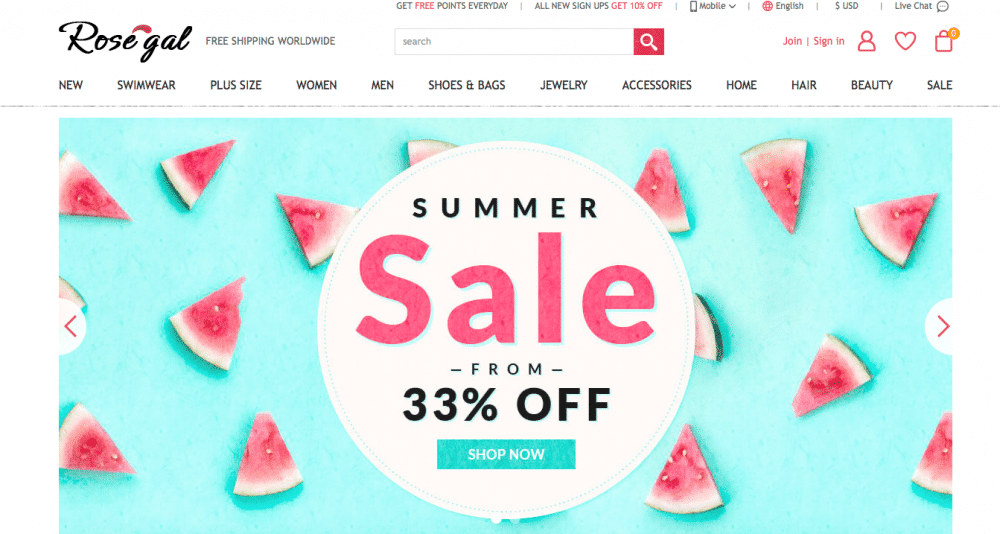 How to Spot a Scam Fashion Websites like RoseGal – What to Watch Out For
Shopping online often means navigating through sizing and pricing issues to find something that is a good deal. However, while those are difficult enough, online shoppers now have a much more serious problem to watch out for, scam sites, or those that offer clothing of such low quality that it might as well be a scam.
Fashion websites like Rosegal, BelleLily, DressLily, DealsMachine and so on are advertised on Facebook and Google, typically showing off steeply discounted products, which may tempt you into making a purchase. Unfortunately, once you click through and make the purchase, you might find that shipping takes weeks, the product looks nothing like what you ordered, or be such poor quality that it's impossible to wear or wear more than once.
These websites are well documented and typically sell products manufactured in Asian countries for the absolute minimum amount. They often stay in business because they pay for positive reviews, flooding their site with people raving about them.
So, how do you spot these websites? And how do you know when you're being scammed?
If something seems too good to be true, it probably is. Any website offering a brand new dress for under $20 is either selling very low quality or cutting corner sin other ways. In some cases, $20 will be decent quality, especially if you are buying direct from China, but it won't be anything special and it certainly won't be very good quality.
There Are a Lot of Negative Reviews
If you can look up a website and see a lot of 1-star reviews, even if there are a lot of 4 and 5 star reviews, those positive reviews may have been paid for. Take a few minutes to research web shops to see if people are talking about them and if so, what they are saying.
They're Based in China or You Can't Find Their Address
A quick search for the company should tell you where they are located and that is usually a good indicator of how quality their products will be. While some quality shops are located in China, they are the exception rather than the norm. If you don't recognize the brand name as something like H&M or Toshiba and they are based in China, they are probably selling inferior quality fashion.
Their Products Are on Ali Express
Take a few minutes and copy the title of the product you are looking at and paste it into Ali Express or eBay. You can also try different related search terms. If the product comes up, it's probably not very good quality and/or overpriced for what you are paying. Importantly, some brands are on Ali Express because a manufacturer is creating counterfeit products. This typically happens with well known brands like Anastasia Beverly Hills.
They Have Negative Comments or Prevent Comments on Social Media
Social media is almost always a good indicator of whether a website offers good quality or not and you can quickly review what they offer and how people feel about. Good indicators of low quality include:
Comments turned off
Visitor posts turned off
Negative comments on posts
Complaints on posts
A large number of negative page reviews, even next to a lot of positive reviews
You should also take the time to check websites like Trust Pilot and Site Jabber for similar comments and reviews.
Images Turn Up in Reverse Searches
A reverse image search is an easy way to verify that the product is legitimate and/or not listed on a lot of other websites. To perform one, you can simply download the image, go to Google, and search for the image there. If it comes up listed as someone else's product, the one you are looking at may be a cheap knockoff. If it's on fraud and scam sites, it's definitely a risk to buy from.
What Are Some Known Scam Fashion Websites?
There are hundreds of sites using fraudulent marketing and/or selling very poor-quality merchandise:
BelleLily
ChicMe
Cocofashion
DealsMachine
DressLily
Dresslink.com
DressWe
EricDress
 JollyChic
JollyProm
LinkShe
LuluGal
MakemeChic
ModLily
NastyDress
Oasap Pinkqueen.com
 Rosegal
RoseWholesale
RoseWe
Rotita
SheIn
SammyDress
Shopsimple.com
Suzhoudress
SportyTrends
StyleWe
Trends Gal
TB Dress
TwinkleDeals
Yesstyle.com
Zaful
Buy At Your Own Risk
Many scam fashion websites offer wearable or tolerable clothing, but they generally mark it up to more than it is worth. If you're okay with low quality clothing and want something to wear once or twice, some of the products from sites like Rosegal and SammyDress are okay. However, they are not stellar quality, vary in quality from product to product, and won't always be wearable. In this case, you can buy at your own risk.
However, if you are interested in a product, you should always check for it on sites like Ali Express, which offers lower pricing direct from Chinese manufacturers and wholesalers. The quality will be the same, but you will typically pay a great deal less for it.