Free Mac Cleaner Mac Magican Mac App Review 2017
 Free Mac Cleaner for Mac: Magican Mac App Review 2017
This review is of the free Mac cleaning software for Mac called Magican. Mac cleaning software is used for maintaining Mac computers and helping them to run at their best. There are many Mac cleaning apps that are on the market that also do the same or claim to do the same. Other similar software to Magican that are also used to clean a Mac include MacKeeper, Clean My Mac, CCleaner, Onyx and Cocktail (Click on links for a review of each). The major difference with most of these though is that the Magican Mac app is free, and most of these other Mac cleaning apps are not.
However, just because it's free doesn't mean it's the one for you, necessarily. That's why I did this Magican Review. At the end of the review I  will let you know if it's worth it to use Mac apps or if you should choose another.
Free Mac Cleaning Software for Mac Magican Review Includes:
This Mac app review is for the newest version of the free software for Mac called Magican and was updated in July 0f 2017.  Older versions received some not so great reviews, however, in the past I had also reviewed some of their more recent versions and found that most of the things complained about and / or features that users wish were added, had been taken care of since then.
As I review Magican I will also be looking for the changes that they said were made, such as a better user interface. This Magican review was done both on my MacBook Pro and on my iMac. I will note any significant differences. The Magican review will include all the major areas that matter to you for a clean Mac and that are needed in order to be included as a good running software for Mac users.
Magican Software for Mac Installation

The current Magican version of 1.4.8 (latest version as of July 2017) is what the review covers and it is available as a free Mac app download from the Magican Soft website, Magicansoft.com.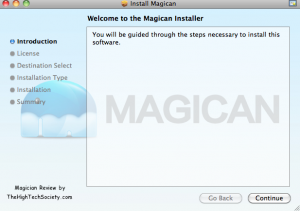 At their site they also have a lot of information if you find you would like to know more about what the software is doing during each process. There is a users guide, including step by step instructions for install. This is really not necessary though, even for the newest of Mac users.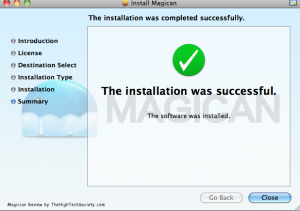 The Magican Mac app downloaded without any issue and installed easily and quickly on my iMac. It was also without issue on my MacBook Pro but it did take longer to download. This can be due though to the fact that my MacBook Pro is just slower and doesn't have the RAM and CPU that my newer iMac does.
Magican User Interface / UI
As I mentioned earlier, this newest version of Magican is said to have a better UI, meaning that it looks better and perhaps easier to use or understand. Whenever I do a review of any product I research it, including how users feel about it. I found that on the website MacUpdate.com and Softonic.com that it had pretty mixed reviews. What I also saw that is not very common for a product to do, is that Magican responded to nearly every one of the comments. They really seem to take in a lot of what is said about their product and then if it's an issue fix it, or if it was something suggested, such as a better user interface, incorporating it into their next updates.
With the newest version of Magican they have re-written the UI, and in my opinion it is much better. Some complaints were that this software for Mac looked more like software for Windows, I really don't care about that as well as it functions well, but it did bother some Mac users. I think they should be happy though with this latest Magican Mac app release as it appears to more "Mac" like.
So what you will find in this Mac app is an easy to use and understand screen. My only critique would be that I think there should be more information about each function or process. Each area is described as to what it does, for example when you are on the main "Clean" button on the left side you will see on the right a description of what the Mac app will clean. However, if you were to click below on the Duplicates or Binaries tab (for example), it really doesn't give you enough information.
Magican Mac App Features and Support 
Let me start with Magican Support. I went to the Magican Support page to see what is available. They do not have online chat or telephone support, but that is understandable since it's a free Mac app. What they do have is a feedback form, some Wiki How links and a Magican Forum. From what I have found on the internet and in their forum, their support actually works quite well this way. They are very responsive, even on other sites where they are commented about.
Magican Features
This free software for Mac is to clean a Mac mostly so it has the necessary Mac cleaning applications needed. It has several ways it cleans your Mac.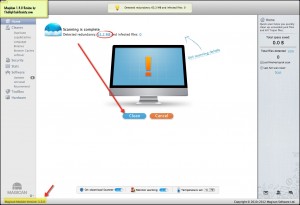 Magican Mac App Cleaning Features:
It cleans Duplicates, Web Browser Cache, Useless Binaries, Other Cache & Logs, Application Leftovers and Unused Languages.
I ran each one of these all at once by clicking on Quick Scan. It found a few GB worth of junk files on my Mac. Then you click Clean to go ahead and get rid of it. You can also click on the individual buttons to see where it found the junk files. For me it was all in Logs & Caches. When you go look in each cleaning area, you will notice that you can also just click the button in there to clean that one area instead of all of them.
I liked this function, as I was able to shut off the cleaning for finding Duplicates or for emptying / cleaning my Web Browsers. I will clean those later. Earlier in this Magican Mac app review I mentioned that I wish there was more of a description of what the process was that we would be using, such as Duplicates finder. Although it doesn't appear to yet be in their Mac app (it may be added before final release), they do have a detailed explanation for what Duplicates are, as well as for the other features.
Clean a Mac to Make it Faster?
Will cleaning a Mac with some of these tasks help your Mac run faster? This is why many people get Mac cleaners, because they are told it will help their Macs to return to the way they were when they first got them….speedy and fun! So, what's the answer?
According to Mac experts, the three top contributors to a Mac's slow performance includes its most important resources: RAM, CPU and Hard Drive / Disk Space. See below to find a short description of what each of these things are. A Mac cleaning app, at least most of the, including Magican, do clean up your Mac using the cleaning tasks / features mentioned earlier. Therefore, they do assist in making your Mac faster. By also utilizing the uninstall feature, you can get rid of things you don't need which also help it run faster since it has less to find. This article on how to fix a slow Mac may also be of help.
These three things below are very important to check if you have a slow Mac and the links on each will assist you in fixing any issues.
RAM (random-access memory) is responsible for the program code and the data that is stored and retrieved while using your Mac.
CPU  is also known as the computer's brain. It's where all the calculations happen.
Hard Drive is the drive or solid-state drive (or even other storage media or external hard drive) that stores all your software, preferences and files.
Magican Mac App Other Features
When you first open Magican you are on a page that asks to scan your Mac. Then you can choose what to do after that, or even ignore cleaning at first and just look to the left for other options.
Other Magican Features Include: 
Software Center: 
Update & Recommend Software for Mac: This area has itself been updated, as it didn't use to update all software on your Mac, which it now does. For me it showed that I needed to update my Snagit, Skype, and my Google Chrome web browser. You can click on update or ignore. For the recommended software for Mac computers or as they call them too, Mac apps, I didn't really scroll through it much as I didn't find it necessary for the Magican review. However, from what I did peek at, there were some pretty neat Mac apps in the freebie section to choose from.

Delete / Uninstall Mac Apps: Just like as the name implies, you can use this area to uninstall some Mac apps you no longer need. When Magican cleans your Mac it also allows you get rid of some unused preferences. Why use uninstall though and not just drag and drop to trash? This is because by just dragging and dropping it to trash you still leave bits and pieces behind, which eventually end up going from being bits and pieces to bigger bits and bigger pieces. These leftovers can slow down your Mac and overall, they just waste valuable space on your hard drive.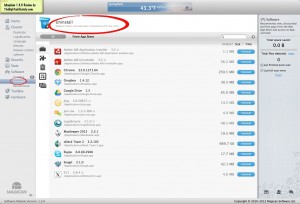 Stats / Activity Monitor Includes: 
The Stats on Magican show you how the stats on your: Hard drive and any discs or other storage devices, your Mac's CPU / RAM / Memory (called Activity Monitor) current activity and allows you to Purge the memory, Fan / Temperature Stats, your Network current activity, and your Battery information (if you are on a MacBook or other Mac laptop).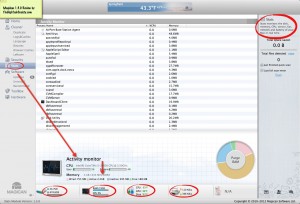 Monitor System Data in Real-time: Magican monitors Mac with pictorial symbols easy for users to understand. Stat pictorials include: CPU, disk, memory, sensor and network speed.
Displays All Running Process on Mac: Allows you to kill unneeded processes by getting a clear view of processes that occupy CPU usage or memory.
Network Display Real Time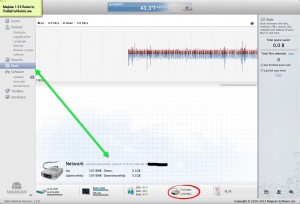 Battery Monitor :
Enable Fan Speed Adjustment: I have to say that my favorite Stats feature, and very close to my favorite thing overall about this Mac app, is that it includes temperature control / fan control. Other Mac cleaners do not have this feature at this time, although after seeing it on their competitor they may add it and would be smart to do so.
I will highlight the Fan feature since I do feel it is an important feature to have. In fact, I have an individual fan control software for Mac on my MacBook Pro that is running Snow Leopard. After getting the newest version of Magcian though, I deleted the standalone Mac app and decided to keep Magican instead, since it would not only control my fans and Mac temp, but would also clean my Mac and tell me what's going on with it.
With the Fan / Temperature feature, it does change slightly between my Snow Leopard and Lion OS X. On my iMac / Lion it shows 3 Fan controls that allow me to turn up or down my fan's rpm in the areas of the CPU,    and on my MacBook Pro / Snow Leopard, it shows one fan control. However, it does list the different temps for the same areas: CPU, RAM and also on the MacBook Pro, the Battery.
Test: On both the iMac and on the MacBook Pro, I ran the fans at mid speed to see how well it worked in lowering my Mac's temperatures. On my iMac the temp lowered by 1 degree in about 1 minute, in each controlled area. On the MacBook it took a slight bit longer at about 1.5-2 minutes for a drop of 1 degree. However, the MacBook Pro was running hotter (and it usually does, which is normal…but not good), it did begin to cool faster once the fans rpm's raised. My test lasted 5 minutes, and at the 3 minute mark on both Macs the temps had dropped by at least 5 degrees and at 5 minutes by 10 degrees. I then reset the fan controls to normal, but I have no doubt that if I wanted to lower the temp any further it would have continued to do so.
Getting software for Mac that runs your Mac's fans and tells your your Mac's temperature is definitely something all Mac users should have. It can end up saving you a lot of frustration and money. On the temp / fan monitor I downloaded as a free Mac app, it didn't say what a normal temp vs a high temp was, fortunately though I knew what it should be running at so it was fine for me. With the Magican Mac app it does tell you if it's normal or not, so I am impressed with entire feature.
Security Center: You don't think you need security for your Mac or to scan for viruses, but you would be wrong. It's best to err on the safe side. Magican was actually one of the ones to come out quickly with a fix for a Mac trojan virus that was out not too long ago. Since it's free too, I can't see how you'd really gone wrong by having it.
Hardware Information: Here in this area the Magican Mac app has listed all of your Mac's hardware information. Although this is also not something that you need to have, it's a handy feature to have available on a Mac app. It saves you some time if you are on the phone with tech support or getting ready to upgrade or sell your Mac.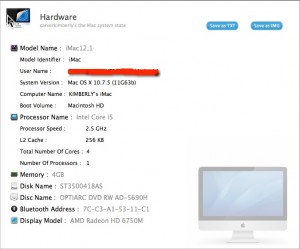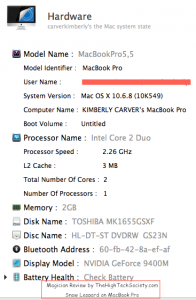 Toolbox: This feature includes three other Mac apps  you can opt to install or not install. I see advantages to each of them, but didn't use any of them myself yet. I would love to hear what you think if you do try them out, maybe by that time I too will have had a chance to use them. They are:
Magican File: Magican File has been added to ToolBox and gives Magican an exciting search feature.
Magican Rest: Magican Rest has been added to ToolBox. You can use Magican Rest to preset the Mac rest-time
Magican Document: Magican Document enables users to add(virtual) smart folders and to manage customized files.
Preferences: You can set your preferences before scanning or after.
Displays Stats / Data in Floating Window: CPU usage and memory usage are displayed in a floating window, Users can move those displays to top menu bar to keep the desktop clean
Magican's Performance & My Concluding Opinion
Overall, Magican performed great. There were on performance issues, even with the beta version I was trying out. It ran fine on both my MacBook Pro and iMac. I also found no major differences on running it on either operating system. It also cleaned both Macs quickly and I can't say that it made them run faster, but this is only due to the fact that I clean my Mac very often, especially since I do many Mac cleaner and other software for Mac reviews. For a computer that hasn't been cleaned, I anticipate that you will definitely see a difference in your Mac's speed.
In my opinion, there are at least three Mac apps or software for Mac computers that every Mac owner should have, and each are included on Magican. There are other things on the Magican Mac app that I don't need, but I don't mind having them either, they definitely can be useful. The three I recommend are an Uninstaller, a Security or Anti-Virus Program and a Fan / Temperature Control App.
There are individual programs for each of these things, but none of them are really that great, and the other issue is that you then have several different programs, which will just add to your Mac being slow.
So after reviewing all of the features on the Magican Mac app, I conclude that it is indeed a really great program, especially for free.  The users interface is nice to look at and pretty easy to understand. The only con I really could find, is that It would again, be nice to have more descriptions since many will not know what some of the stats or other tasks mean or do. Since it's free, I definitely can't be upset about the cost.
The pros that really stand out for me include that it cleans the necessary areas to help a Mac run fast, it can help keep your Mac cool with the fan controls, it protects your computer's security, has really nice stats and monitors that allow you to shut down some processes if needed and it includes a few little extras that will be interesting to try out; like the recommended free software for Mac and the toolbox with Magican Rest.
I give Magcican Mac app 4.75 stars.  The app worked great on both of my Macs and it should also work great on yours. I saw a lot of negativity about this app, and I am not sure why that is since I have encountered no issues. Also, those like me that do review Magican and let others know that we think favorably of this software for Mac computers, are often accused of being hired by the company to give such an opinion or review. I can assure you though, that I am an independent voice and opinion. I have no interest in the company, and was not paid in any way.
As an independent voice, a Mac user, tech lover and owner and creator of TheHighTechSociety.com, I am actually so impressed with this newest version of Magican that I will be adding it to my list as one of the top 10 Mac apps for 2012. I hope you find it just as useful.
*Article updated July 2017