Samsung Galaxy S4 vs iPhone 5 Specs – How do they Measure up?
Galaxy S4 vs iPhone 5 Specs and More
The Galaxy S4 and the iPhone 5 are both the most successful phones that Samsung and Apple have made. Both have sold millions, and will sell millions more; which perhaps brings you here. Are you to be one of the millions? Why not? With the many deals for those at or near the end of their cell phone contracts, it's quite likely you'll be considering one of these phones.
Price comparison is not playing much in the decision with buyers, as they are rounding out at about the same. There are a few deals out there that do bring the Galaxy S4 down below the iPhone 5, however, it's normally a matter of only $30-$40. Certainly not a deal breaker for either one. So what is though? What will be the factors that decide it for you.
To help you in your quest to find more about Galaxy S4 vs iPhone 5, we have made a chart for a few of the things that factor in most when someone is considering purchasing a smartphone.
 Comparison Chart Galaxy S4 vs iPhone 5
Comparisons

Galaxy S4

iPhone 5

Display Size
4.99-inches*Large size advantage over the iPhone
4-inches*Smaller display, however this does make it easier to grasp (say some)
Storage
16GB baseline (only model available in UK currently), 32GB, 64GB, microSD slot*apps cannot be stored to memory card
16GB baseline, 32GB and 64GB models and is 

non-expandable

CPU and GPU
Qualcomm Snapdragon 600 1.9GHz CPU, 2GB RAM,*Which means Samsung's phone is more powerful across the board, whether judging javascript performance or more general productivity/gaming prowess.
Apple A6 dual-core 1.2GHz, 1GB RAM, PowerVR SGX 543 GPU*Apple will catch up with this year's iPhone 5S, but for now the Galaxy S4 is the power king.
Operating System
A customized version of Android Jelly Bean. The custom interface that Samsung lays on top is called TouchWiz which comes with more features, however nice those are, they tend to slow Android down a little, with a little more lag evident in transitions and app loading.*Both systems will soon be updated
iOs: Due to the way iOS works, the iPhone is a bit quicker. iOS system doest not allow apps to run freely whenever they like in the background. Android does, and this commonly causes battery life and performance issues in Android phones.*Both systems will soon be updated
Camera
13 Megapixels*Galaxy S4 has more features, filters, and modes, but there are some apps that can do similar for the iPhone. When tested, the S4 does only slightly better than the iPhone in picture quality.
8 Megapixels*Sensors are the same in both phones, so the more pixels is not making a large enough difference to base a decision on which is the better buy if including the camera.
Feel and Look …. For Your Eyes Only?
Sometimes it just comes down to how the phone feels in your hands and how it looks with your own eyes. In studies as to which had a better grip, was easier to carry around, and had an overall better feel, the iPhone 5 wins the game. However, and this is a big however, the Galaxy S4 users were often fine with giving up the little bit nicer "feel" of the iPhone 5, since in exchange they gain nearly an inch in screen space, and an inch is a big deal on a smartphone.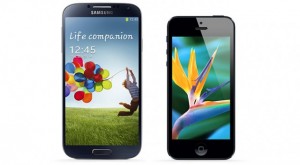 As to how it looks to the viewer, the S4 and the iPhone rate fairly similarly, the larger display does give the S4 an advantage over the iPhone 5, but as for true "looks" of the display, the colors or display itself is slightly better on the iPhone. So slight that it's not really enough to make a decision based on which display looks better colors wise.
[box type="note" align="aligncenter" ]Find out more on how the iPhone 5 camera does compared to the Samsung Galaxy S4 here.[/box]
Things to Consider Most in Galaxy S4 vs iPhone 5
….such as does Size Matter?
Things that do matter in Galaxy S4 vs iPhone 5, that you see in the chart above, include the screen size, which we covered, the storage, CPU, GPU and OS. The camera specs are listed, but in tests the differences were not enough to sway someone just over which camera was better. You can read more about how the two compared camera wise, as it may be something that does truly matter to you.
As you saw in the chart, the other specs almost always came out favorably on the Galaxy S4 side. Most were again slight favorables, but favorable none-the-less. Any disappointments on the iPhone size were just as slight. Something that did stand out as mattering, was that that although the Galaxy S4 has the more powerful CPU and GPU, due to the way it's Android operating system is currently working, it has some lag to it at times. In the area of OS, the iPhone 5's iOS still wins out, but people do say it is outdated in how the interface looks, design etc. Both of these things are going to be fixed though, so by the time you get your phone, these may not matter at all.
Future Updates May Change Your Mind if You're on a Power Trip
The Samsung Galaxy S4 system is being updated to soon (current guesstimates put it at June 26, 2013) with a 'Google edition,' which replaces the TouchWiz version of the phone's software with a completely vanilla edition. This will likely fix lagging issues. The iPhone 5 will be going through similar changes, as it is updating soon to iOS 7. It's being designed by the brainchild of most of Apple's hardware, Johnathan Ive. This newest update is going to look and feel extremely stylish, bringing it a definite needed change.
There is also talk of the iPhone 5S already, which may include some upgrades to their CPU and GPU to help it be more up to par with it's biggest competitor. As it stands now, the iPhone 5 is matching the power of the Galaxy S3, so it definitely needs a boost to move it into the S4's power category.
[box type="info" align="aligncenter" ]Want more Samsung Smartphone reviews? Check this one out! [/box]
Matter or No Matter, Only You Can Decide
Final things that matter, the storage is a big one. As usual, the iPhone 5 is un-expandable, unless you buy an entirely new iPhone that has more storage space that is. So this is something to definitely consider if you have lots of photos, videos, music or apps. The iPhone comes in 16GB, 32GB, and 64GB. Which normally, even the 32GB is more than enough to hold everything a user needs.
The Galaxy S4 also comes in 16GB, 32GB, and 64GB, in the U.K. the 16GB is currently the only one available though. This is where having the option to store some things on a memory card comes in quite useful as it can save you quite a bit of money. Purchasing the 16GB could be enough, considering that it allows you to add an additional 64GB with the microSD card slot.
Memory cards are now so cheap, it's definitely a consideration in the Galaxy S4 vs iPhone 5 debate. The only downside to this is that the SD card cannot hold apps, it can hold music, videos, and photos, and since its OS takes up a lot of space, leaving only 8 to 9.15 GB for storage of downloaded apps, this may be an issue.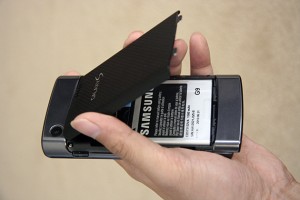 A small dislike in your final decision, may be that the Samsung Galaxy S4 has a removable battery door. You may think this is great at first thought, as it's easier to replace than the completely encased iPhone, but then you'd be wrong; according to survey's completed by S4 users. Most users list the battery door as something they would design out if it could have a do-over. Complaints by users include that it catches on things easily, is flimsy, and sometimes falls off (usually when it caught on something).
[box type="info" align="aligncenter" ]Looking for iPhone 5 battery cases, here's the top 5 .[/box]
What Do You Think?
You now know mostly everything you need to know to help you make a decision on which phone to choose. Seeing it in-hand is always best though, so make sure to find it in a store near you and give them both a look over. Another option is to wait just a little longer for some of the updates to come for both phones, and then see if those do create enough difference to truly put one over the edge for you than the other. Whichever you choose, we hope you will come back and tell us which one you ended up getting, and why you picked it over the other.
More Specs: