Rosetta Stone Review: What Is It and Is It Worth It?
REVIEWS
Rosetta Stone Review: What Is It and Is It Worth It?
The Rosetta Stone is the most famous example of historic languages on the planet, and the software named after it is no different. Rosetta Stone's language learning suites have become one of the most well-known names and options for anyone wanting to learn a language at home, but with hefty price tags on even single learning suites, it might be difficult to make the decision and take the plunge.
What Is It
Rosetta Stone uses a unique image based learning program that teaches you words through image association rather than by telling you what the images mean. Sometimes it will take you a few minutes to figure out the associations because not all of the images are 100% clear, but most of them are quite clear. The advantage is that you learn to recognize the word rather than having to translate it in your head, which takes more time.

The results actually work quite well, similarly to flash cards. In addition, Rosetta Stone teaches you to pronounce the words and does require you to speak words, and then later simple sentences, and later full sentences and paragraphs, aloud in order to pass pronunciation tests. This is best achieved using a headset and a good quality microphone, because you will not be able to pass the course if the microphone does not pick up everything you say. Most of the program starts out by introducing you to a photo, telling you what it is in that language, and then asking you to use it and recognize it later. You'll also be introduced to basic grammar and sentence structure in the same way.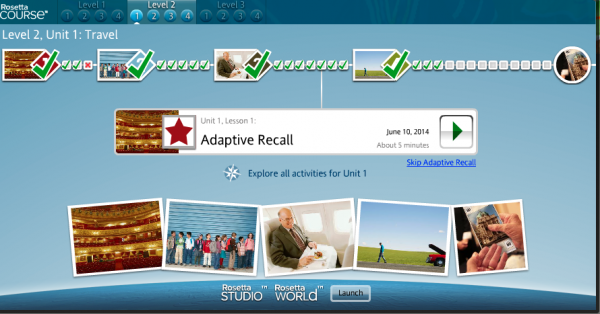 Review
Rosetta Stone is actually a fairly decent bit of software, although the voice recognition program is a bit off. This is because the program only listens for key sounds in the right places, rather than recognizing the entire word. However, it is quite good at grading correct pronunciation, and you can repeat lessons as much as you want. You do have to wait a few minutes for the course to load, but other than that, the software is extremely stable, and actually has not crashed once. The lessons load fairly quickly, the program does take up a little bit of system resources, but because you can't really multi-task while doing it anyway, that isn't an issue. The learning program does actually work, and you do get frequent tests to ensure that you still remember it. The Unit One will teach you how to say hello, ask about names, ask for directions, and shop, which is great for tourists, while further units teach you more involved language skills.
Rosetta Stone has a lot to offer in the form of learning a language but it is slower than some learners might like. In addition, anyone who is used to learning academically might find the slow pace of Rosetta Stone annoying, or prefer to use it in addition to a tuition book or class. However, for someone looking to casually learn a language, or pick up a few phrases and words for a vacation, Rosetta Stone is a great option. However, we don't' really recommend you pay full price. Rosetta Stone has several annual sales where they often discount sets of 5 as much as 50%, and smaller single level courses as much as 20%. You can also get a lot of discounts by checking out Rosetta Stone on Amazon. However, if you decide to purchase through RosettaStone.com you can usually get on a payment plan, so that you can pay $45 a month, rather than the full amount all at once.