Robot Vacuums, Do they Really Suck? BobSweep Does and That's Awesome!
TECH
BobSweep Sucks and That's Awesome!
Bob Sweep Carver was born on 5-8-2014, weighing 7.6 lbs and a bit on the short side with a height of 4.2″. Such a cute little fella, and quiet too. As he spent his first few hours suckling from his food source, we were happy to see our curious kitties welcome him without (much) hesitation. He was after all going to be a big helper when it came to them, so it was good to see that they were going to get along just fine, and maybe after he was fully recharged and ready to go after his long delivery, they may even play a little chase of cat and Bob!
Well, hopefully you guessed I am not talking about a new addition to our family in the form of a baby, but instead of our new robotic household helper, BobSweep. I couldn't help but open though with the way you open Bob, which is with an attached little birth certificate, with his name, date of birth, weight and height all included. It's a cute little personalization that makes it fun to get started with your BobSweep vacuum cleaner, carpet sweeper and mop.
Other things included in the box are the microfiber mop pads and moping tool, HEPA filters, side brushes, brush cleaning tool, and some bumper guards in case you're a wee nervous on Bob scratching something up. I tried it out the way he came, which is with some little brushes on the bottom that I was quite curious on if they would actually whisk anything up. You'll find out soon if they did. You also get in the box your charger station, and a remote control (that's pretty cool).
BobSweep's Features and How Each Works
UV Lamp: I am starting with something you don't normally find on a vacuum cleaner, or a mop, and that's the UV lamp. Simply push the button on Bobsweep or on the remote and the UV lamp will come on and disinfect your floors while mopping or vacuuming. That's just very cool to me, the technology is amazing to be integrated into this robotic cleaner. It's a great plus for anyone, but especially those with compromised immune systems, or little children crawling about on the floor.
Here's a bit more on what UV can do:
Ultra violet light is an electromagnetic radiation found in sunlight. Among its sanitization purposes are purification of air, sterilization of medical equipments and surfaces, disinfection of water, etc. UV light can decompose and damage genetic molecules (i.e. nucleic acids: DNA or RNA) needed for reproductive functions of bacteria and viruses and is thus effective in the "destruction of airborne organisms or inactivation of microorganisms on surfaces."
HEPA Filter: Another thing not all vacuums come with is a HEPA filter. This is another helpful tool in keeping your home clean, not only clean by appearance, but cleaning dust particles out of the air as it goes. Bobsweep has 3 layers of HEPA filtration to make sure that any submicron particles are captured, as well as larger dust particles.
Remote Control: As you see, I am noting some of my favorite features first, and this robotic floor cleaner having a remote is really a plus for me. It's not just because I am awful and love to tease my cats with it by having Bobsweep turn on remotely just as they're sniffing around him, okay, that's a really big reason, it's fun to watch a cat jump a few feet in the air from a stiting position. But, it's also very neat to be able to control this unit as it makes its way around your house, all from the comfort of your chair. Phone rings, don't want to chase Bobsweep down to shut it off? Use the remote next to your chair. One of many reasons to use it. It is able to change direction, speed, spot clean, charge, turn on the UV lamp, and a few more things all with the remote.
Programmable Timer and Docking Station: You can program Bobsweep to clean on which day and time you want him to get his cleaning done. This is great if you're someone that is working, just have him clean before you get home and that way he's all done by time you get home. He will even return to his charger when he's done. If he does run out of charge before he makes it back to his dock, he will beep for you so you can find him and put him on his charger. By the way, he ran for over an hour and a half before needing recharging.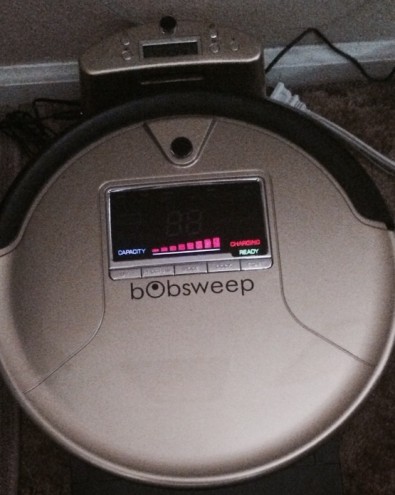 Quiet-er: Bob isn't silent, but he's a lot quieter than your everyday vacuum cleaner. I think this has a lot to do with why pets are not as intimidated or as scared of him as they are by regular vacuum cleaners. My cats actually run towards Bobsweep as he begins to clean and they follow him around, stalking him as if he's a toy just for them. With our regular (and now no longer used) vacuum, they would run and hide and they would pretty much freak out if it got anywhere close to them.
Dirt Sensors: As if I haven't listed enough of what this intelligent little guy comes with, it just gets better because he has dirt sensors. Bobsweep's dirt detection sensors make sure that stubborn dirt or debris is not overlooked. It's not just "swept under the carpet" so to speak, he actually will increase his cleaning intensity if there's extra dirt and won't be happy till it's all picked up. I watched this in action as my Bob swirled around and around in a particularly debris cluttered area (catnip spill), until he had all of it picked up. Good boy Bob!
Space Saver, Cordless, and Eco Friendly: Okay, there is so much more I can add on features, I have to wrap it up here though with a few of my final favorites. You can of course find all the rest on their website. I love that it takes up so little space, no more trying to find room for a large vacuum in a closet somewhere.
Cordless, well that says it all on that subject right? I mean, no more unplugging and replugging trying to get the whole house vacuumed and no more running over the cord. My favorite part though on cordless, I hate, truly hate, wrapping that darn cord back up, so no more of that. Lastly, eco friendly, I just have to touch on this quickly.
It's not just eco friendly due to your not having to use strong disinfectants anymore on your kitchen and bathroom floors (thanks to the UV lamp), it's also certified (with an RoHS certification) to be free from hazardous substances. Bob is drug free, well, you get what I mean. He's made of parts that are completely safe and recyclable. He's also eco or environmentally friendly in that he uses far less electricity than a regular vacuum.
How Well Did Bob Sweep Carver Truly Do?
Yes, I know, this review is long, but I am thorough always. I do not ever want someone wasting money on something they don't need, or that doesn't work. Hang in there though, here's the part that really matters, which is how well did BobSweep really clean, does he really suck like I said he did?
Vacuum: When I first used Bob it was as a vacuum. I had an area rug that really needed a good cleaning. After being ill for a few weeks I hadn't been able to vacuum so Bobsweep really had his work cut out for him. I felt a bit bad trying out this robot vacuum with a full carpet of pet hair, catnip, and who knows what else, but with me still unable to push a full size vacuum around it just seemed like a perfect time to give him a try. I wasn't going to hold it too much against him if he couldn't quite pick up all the mess, because as I said, it was quite dirty.
How'd he do? He sucked, that is he sucked up and brushed up and grabbed up everything a vacuum that works, should. I made a few videos for you to judge yourself and took some before and after pictures. He really did amazing though. That's simply the word really, amazing. I really expected this robotic floor cleaner to just sweep up the surface dirt you could see, like threads or a few cat hairs that were visible, but once you opened him up and checked his belly, he was full of cat hair and so much more. I could not believe how deep this thing cleaned. How it's able to suck up more than my regular vacuum (which is Bissell upright that's heavy and noisy), I have no idea. It really did blow me away in how much it was able to pull up.
Cat's Play Room: The next room was a super challenge, it's our weight room, but lately due to me being sick and my husband working a lot, it's become the cat's play room and there's no shortage of cat hair. You can see from our video and images that the cat hair covered the green carpet. Again, I felt bad testing Bob this way, but I really wanted to see if it was possible for him to pick that hair up, so off he went. It was awesome to watch him make a path through the pet hair, clearing clean pathways as he went.

It's completely noticeable on that carpet, much more so than my other video or images. You can see where I cleaned with Bobsweep and where I hadn't yet cleaned with him. I had my old vacuum standing by just in case he was needed, but nope, Bobsweep didn't make me heave that monstrosity into position, try to get it's cord to reach all around the room. Most importantly, no pushing for my bad back, well the push of a button, but even my back can handle that.

Mop / Vacuum: If you're like me and have carpet, rugs and then tile or linoleum floors, you don't have to switch anything around on the robot cleaner once he hits a different floor type. He will adjust all by himself, he has dirt sensors too that will let him know where to go back to and clean again. You can have your mop attachment on and let him mop and vacuum at the same time, or just let him vacuum and sweep.
Remember to turn on the UV lamp so he can sterilize as he goes. He had no problem navigating my various floor types. I have two runner rugs in my kitchen, then floor tile, and then a large area rug in the dining room. Bobsweep just made his way across each fine and cleaned each one.
I liked how far he could get under my cabinets, and around my dining room chairs, no lifting them up out of the way, he just maneuvered around them and cleaned in between and under each one. My husband did at first move a few thinking that like when we use our normal vacuum he should pull all the chairs out, so you'll see a few in our weight room, aka cat play room, but it wasn't necessary. I left half the chairs there and it vacuumed completely around them each.
Did BobSweep Truly Get Rid of Bacteria UV Lamp, Let's Test it!
I just happen to be lucky enough to also be reviewing a UV light, also known as a blacklight. It's to detect bacteria, or other icky stuff, you can read that review next week, but I figured that it was a great time to open it and see how well Bob did in this area with his UV lamp. I checked the before on my kitchen floor, and okay, yuck.
I am really not wanting now to ever use a UV light to check on what's clean and what's not again. I know it's good to know, but believe me when I tell you that something's are best unseen. But, again, I did use it, and remember, I was sick for a few weeks so my floor wasn't perfect (excuses given), certainly wouldn't eat off of it and I knew that, but I didn't know how bad it really was until you use that light.
How it works, you turn off the lights and whatever glows is the ick. I became a bit obsessed, as you'll later read in that review, and began shining that light all over and let's just say that on that Tuesday, my house got scrubbed on just about anything you could touch. Back to Bob though, how'd he do before and after?
He did it! His UV lamp works, it killed whatever "ick" was lying on my kitchen floor and I was doing a happy dance in my kitchen, yes, I actually did do a silly happy dance. Who knows what was on the floor, kitchens are full of things, like meat, that can drip their juices here or there, or things splatter from a pan, or spill and don't get properly cleaned up. Whatever it was, it's now gone, and that's the important part.
Final Opinon:
This part can be short, because you should know by now my final opinion. It worked great, worked as it said it would, and has amazing features that I am in love with. I am not sure how this robotic floor cleaner could get any better. The only issue that may be hard for some to swallow will be the price. Compare it though to some regular vacuums, one's that are not robotic, ones you still have to push and hurt your back with, and some of them run just as much or more and yet have none of the extra features that BobSweep does. To me, and Charlie kitty, The High Tech Society's mascot, it's certainly worth it.
Your opinion really matters, so if you do get Bobsweep, please let us know what you think of him. If you've had a robot cleaner in the past and are reluctant to try one again because it wasn't that great, I have to let you know that the technology has truly grown and Bobsweep is nothing like the cheapy, yet not so cheap, robotic floor cleaners of the past. It truly works, it needs no intervention from you, and you with a 30 day money back guarantee and a fantastic warranty, I can't see how you'd be sorry for buying it.
*Disabled?: I have to highly recommend BobSweep to anyone with a disability. It's been a true back saver for me, and turned something that used to leave me in so much pain, now leave me with nothing but a smile and maybe even a chuckle as I get to watch my cats have fun with it.