Jabra Revo Wireless Headphones Review
I'm one of those people who spends all of their time listening to music, a habit which is empowered by my work at home environment. Despite that, I often have trouble turning up the volume or listening to music at anything above a whisper, simply because I live in an apartment.
With upstairs, downstairs, and two neighbors on either side of me ready to complain if I so much as walk up and down the stairs with my shoes on, my music habit was suffering. The answer, of course, is to use headphones, but up until a short while ago, I was using Apple's OEM headset. You know the one, those horrible white earphones that never seem to fit quite right in your ear. After trying my those for over a year with both my iPod and my computer, I quickly realized one thing.
If I have wired headphones, I'm eventually going to get up, move too fast, or roll my office chair away from the computer and jerk the earbuds out of my ears (ouch).
Earbuds and I don't seem to get along. They would always fall out, hurt my ears, and the audio on one of them was always going out. The best budget wireless earbuds don't have these problems now.
The logical decision was to buy a real set of honest to goodness headphones. First, I considered buying Sony, not only because Sony is probably the best for the money, but also because I used to have a rather nice pair of Sony headphones before they had a rather unfortunate accident.
Then, I somehow decided that I absolutely must have wireless headphones. And Sony's weren't quite within my budget.
So I did research, I did some more research, and then nearly a month after deciding I wanted wireless headphones, I made a decision and purchased the Jabra Revo Wireless Headset.
Why? Because it was the only headset that I could find for under $200 with a built in microphone, reviews that didn't compare it to the equivalent of Denevan neural parasites (Sorry non-Star Trek fans), and because I liked the fact that it actually had good reviews on the sound quality, and people were saying good things about the controls. My second choice was the Sennheiser RS170, but due to it not having a built in microphone, I chose the Revo, despite the Sennheiser having a significantly wider wireless range due to it working over WiFi rather than Bluetooth.
So, I ordered my headphones off of Amazon, and they arrived a short time later. I've already been using mine for some time, so here is my review of the Jabra Revo Wireless Headset.
What's in the Box
When you get the Jabra Revo, the first thing you will notice is that the box is actually very well constructed. It does come with a lot of tape, and the headphones are actually velcroed rather than taped or tied inside, which is a nice change, because there is no chance of damaging the headset while taking it out of the box (Sony take note).
You get a good quality orange plastic charging cable (USB Mini by the way), and a quality orange RCA to RCA jack (in case you want to ditch the wireless and go corded for a bit). I wasn't extremely happy with the orange, but whatever floats your boat. If the orange isn't quite your thing, you can get a pretty decent Blue Rigger model for under $10. You also get a cheap carry case (honestly the packaging is better quality), and of course, your Jabra Revo Wireless Headset.
Meet the Jabra Revo Wireless Headset
The Jabra Revo Wireless Headset is an on-ear wireless headset, which means that it does not cover your ears, but rather sets over them. They are not noise cancelling, which is not ideal if your intent is to drown out the sound of pets, family playtime, or encroaching zombie invasions. They are, however, ideal if you want to take them outside where you might want to hear passing cars, or policemen, or, if like me, you want to hear the doorbell in case those the pcp boards you ordered happen to show up in the mail.
Overall the headset is very sturdy, all plastic, and actually surprisingly aesthetic (except for these weird wire extensions when you have the headset on the shortest size, which I have taken to calling Dobby ears). It looks more like a classic 1980s headset than a modern square or weirdly shaped unit, which is great if you're into classic rather than modern style.
Now what you've been waiting to hear. The actual review.
The Sound Test
I have a somewhat eclectic taste in music so these headphones have been tested both wired and wireless with Windows, Mac, Android, and an iPod Touch (iOS), I was actually impressed with the wireless quality on all of them, but the wireless quality is the best with the iPod touch (which is also the newest device I have). Some of the first things that I played included Bach's Tocatta in D Minor, INXS Elegantly Wasted, The Rolling Stones Honkey Tonk Woman, Moby's Flower, David Garret's Kashmir cover, and Slayer's Abolish the Government. Since then I've listed to over a hundred albums in various styles of music. I was actually quite impressed with the quality.
The bass is a little high but most people actually prefer higher bass, so that's not really an issue with most types of music. What really stood out to me is that these headphones are good with rock/rap/pop/country/blues/etc. but they are jaw dropping with classical and anything dance or beat related.
I'd give:
8/10 Rock/Blues/Jazz/Metal
9/10 Pop
10/10 Classical/Dance styles
All of those scores are actually pretty good considering that my iPod headphones would probably score about a 5/10 on everything.
They also connect via NFC, and feature Dolby Digital Plus, which sounds pretty great with movies.
The Sound App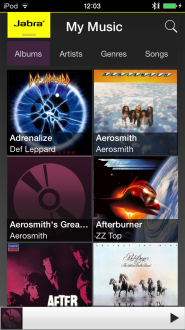 Jabra also offers a sound app to go with their headphones. The app is free but does, rather annoyingly, require you to put in a code to activate it. Then, it pretty much takes over your device as a proprietary music player and gives you access to all of the music on your device. The app equalizes music, and I did notice a definite change in the quality, and especially in volume, although it also adds yet more bass. The overall result is quite good, but once again, it really excels on classical and crossover classical styles.
Battery Life
The battery is actually really long, I would say that mine lasts for an average of 14 hours on low volume, which is more than the advertised 11-12 hours. If you do listen on higher volume then you might have to recharge more frequently. You can also recharge from anywhere with any USB mini cable, although charging is significantly faster if you use a wall brick rather than a computer to plug it in.
The Jabra Revo Wireless Range
The wireless range on the Jabra Revo does leave a little to be desired because if I walk downstairs into my living room it tends to break up a bit if I'm connected to my Mac, and it lasts to about the middle of the living room with my iPod if I leave it upstairs. It also does not like closed doors. If you want a wider range, then the Sennheiser that I mentioned previously is a much better choice because it has a 250 foot range, where the Revo only really has about a 15 foot range. Response time is usually one second after the device, which isn't bad either. While the Jabra Revo can connect to more than one device at once, it does sometimes get problematic when connected, especially when you're at the edge of the range of one of the devices. It also automatically connects to previously paired devices when turned on.
The Jabra Controls
Another reason that I chose the Jabra Revo over the Sennheiser is because apparently the controls are hard to get to, and you have to take them off to change the volume or use the buttons. The Jabra Revo doesn't have that issue. Instead, it features a touch control on each side of the ear (good for lefties and righties), which you can use to do a number of things including turn volume up and down, skip song, pause song, replay song, and go to previous song using a number of taps and scrolling motions. If you have iOS you can also activate Siri and accept calls right from the button. Overall, I'm quite impressed and it's easier to use than I could have hoped. Plus, geek factor for scrolling buttons.
Calling
The microphone isn't stellar, and the audio on the other end does sound a little bit flat, but considering that you're probably not trying to win a voice beauty contest, it probably doesn't matter. The headset is good for basic non-professional Skype and calling use, but the microphone could be better.
All in all, the Jabra Revo Wireless headset is actually quite good, and significantly better than any wireless headphones I've tried out in the past. While the price does vary, you can usually get the best price on Amazon, unless you want to buy used, and Amazon usually cuts 20-40% off of the in-store retail price, which makes them well worth the buy if you want wireless.