Review of CuteDJ – DJ Software for Windows & Mac
TECH
Review of CuteDJ – DJ Software for Windows & Mac
I have a rather large digital music library that I've ripped from my even larger collection of CDs to put on my iPod, but I rarely do anything with it on my laptop. That aside, I was excited to get the opportunity to test out CuteDJ for the purpose of a review, as I tend to love anything audio related. Cute DJ is a DJ program for Mac, Windows 7 and Windows 8, and it includes a number of features.
Install
The install was surprisingly quick. It took a few seconds. I think my only complaint is that I had to restart my computer, which is probably because CuteDJ includes record functions, which means that it requires control of your built in or external Mic.
Interface
The interface on CuteDJ is not especially user friendly. If you're not used to working with audio editing software then it could actually be quite confusing. Almost everything is in different shades of grey, buttons are labelled, but if you aren't familiar with music terms already, then you won't know what it means. Loading each song also seems to take a few seconds, and while you can access your entire music playlist, you have to drag and drop everything to import it to CuteDJ, which can be time consuming.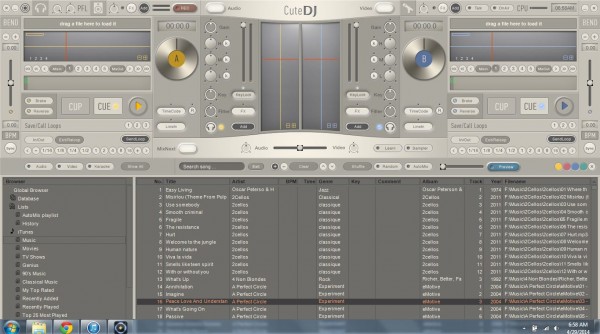 Features
There are a number of very cool features in Cute DJ, and most of them are semi-pro quality.
Mixing – You can live mix songs, see visual representations of your music as you play, and auto-mix in case you don't want to take the time to work with each song.
Mix Recording – You can also record your mixes for playback later.
KeyLock – Allows you to change the tempo without changing the tone.
LineIn/Out – You can record via Midi to add keyboards, add a mic and talk or chat, or record your own vocals to lay over the track.
You can also use your own effects and add them to the master output, although you cannot add them to just one song. You can create playlists and set them to auto-mix, and even include music videos, which is a plus if you're having a party, and or projecting the screen onto something bigger.
Review of CuteDJ
CuteDj is a versatile, easy to use DJ program that looks like it's aimed at the beginning and semi-pro DJ. The software is compatible with a number of different file formats, allows you to record and save files, and allows you to create cuts and mixes as much as you want. It's also great because it integrates with your iTunes, as well as media files just stored on your computer, and will work with vinyl, CD, and casette players via the line-in, so you can use any traditional form of media that you would like.
While it's not top of the line, CuteDJ does offer a lot for it's price range. It is a little expensive for someone who's just looking for an amateur program, but for the mid-level DJ, it has a lot to offer. It also comes with a free trial, so you can give it a try yourself before you buy it. It's also great for anyone who wants a program that they can use to create custom mixes at home for playback later or at a party. While it's not beginner use friendly, you can poke around and learn it fairly quickly if you're sort of okay with technology.