Review of Clean My Mac – The Mac Cleaning Utility
Review of Clean My Mac – The Mac Cleaning Utility
Clean My Mac is one of the most popular Mac cleaning programs. First launched in 2009, the program has gone through three iterations, and Clean My Mac 3 was released in 2017. I upgraded my Clean My Mac 2 to 3 then, and have been using it for some time, which I used as a basis for my review.
Most users come to Clean My Mac with several primary questions. Is it legit? Do I need it? Is it worth the money? Hopefully this review will help you to make a decision that works for your computer, tech expertise, and budget.
Why Would You Need Clean My Mac
If you're wondering if you need a Mac cleaner like Clean My Mac, the answer is no. You don't need it. But it can greatly speed up cleaning up storage on your computer, especially if you aren't technical enough to handle it yourself.
We wrote a complete guide to help you decide if a Mac Cleaner is right for you which you can check here if you are uncertain.
However, in short – you likely want a Mac cleaning program like Clean My Mac if you have storage or memory issues but don't necessarily know how to clean your Mac manually, don't have the time, or want to ensure that you don't miss anything. If you're technically capable of doing it yourself or have the time to check everything manually, a Mac Cleaner may not be the best solution for you.
Review of Clean My Mac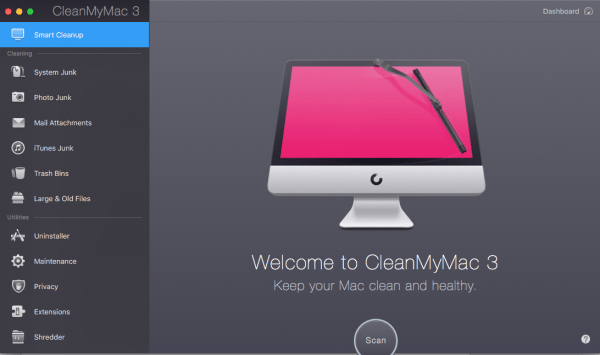 Clean My Mac has a lot to offer if you need a cleaning program. The app makes it easy to clean and remove system files in as little as a few minutes with no technical knowledge – which can save you a great deal of time. I have been using Clean My Mac 3 on my computer for several months and this is my professional review of it.
Interface
Clean My Mac 3 has a very easy to use interface, similar to most antivirus programs. Everything is clearly labelled, it is easy to see what every item does, and you can go in depth and check system area by system area or do a quick whole system scan. This makes it great for users who want everything laid out for them, which is exactly who Clean My Mac is for.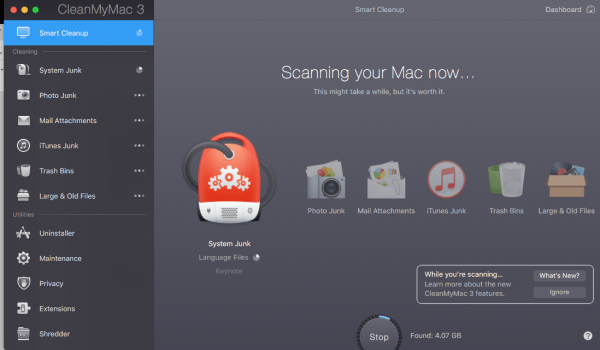 Scan Length – Clean My Mac scans your computer fairly quickly, but the length of the scan depends on how much you've used the Mac since your last clean. For example, the first scan of my Mac took in excess of 1 hour. However, follow up scans were significantly faster.
Deleting Data – Clean My Mac 3 makes it easy to find and delete data as well as to review items that you aren't sure about. Reviewing data individually can take time, but is still faster than finding and reviewing it manually.
Monitoring – The monitoring function on Clean My Mac was mostly unwanted for me and I found the notifications and popups annoying, but some users will find them to be very valuable. For example, if you forget to clean up, want to close applications that are frozen, or want to know when you are using too much of your system resources, popups can be very valuable. However, each of these features can be turned off by going into settings (Clean My Mac 3 > Preferences > Clean My Mac 3 Preferences Menu) where you can easily use the sliders and checkboxes to update what you want to see.
Pros of Clean My Mac
Clean My Mac has a lot of good features and they are largely worth the money, especially if you are buying for more than one computer.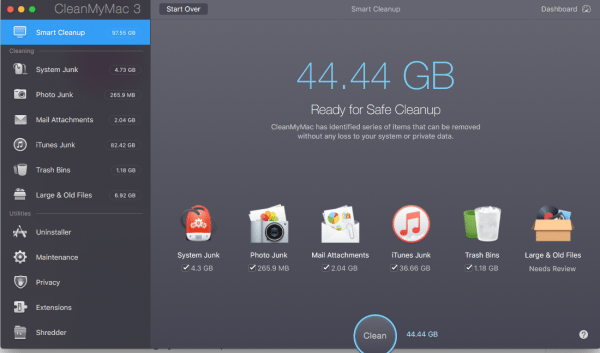 Clean My Mac can free up a lot of space on your computer.
By focusing on removing user created data rather than system data, Clean My Mac 3 loses many of the caveats of it's predecessor. Most of the data Clean My Mac 3 deletes won't come back. For example, when you import photos from your phone and rotate it, your computer will often save the original and the edited copy – Clean My Mac can help you to remove it.
Helps you to remove files that you don't need anymore or that you have never used
Allows you to fully remove apps with a single click
Support is very fast and professional and willing to help
Interface is extremely easy to use
Features like Shredder and Utility uninstaller are very easy to use and practical.
Cons of Clean My Mac
Clean My Mac has several cons which you should be aware of, however, most of them revolve around data cleanup. Because Clean My Mac 3 works to delete data that you aren't using or that you don't need, it can accidentally delete files that you do need. For example, running Email Junk cleanup, you may automatically delete email attachments that you actually needed or which were valuable. Similarly, you might delete app extensions and data that you actually need.
Clean My Mac 3 installs itself to launch with your computer. You can easily change this yourself if it bothers you.
You cannot review what you are deleting with Smart Cleanup
You may accidentally delete data that you want to keep. Review what you are deleting before you do so.
At $39.95 for a single license, Clean My Mac 3 is expensive for a luxury app.
May remove iPhone and iPod backups. If you don't have backups stored elsewhere, either store these elsewhere, keep them, or plan to replace them immediately.
Most Clean My Mac functions can be performed with hardware already on the computer if you have the patience and time to learn and perform each task individually.
In Conclusion
Clean My Mac has a lot of good features but you do have to be careful with it. It's largest problem is that it simply removes too much data, risking deleting something that you want to keep. However, if you can take the time to review items before you delete them, Clean My Mac can save you a lot of space.
If you're hoping to speed up an oder Mac, Clean My Mac may or may not help. If you have a lot of junk files you will see a performance boost, if your speed issues are related to lack of space, disk errors, or other similar problems. However, Clean My Mac will not help you with hardware issues, incompatible programs and software, or overloading your system memory. If you want to see how you can check for these issues, check our series here.
Overall, Clean My Mac 3 can be a very helpful program if you want an all-in-one Mac cleaning program. It's fast, convenient, and does the job very well – while offering ease of use, strong customer support, and transparency.