Protecting Your Privacy – What to Do About Cookies
Protecting Your Privacy – What to Do About Cookies
Cookies are sometimes considered a big bad of Internet privacy, but much of this reputation is undeserved. While some websites use cookies unethically, this behavior is strictly regulated and punished by International governments as a breach of personal privacy.
For this reason, most cookies are relatively safe, do not track data that the webiste does not need, and definitely do not infringe on your privacy.
However, if you are concerned about how cookies affect your privacy, we've put together a guide that will help you decide what to do.
Should I Disable Cookies?
The answer is usually no. While you can disable cookies, you will lose functionality on a lot of websites. You may not be able to log in, and you may experience disruptions of service on other sites. For this reason, it is generally not a good idea to disable cookies.
However, you can easily try it out if you want and decide to switch back at any time. Most browsers allow you to automatically allow or deny cookies right from your privacy settings.
What Else Can I Do?
If you're concerned about your privacy, you can take steps to disable third-party cookies. To do this, go into your browser's security settings (typically Preferences/Settings > Privacy > Cookies > Third Party Cookies)
Let's walk through that for several popular browsers.
Safari (Mac)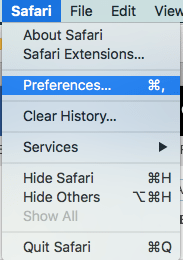 Click on the "Safari" button on your top menu bar and select "Preferences"
Choose: "Privacy"
Change your settings as desired
Google Chrome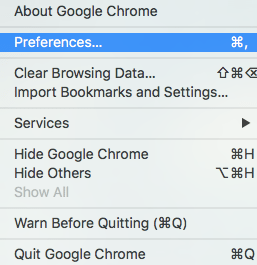 Go to Preferences (From toolbar on Mac) (From the three horizontal lines in the right-hand corner on Windows)
Click "Advanced" or "Advanced Security Settings"
Click "Content Settings"
Click "Cookies"
Block Third Party Cookies
Update cookie settings as desired
Mozilla Firefox
Open Preferences (From "Firefox" in Menu on Mac, from "Menu" on Windows)
Click "Privacy"
Click "Use Tracking Protection"
Update your cookie access as desired
Microsoft Edge/ Internet Explorer
Click the … button in the top right corner
Choose "Settings"
Scroll down to "Advanced Settings". Click on it.
Select "Block Third Party Cookies"
Cleaning Cookies 
While cookies can help you to track your websites, stay logged in, and provide other services, you may ocassionally want to clean them. You can do so using your browser settings or using a program like CCleaner, CleanMyPC, or CleanMyMac.
Cleaning your cookies will delete your website settings, will log you out of websites, and will delete shopping cart and other saved items. For this reason you should only clear cookies once you no longer have use of them.
In most cases, cookies are harmless, add value, and make browsing the web easier. If you're concerned about your privacy, disabling third-party cookies is more than enough. However, you can regularly clean your cookies without harming your computer or your browser – therefore, you can do so as often as you would like.
You can also visit your browser settings to update cookie access, to change your cookie settings, and to ban or block certain cookies from downloading to your computer. This allows you to easily control your privacy based on the websites you access and use.
If you missed the first article in our series, click through to the first page to learn about cookies, what they are, and how they affect your computer.