Pet Technology, Gadgets, and Apps for Animal Lovers
Pet Technology, Gadgets, and Apps for Animal Lovers
Tech is everywhere so why wouldn't you want pet technology? After all, if you can keep track of your car with an app, why not keep track of your dog too? If you're a pet lover then you're probably interested in seeing some of the technology for pets that is now available. Here are just some of the options that you can get today.
Pet Apps
While there are plenty of fake pet apps, you might be surprised to learn that there are some for your real pets too.
MyPetED – A great app for helping you keep track of your pets medical. MyPetED costs $1.99 and includes articles, information, vets, medical tracking charts for appointments and vaccinations, adopting a pet, finding your pet, and more.
iKibble – If you plan on feeding your dog people food then you can use free app to check it out first. Is it safe for your dog? What are the health issues? iKibble will let you know!
PetCentric – If you like to travel with your pet then PetCentric is the pet app for you! You can find pet friendly businesses in the area, business like vets and pet shops, or even pet friendly hotels. You can also add in locations that you already know, as this is a user contributed app. It is also free.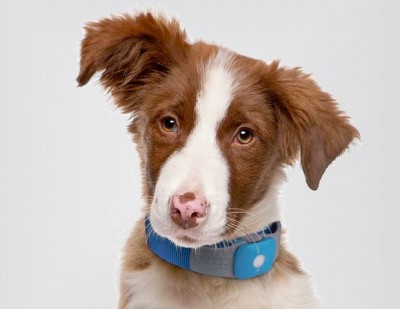 Tagg – This is probably one of the most useful pet apps out there. Purchased as a combined app and collar, Tagg includes a health monitor, GPS tracker, and text and email alerts. If your dog gets sick or wanders out of a set zone then you can get a text or email alert. If your pet is lost, you can get GPS directions to wherever they are including driving directions! You can also show the health charts to your vet so that they can keep track of your pet. Currently this is available for pets over 10 pounds.
Garmin Tracker – The Garmin tracker is similar to the Tagg app but is only a GPS tracker. The Garmin tracker is a little larger than the Tagg one but is better for larger pets, is a little sturdier, and costs more.
Tech Toys for Your Pet
Every pet loves toys so why not get your pet some high tech ones?
GoFetch Machine – If your pooch loves to play, but you don't, consider the GoFetch Machine! This machine is actually an automatic tennis ball thrower for dogs! The machine launches balls and can be used to train your dog, or to run off restless energy. Unfortunately it's not that powerful so your dog wont' be running for miles. Please only use this one at home.
Pet Camera – Okay, this toy is more for you than your pet. But there are plenty of tech toys that let you see exactly what your pet can see. Consider the PetEye, Eyenimal, and more as purchase options. All you have to do is attach these little cameras to your pets collar, and then you can see a view just like they do!
Lazy Tech
We've all had moments when we just didn't' want to do anything, not even feeding the dog. Guess what, there's pet tech for that too!
Water Fountain – Your pets probably like running water just as much as outside animals so why not keep their water fresh using a water fountain. The bright side about these is that most of them are relatively inexpensive, and they do help keep water clean by preventing a lot of bacteria from growing in the bowl. Of course, they do use electricity so you have to put them near a plug. Just remember to choose a size that suits your pet.
Automatic Feeder – If you want to feed your pet on a regular schedule, the automatic feeder is pretty much the best thing you can buy. This feeder will feeder will keep your pet alive even if you take a last minute weekend trip to Maui and forget to make arrangements for your dog. Yes, it's that good! Some options are even equipped with a camera so that you can check up on your pet wherever they are. Get screenshots and video of your pet eating to make sure that they are, or just to see how they are doing. Others can be used to train your pet and give them rewards for good behavior.
Cleanup Tech
You probably love your pet but hate cleaning up after him or her right? Yes! There are plenty of ways you can have a clean, smell free house with modern pet technology. Take these examples.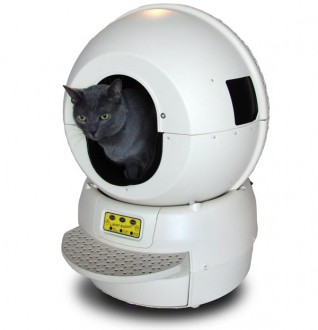 Litter Robot – The worst part about having a cat is the litterbox right? With the Litter Robot you won't ever have to clean the box again. The litter robot uses a motion sensor to detect when your cat uses the box, and then rotates and removes the mess 7 minutes after the cat leaves. Dirty litter is deposited in a little sealed container that you can easily dump into the trash without any smell. Of course, Litter Robot does cost $350-$380, and is cheapest on Amazon. But hey, it saves cat litter, and you won't ever have to clean again! A cheaper option is the Omega Paw but it is not as effective. At $50 it is a much better deal though!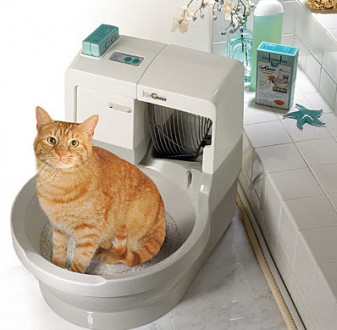 Cat Genie – Once again, if you don't like your litterbox then you will LOVE this! The Cat Genie is a flushable litter box! If you have spare room in your bathroom then $250 means that you will never have to buy litter again. The CatGenie flushable litter box has to be hooked up to your sewer and to water and electric. The cat goes into the box, does its business, goes out, and the granules inside are flushed, rinsed, and returned to the box minus the mess. Each CatGenie is suitable for one to three cats but anyone with more pets should get a second one. The best place to connect is in the laundry or to the bathroom sink drain, just make sure that the drain goes into the sewer, and has water flushed down it often.
Sadly as a dog owner, you're mostly out of luck. No automatic flushing toilets for you. Sorry….
Weird and Wonderful Pet Tech 
There are always gadgets that seem to have no real purpose, and pet technology has plenty of them! If you're just looking for a bit of harmless fun for your pet, then consider one of these weird and wonderful options.
Puppy Tweets – This is a fun idea for anyone who loves social. All you have to do is clip the Puppy Tweet tag onto your pets collar, and then connect it to a Twitter account you have set up for your dog. Puppy Tweets will then analyze your dogs behavior to send out one of over 500 tweets when your dog is doing something. For example, if your dog starts licking himself Puppy Tweets will tweet "Guess what I'm licking now". Puppy Tweets can also send you text messages to let you know what your dog is up to. The device charges via a USB port, requires a lithium ION battery, and is mostly just a useless bit of fun. Must LOVE dogs.
Pet Emergency Jacket  – Are you a prepper? Why not prep your dog or cat! The pet emergency evacuation jacket is a fireproof and partial waterproof jacket for your dog with compartments for food, a water bowl, stuff for humans, and other survival necessities. It's made out of the same material as a fireman' s suits, and costs a whopping $422! Comes with water packets, oder control bag, food, mini radio, booties, hoodie, and bell for your dog, and of course a carry handle so that you can pick your pet up easily and get him or her to safety. Perfect for the next zombie apocalypse.
Translator – If looking at your cat or dog and guessing their emotions isn't enough then you can look for a cat translator. The Meowlingual cat translator and Bowlingual dog translator are both intended to tell you're your pets mood based on their reactions. Unfortunately these are only available in Japan so if you actually want one, you're out of luck.