PDF Converter Elite 3 Review
REVIEWS
PDF Converter Elite 3 Review
As a writer, it is important to have all of the software needed on your computer. For me, that includes a PDF conversion program, such as PDF Converter Elite. This program features everything I need, from converting PDF files to a friendlier version or creating a PDF to present to clients. The favorite format of conversion for me, thus far, is PDF to Word. It will open up the converted document in Word for me. It is important that I mention, this software is for Windows operating systems only.
Installation Process
The installation from start to finish took less than 10 minutes. It did not require anything special or difficult whatsoever. All that was required of me was to follow prompts and read the user agreement. It was quick and simple.
Initial Use
When I first opened the program it was a bit overwhelming after looking at everything that can be done with this software. Once I began to explore and work with the program, I found that my mind was complicating a simple process. As the overthinking stopped, using this program is a breeze.
Several elements of this software offer customization options. When you are creating the document, you are able to resize the images to be displayed as well as set margins for the page itself. Users can rotate pages and resize to the specific needs of projects with just a few clicks of the mouse.
Acceptable File Conversion Formats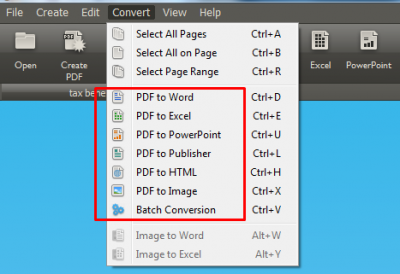 Users of this software have the ability to convert a PDF to a variety of file types. These include Word and Excel. Additional options include PowerPoint and Excel. Additionally, users can create a PDF for publishing with this software as well as create a batch of documents. This is ideal for a series of items or, as an example, a company handbook with chapters. Users are also able to take an existing PDF file or other file and create a PDF image from said file.
Key Features
There are a variety of features with this software that are all useful. When you are creating a PDF file, click on edit. Several options are then displayed, including one to add attachments. This feature allows you to add additional PDF files or text documents to accompany the base file. Users can add, delete or overlap pages as well with this feature. Additionally, an option to add a header or footer is also available.
When you go to use the watermark text or watermark image feature, you are able to type in the text to use as a watermark. This allows you to select where the watermark text is displayed, the font to display it in and the color for the text to appear in. The watermark image feature allows for the same thing, customizing the display. Users are able to select a saved image, in a compatible file type, to use to watermark files. This is most commonly a branding mark such as a logo or product image.
When you are setting up a file to make into a PDF, you are able to password lock it. This is a great security feature for sensitive information. Additional features include the ability to make a booklet or handout, color selection for display, font selection and viewing options. This software allows for changes to be made to a PDF that is converted into a different file type as well.
One Minor Issue
When I went to the watermark text tool, it started just fine but then crashed the entire program and I had to start all over with my document. I went to try and do this again, and it did the same thing. Perhaps this is just an area of the software that needs a bit of fixing. I waited a few minutes and tried a different type of file. The watermark text feature did work. Perhaps it is just finicky with some file types. This also happened briefly when trying to watermark an image. Careful image selection is required.
Overall Opinion
Overall, I would rate this software 5 stars out of 5. I found it to be easy to use and it offers everything I need to create a PDF file. The available customization and sizing options add more possibilities for file creation as well. This software makes it easy for users to create perfect presentations and combine more than one file to make a cohesive presentation. The ability to crop pages to fit together into one document is another plus. I do recommend this software to anyone that requires PDF conversion or creation services.