PCKeeper Review
REVIEWS
PCKeeper Review
There are quite a few programs available, usually referred to as PC cleaners, that are made just for cleaning and speeding up your Windows computer that's running slowly or having other issues. Sadly though, many do not work, or worse yet, they actually make things much worse. So when we decided to review PCKeeper, we went into it really not expecting much, especially since we hadn't yet had any great success with any one multi-cleaner program for Windows. However, we got a pleasant surprise as we ran PCKeeper, one that made our past run in's with "all in one" utility programs definitely worth the wait.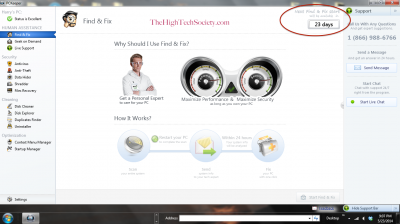 Why do you need a PC Cleaner?
If you were never to spend the time to go through your PC and clean out, meaning deleting, any useless files and uninstall any programs you're no longer using, you'll be left with a computer that begins to get very sluggish and very frustrating. All computers need to be maintained or they will just get to a point that you'll want to toss it through your window, so, this brings us to why you need a PC cleaner.
You could of course do this yourself, the way to clean your computer without a PC cleaner, and what I still did for my husband until recently when PCKeeper came out, was that every few weeks I would  just clean his PC myself. What this meant was that I would manually go through and clean up files, get rid of programs he's not using, clean up his desktop, go through his startup programs, run the virus scan, run defrag, etc., but this got very tiring to have to keep doing this every few weeks.
As a past Window's user and IT person, I knew how to clean his computer and keep it running well, so it's not that I didn't know how to do it, it was just really that it was a chore that I didn't look forward to doing. Like any chore, such as dishwashing for instance, I was hoping that there was something that could help me out a bit, like our awesome dishwasher that saved me the time of having to stand there and wash dishes every night after dinner.
I was, therefore, always on the watch for a program that would automatically do all of the multiple tasks that I had to do manually to keep my husband's Windows computer running smoothly and without issue. After reviewing and trying several over the past few years though, I never did find one that worked well, and sadly, most actually made issues worse, so I had pretty much given up.
Finally though, a new product was released by ZeoBit / Kromtech, called PCKeeper. I was very hopeful that it would just scan and fix any issues by itself. So, last month I gave it a try on my husband's ASPIRE laptop. His laptop is a little over a year old, so it should run great, but it is constantly acting up and it's very slow. I get pretty frustrated with having to keep fixing it every few weeks, so I was really hoping that this new program was going to work like I hoped it would.
What is PCKeeper and What does it do?
PCKeeper is a multi-purpose or all-in-one Windows program that cleans your PC, while also protecting it with an antivirus. It does so in many ways, and if you're familiar at all with MacKeeper you'll be familiar with some of the same tools it uses to clean your computer.
These tools include: Find & Fix, Geek on Demand (even better on the Window's version), Live Support, Antivirus, Anti-Theft, Data Hider, Shredder, File Recovery, Disk Cleaner, Disk Explorer, Duplicates Finder, Uninstaller, Content Menu Manager and Startup Manager.
Starting with either version, you click the Scan / Clean or Find & Fix button to get started. The Windows version includes an extra great feature. This feature is that it goes an extra step in the "Find & Fix" process, in that after it scans your computer it sends a report of what it found to a live person. This person is a Microsoft Certified Expert that will then review the report and within 24 hours send back all of the necessary fixes to make your computer run as fast, and error free as possible.
PCKeeper will now scan your computer and in just a few minutes it will be done.
Once the scan is complete, it will ask you to send the report to their expert and restart your computer. You can add any questions or concerns that you have to this email report, or even begin a chat with them.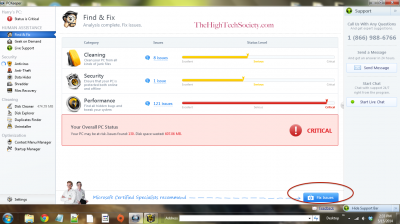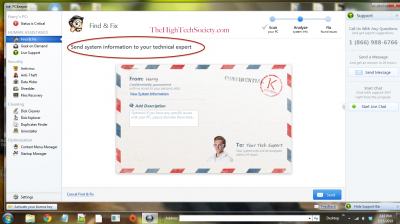 Once the report is back, you can agree with their "fixes" and just click the button that will fix the things they have found, which is best, and it will then put your PC back to running the way it should. If you're unsure, you can chat with your expert and explore other options or just ask questions if you have them as to what's about to be done.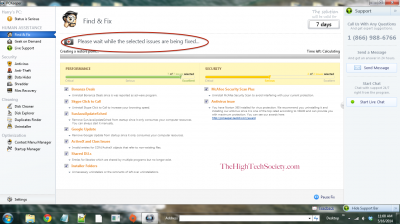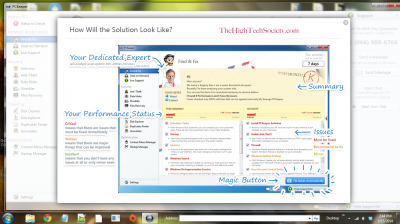 I really think this personal touch is amazing, and certainly unique amongst software programs. I always trust their recommendations and click to okay their fixes. The result is always a more smooth running and error free PC.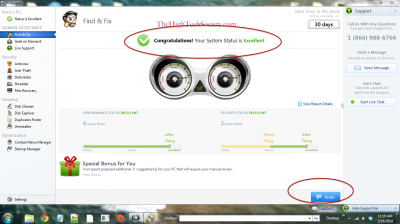 Other PCKeeper Features
You can also still control things yourself in PCKeeper, you do not just need to use the Find & Fix tool. Other things you can do include using the uninstall tool, a data hider, file recovery program, a tool to manage your startup menu, shred things you want to totally disappear, check for duplicates, and check for files wasting space with disk cleaner.
Antivirus & Antitheft:
There's also included with this computer a stellar anti-virus program and anti-theft feature. That alone would cost you over $40-50, so it really makes this program really worth it, in my opinion. I tried out the anti-virus scan and it found two infected programs and quarantined them. We had Norton running on this laptop and it did not find these issues, so that's not good. To run the antivirus program, you will first be asked to remove any other virus protection you have running, once you do that, PCKeeper's Anti-Virus will take over and will scan your computer per whatever settings you set it to run.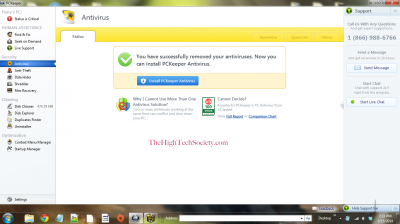 The anti-theft program is pretty sweet too, it will take a picture of the thief, as well as show you on a map where your computer is. This is on MacKeeper as well, and it's been one of my favorite parts of the program. I thankfully haven't needed it, but it's just a really neat idea and I love that they included it.
Other Options:
There are a lot of options you can choose to use or not use on the PCKeeper program, so if you get it, just scroll around and play with it a bit. The instant chat, Geek Squad, feature is really nice, I tried it out and it's truly instant, so if you ever feel stuck just give them a click. They make you feel very comfortable and don't worry about feeling stupid, they are really nice and don't make you feel dumb no matter how dumb you may feel your question is, I promise, because I asked some pretty dumb questions while testing it out and my helpers in chat we're all very long suffering and kind.
Final Opinion on PCKeeper
PCKeeper says it will do the following for you: Optimize Windows, Reduce Boot Time, Increase Internet Speed, Remove Spyware / Malware / Adware:  and I found this all to be 100% true.
As you can no doubt tell, I love this program, I just can't help it. It saves me time and frustration. It's so easy to use that I can now just tell my non-geeky husband to just once a month do the following: Click on PCKeeper, click on Find & Fix, click Send Report, click Restart, click Fix (once the report is back) and BOOM: his computer will be as good as new again! Best yet, I now no longer have to deal with anymore PC issues, and that makes me a very happy wife, which in turn makes him a very happy husband.
In my final opinion, it's definitely worth the money. You could buy all of those tools separately, or even find a few free, or save a few bucks and like me do it yourself for awhile to clean your PC, but again, I say it's worth the few bucks to buy it. It saves you time, and as they say, "time is money." Really though, consider if you were to buy an anti-virus program, and all of those other tools that come with this program, the money would be well over $100. Another issue is that having it as an all-on-one utility means it's one download, one program, meaning you're saving space on your hard drive and giving your computer less to deal with.
Price: Right now it is selling for $59, or they have a monthly plan as well. The monthly plan appears to have more features, but for this review and for our own PC we have just been using the downloaded version and not the monthly live one. If you give the monthly plan a try, we would love to hear from you and on what you think about it.
Before deciding on PCKeeper, be sure to read our Review of CleanMyPC.