PapaGo GPS Sports GoWatch770 Review
Gadgets & Gizmos
A Review of The GPS Sports Watch GoWatch770
We do many reviews on our site, mostly on software, but we also are very happy to review other products as well, so when we were asked by PapaGo to review their GoWatch770, we were excited and happy to do so. To learn more about how we do our reviews, please see at the end of this article a bit more information on our process. For now though, keep reading to see what I thought about the sports watch called GoWatch770, a watch that is definitely all about going places!
Opening the Box
The first thing I did when I received the PapaGo GoWatch770 was to just really examine it and read the instructions booklet. This watch is not just a watch that tells you the time, this watch is for those that want something that can help them keep track of their activity. The activity can be indoor or outdoor, and is tracked via GPS. Outdoor use would be the most fun with this watch (in my opinion), hiking, walking, running and bicycling, especially if you have friends that have the watch as you can all really work together on a fitness plan.
The watch itself is made of a very durable plastic, the band fits very nicely, even on a larger wrist (tried it on both my daughter and my husband) and is easy to put on or take off. The actual face of the watch, or watch itself, is larger than normal watches, but this is of course expected with as much information as it's going to have to hold and to display. None of us (again, tried by my husband, myself and 21 year old daughter), found it to be 'too' big, however, we did all agree it is a watch we would likely only wear while we were working out or hiking, and not wear it all day. Since this is the purpose of the watch, this isn't a negative, just a point to think of.
As far as the instruction booklet goes, I found it easy to read and it explained everything in a way that I was able to figure out without any trouble. You can also go online to their site and it will show you as well how to use the watch. Although it was at first a bit intimidating with the several functions, features and buttons, after playing with the watch for a few minutes I found that it's not that difficult to navigate. Like most products these days the "how to use" information is becoming more and more left on websites and less and less in their included printable materials, and so if you do not find something in their instructional guide the website is of much more help. Like I usually do though, I just kept pushing buttons till I figured it out and so really it wasn't that difficult.
Online Personal Dashboard
I must confess, this is one of my favorite features of the watch. It's one thing to be able to have a watch to track your activity, but it's quite another to have access to this information online, in a larger setting, making it easier to read and do more with. To get online the watch connects on the back through a USB cord. You will use this to charge the watch, update the firmware, and import your data to an online personal dashboard. I created an account so we could try the import feature and see what is included in the account, as you can see by some of the images below.
There is a heart rate monitor (HRM) attachment you can purchase separately, so you will see a place for your heart chart, but that needs the HRM to be able to use it. The HRM is attached around your chest and will connect to the watch wirelessly through bluetooth. I didn't try this feature out as we didn't have the HRM, however, I would prefer if there was a way for the back of the watch to perhaps monitor your pulse on your wrist rather than using a heart rate strap around the chest. Again though, I didn't try this feature out so it may not be as bothersome as I may be thinking, so this part will be for you to decide if you go with adding it as an accessory.

Upsides
I love the import feature of the watch, and love where it imports to. The personal dashboard that PapaGo has created is very well done, I like the interface, how it looks and works, and all the included information you have access to. That you can add friends is also a real plus, as is the GPS functionality.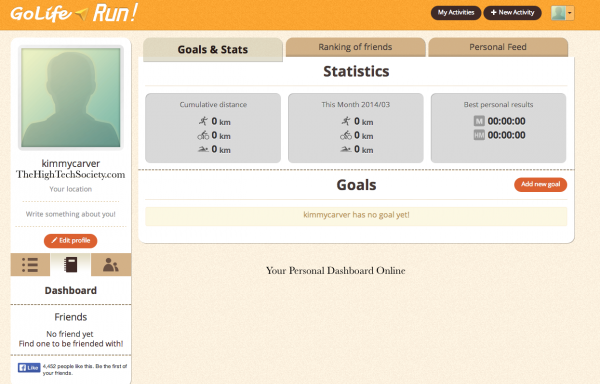 There are too many features to mention that I really like about this watch, I will pick a few favorites though which include the distance, calorie count, the touch screen backlight, and large, easy to read display.
Another thing that I like is that you can edit some of your information if you didn't enter it into the watch correctly, such as if you put in you were hiking and really you were bicycling, well you can go in and change it easily on their site. You can also coordinate this with your friends and their activity, so that's just very cool.
Another great thing to add is that it has a personal trainer feature, just set your age and sex and you can have the watch help you get the most out of your workout.
Possible Downsides….
As my daughter helped me out with this review we noticed that sometimes the watch would go back to searching for a GPS signal, I think this may have been our fault as LI later realized we didn't set it to 'indoor' in the settings prior to her working out. It was a bit frustrating to us at first as it would stop to find a signal and so it wasn't recording her entire time during a particular workout, so be sure to set it to indoor as I have a feeling this will affect it if you're working out indoors.
The largeness of the watch makes it so that you may not use it much as an everyday watch and more as one only to wear when doing physical activity, but this is a matter of personal preference really. As for myself and my husband we didn't mind and would wear it all day as a regular watch and leave it on for our workouts, but for our 21 year old fashionista daughter it's something she said she would just carry in her purse and wear when she wanted to use it, which is again, just fine.
The only other possible downside that I see is that the instruction book could include a bit more step by step on how to use the watch, and the website instructions become a bit clearer (which they say this is being worked on as the first language on the site is not English). Since this is being worked on, I think we will see some improvement soon and so it's not really a negative, just something to point out.
Final Opinion
To really try the watch out I had my daughter do various indoor exercises, outdoor was off for the day due to a really yucky day outdoors, but we feel that the indoor worked just fine for our review purposes. She used it while doing squats, leg raises, situps, and an elliptical machine. In all cases she said that she didn't find the watch to be cumbersome and that it was very easy for her to check it while working out, thanks to a large and bright display (just touch twice with your finger). These exercises are not all exactly what the watch is purposed to do, it's better used for walking, running, hiking, bicycling, things in which you are on the move really and can make use of the GPS function, however, it is still able to give you some great information for these exercises, like duration, calories burned, etc, so it's really a good watch for indoor and outdoor activity.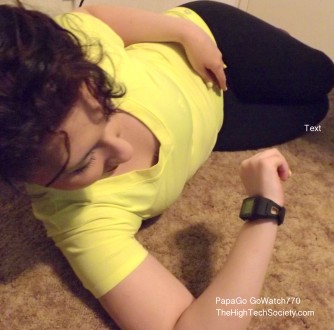 Final opinion is that if you're on the lookout for a watch that can track these things I just mentioned above, and more, such as exactly where you went, then this watch is for you. Another selling point would be if you have friends that also get the watch and you can work out together, or even separately, but then check each others workouts out online, I think that would be a great way to keep one another going.
The only thing I do hesitate on is that if you're looking for a watch that adds your heart rate to the mix, then I wish is that it was capable of different form of pulse monitoring other than the halter one, but if you're not needing it to keep your heart rate (as I am not), then you won't mind the heart rate monitoring process. I recently started walking daily and so for me the use alone of just seeing the path I walked, the distance, and duration, are all good enough for me. If heart rate is important to you, then I do recommend you try their HRM accessory and if you do, let us know what you think of it!
Below is a gallery of images from the site of the watch, as well as of our testing it out. The model in the images is 21 year old Katherine Carver. Thank you for helping us out Katherine!
Information on our reviews: Now, just in case you haven't read many of our reviews, let me start by saying that our reviews our our personal opinion that we form from actually using the product or software when supplied to us. If it's a product, it's often returned after the review or in some instances they allow us to keep them and raffle the product off when we're done. We are not paid for our opinion in any way, so this is a 100% unbiased review of the product. The company takes the gamble of sending us their items in hopes that we will like them, and so far we are very favorable in our reviews of the products and software we've received, I think that may be because those sending us their items make sure they are something we will review favorably as they made it well, however, we have had a few we have had to review negatively. We always try to still be very polite and find some positives, but, my direction to my writers is to be honest, so if we find that this item is just not worth purchasing, we will always let you know. That's our promise to you. This site was created to be helpful and not be misleading. If you ever want a review done before you purchase an item, ask us! We'll contact the company and review it for you.