PapaGo GoSafe 110 Dash Cam Review
Gadgets & Gizmos
PapaGo GoSafe 110 Dash Cam Review
Today we're reviewing the dash cam made by PapaGo. They have several dash cams that they make, but the one we are reviewing this time is the GoSafe 110. It is one of their smaller models, but still has many, and sometimes more, of the same features of their larger dash cameras. If you're in the market for a camera for your car, we hope this review will help you see if the PagaGo GoSafe 110 is the one for you.
*A full video review of the GoSafe 110 is available at the end of the article and includes footage from the dash cam.
Features of the PapaGo GoSafe 110 Car Cam
Although this cam is small, it's got a lot of features packed into it. Here's a list of most of them:
HD 720p high resolution video recording
Built in G-Sensor (when set this will "feel" an impact or accident and then automatically backup your video)
Auto start (starts recording when you turn the vehicle on)
HDMI output
USB output
Low and high temperature support
And now for some extra special features that most dash cams don't have…..
Stop & Go Alert
Very cool. We tried this and it worked well. Just what is it though? You know how it is when you're sitting in traffic for awhile and you being kind of looking around, playing with the music, you know, looking at everything but the car in front of you? Well, that's when this alert comes in handy. Once the car in front of you begins moving again, after you have sat 10 seconds or more at a standstill, then the GoSafe 110 will beep to alert you that traffic has begun moving again. This is not only good for traffic delays, but also long stoplights.
Headlight Reminder
This one is pretty well understood, it's a reminder to turn your headlights on. When it begins to get dark the dash cam will show the headlight reminder on the top of the screen.
Driver Fatigue Alert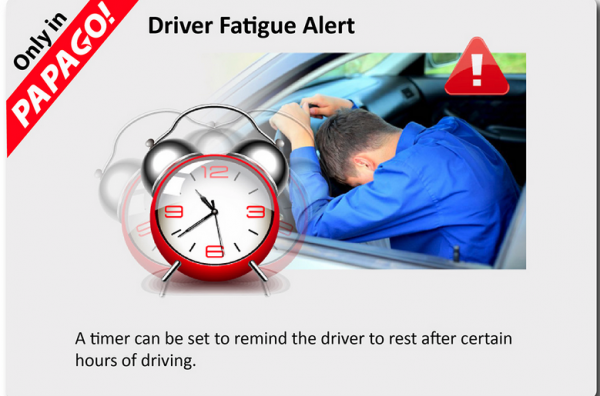 We really like this feature, it's one that we saw on another dash cam we tried out by PapaGo, and it's a really good idea for anyone that's traveling or driving a lot. The driver fatigue alert can be set to remind you to rest after a certain amount of hours of driving, or you can use it to beep to keep you alert. This would be especially helpful for over the road truck drivers.
Wide Angle Lens
The 126 degree wide angle lens is a nice feature on this little car cam. Everything was clearly seen from right to left, with no blind sides.
Motion Detector
This is the first time we've seen this in a dash cam, and it's pretty neat. Included in the box is a cable so that you could hardwire this to your battery (have a mechanic do it). However, many newer cars, like the one we drove to test this dash cam in (2014 Dodge Charger) have a cigarette lighter that is direct wired to the battery already. This means that whatever you plug into it can run without the vehicle being turned on, which also means you can potentially drain the battery so you want to be careful when using that outlet.
With the motion detector capability though, the cam should only turn on when it detects motion (someone walking in front of the car for example), so it shouldn't drain your battery. It's still wise to try it out first in your driveway before trying it when you're out somewhere just to make sure. We tried it and it did come on and record when something moved in front of the camera lens (we got some great cat videos) and it didn't drain our car battery.
Night Vision

This is another thing we've not seen in a dash cam and it was quite impressive. You can see from our video how well it did at night. The PapaGo site says that this is due to it being the world's first driving recorder equipped with a f/1.8 lens aperture. Whatever the reason is, the night recording is very good.
Exposure Value Setting

With this feature you can adjust the setting of the exposure value to deal with overexposure or low light situations so that you get a better quality video. We didn't touch this at all, we had some low light conditions, but we left it to see how the quality would be on its own without tinkering with it and it was perfectly fine. It is nice to be able to tweak the EV settings if you're taking videos for the purpose of watching them later, but if you're using it for the just everyday purpose of the "just in case" of an accident type of thing, you can probably just leave this setting alone.
Speed Limit Sign / Speed Limit Reminder

I have to admit, I really like this feature. How does it work? The speed limit sign feature works by reading the speed limit signs and then beeping (one beep) when it detects that you're going over the limit. This is a pretty high-tech feature, as are most of the features on this little cam, and it actually worked very well. I say that in the way that I did because often tech gadgets mean well, companies toss in all sorts of features into them that they think that we the consumer will like, but the more techie they are, the more often we're let down. This one though actually worked and worked well. You can mute this if you know you're a speedaholic and don't want to be warned when you're going too fast. I found it as especially helpful when downtown where the speed limits change in our little city quite a bit from block to block.
G-Sensor
At first we weren't totally sure what this was. When you set it up you can set the G-sensor sensitivity, but again, until we knew what it was we weren't sure what sensitivity to put it at or if we even needed it to be on. Once we read more about it we found that the G-sensor is for detecting "sudden force." When an accident, or sudden force is noticed it will automatically backup the video so that it won't be accidentally overridden. If you leave this setting to "off" you will need to press the emergency recording button on the dash cam itself if you're in an accident.
How the GoSafe 110 Video Camera Did: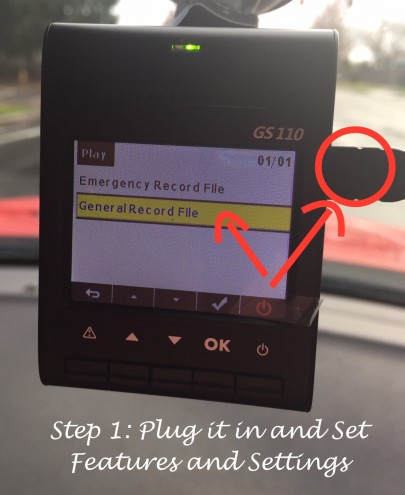 Once you get the dash cam it's easiest to set all the features up before you stick it to the windshield or dash. Once you have the features setup, then go ahead and put it where you think it will have the best view and be out of the way. It has a long cord, which is nice so that you can hide it along the windshield or roof.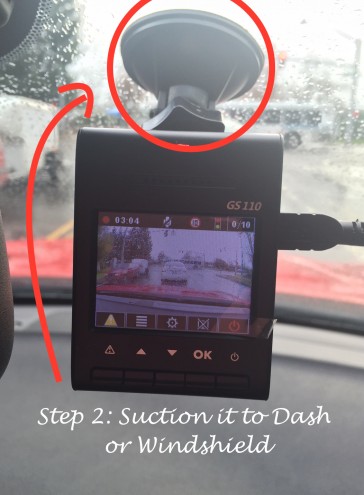 We installed the GoSafe 110 by suctioning it to our windshield. It attaches easily and it has a very strong seal. It never fell off of the windshield, even when we went over bumps. This is our first dash cam to not fall off when we tested it. We tried to put it on our dashboard but it wouldn't stay. Our dash is not smooth, it's got a bumpy surface, so we think that's why it wouldn't secure to it. It's was better on the windshield anyway, in our opinion.
If you set it to record voices (Voice Recording), remember that it is going to pick up your conversations and music at all times, so be careful of what you don't want others to hear. We kept ours off most of the time, however, we did turn it on to test the sound quality and it did pick up clearly our conversation as well as our music. The music is fun to play while driving and to hear when playing back, but you can always add music to the video easily on your computer and it will sound better that way.
Once the little video camera is set where you want it there's nothing else for you to do. It now automatically records anytime you turn the car on and will record until you turn the car off. It makes 5 minute recordings and then starts over with a new file. These files will all stay on the micro SD card (not included) until the card gets full and then it will begin to rewrite over them, unless that is, if you press on the "emergency" file button (a yellow triangle) and then it will mark that file so that it can't be recorded over. We did this a few times to test it and it worked. Our card filled up and did not write over the emergency files. *Need Micro SD Card 8GB, 16Gb, or 32GB
The camera itself is very small and compact, and that's not a bad thing. We liked how small it was as it stayed out of the way and it was easy to toss in the glove box or a purse when we left the car. The display is 2″ and that's just the right size. Any smaller would be too small and any larger would be, again in our opinion, a bit much. We thought it was just the right size to not be imposing and perfect for someone that takes occasional trips and wants to record them.
How do you get your recordings? You can bring the little unit in the house and plug in the HDMI to your HDTV or computer and see the files that way, or via USB. Easier yet though, you can just eject the micro SD card and put that into your computer (Mac or Windows) and open the files that way. You will look for the SD card as "No Name."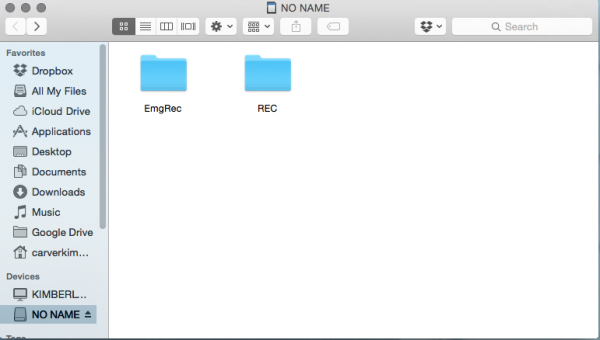 Click on this and when it opens you will have a set of emergency files and regular files. Using it on my Mac the videos opened and played in Quick Time, however, I later imported them to iMovie so that I could make a video review for you.
Video Quality:
Living in Oregon and being now in the late fall / early winter months, the days are pretty gray and gloomy here, so any video I took I was concerned may not look so good. I was wrong though, and even on the grayest days the video quality was excellent. I was especially impressed with the night quality though. I haven't seen a dash cam do so well at night so this was a nice surprise. If you do a lot of night driving, this is definitely the dash cam for you and in that case, you should take advantage of the exposure value settings that we didn't tinker with. That way you can really get the most from the video quality. *See sample video below or click here: PapaGo GoSafe Videos

720p HD Recording: If the thought of a dash cam with 720p instead of 1080p scares you off, you should think again, at least with this one. I admit, I thought this may be an issue and that the quality of a 720p dash cam compared to a dash cam with 1080p may be very noticeably different, worse different. But, it wasn't at all noticeable and that surprised me a bit because I have tried other video cameras and dash cams that were 720p instead of 1080p and you could tell a difference, and it was a bad difference.
The quality in those other ones was very grainy, and so I very much expected this to be the case with the GoSafe 110. Amazingly though, this tiny 720p car cam does a fantastic job in the video quality category, and somehow, PapaGo even managed to make the night vision quality excellent as well.
Overall Opinion:
After trying out all of the many features and taking video in various weather conditions, as well as daytime and nighttime videos, I found that the PapaGo GoSafe 110 is an excellent dash cam for anyone that is needing or wanting a car cam for:
1) the security of knowing that if you were in an accident you'd have complete, wide angled, high quality, video footage of the event, and / or 2) you are on the road a lot and like the added safety features of the fatigue alarm, stop and go alert, and speed limit reminders, and / or 3) you're a traveler and want all of 1 and 2 and also want a cam so that you can record and share your adventures on the road.
Good: The things that stood out for us as being especially helpful and being of better value than other dash cams include: a) it's size, which was small and compact, just right b) its video quality, which was excellent even at night c) the way it attached securely and easily to the windshield, and d) its features, especially the fatigue alert, speed limit reminder and stop and go alert.
Bad?: There's nothing that I can find to add to a "bad" column if I were to have a good and bad list about the GoSafe 110. If anything the camera comes with more features and options then you need or will ever use, but that may be only true of some people, others may use all that it comes with.
Price: Finally, the last thing I am usually asked is, "what about the price?" Believe it or not, you can find the Papago GoSafe 110 Dashcam for $137 and sometimes even lower when on sale.
Our video review of GoSafe 110