PapaGo DashCam P2Pro Review
Gadgets & Gizmos
PapaGo DashCam P2Pro Review
I normally will wait until the end to tell you my thoughts on like or don't like of a product but with this one I can't wait, I like! Okay, no, I love! PapaGo sent us their P2 Pro DashCam to review and see what we thought of it. Here in the states we really don't use dashcam's as much as the rest of the world has been doing, but I think it will be a trend that will catch on as it has been in other countries lately. That being said, it was why I accepted their offer to review their dash camera. I have no experience with these yet, so this is also my first review of such a camera.
**Please check out our review on YouTube as well and extra more on our video footage too here.**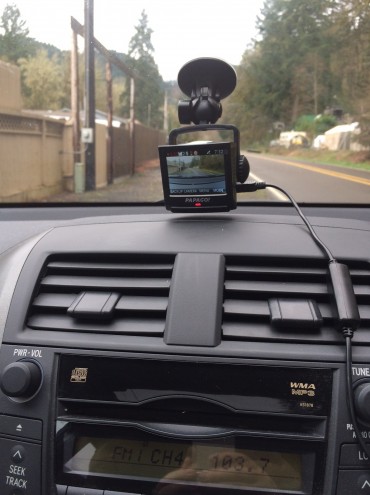 The PapaGo DashCam can be used in your car or even on your bike, I believe it could even mount to a motorcycle. This camera, as I read in the manual and on their site before use, is more than just for capturing images of your trips, it also has some handy dandy safety features built in. For one, it will tell you if you come too close to the middle intersection line, and secondly it will warn you if you are too close to a vehicle in front of you. It also tells you when you should have your headlights on, what your speed is, and what your direction is (has GPS).
Our Trip
To try out this dashcamera ourselves we decided to take it for a test drive. We live in Oregon so we took Highway 36 to the coast and returned on Hwy 126. Sadly it was a rainy day, but we still enjoyed it and it didn't impact the camera at all, it still recorded beautifully and took great pics.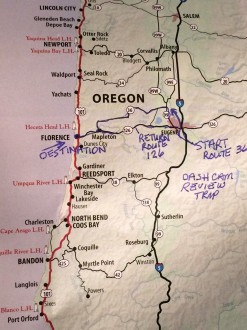 We mounted the camera to our windshield just below the rearview mirror. You can also mount it on the dashboard, however, in our 2011 Toyota Rav4, we found that the surface of the dash was too bumpy for the suction cup to stick so we had to mount it to the windshield. The first two tries of mounting it we did drop it, but I chalk that up to us (husband and I) and our inexperience with the product.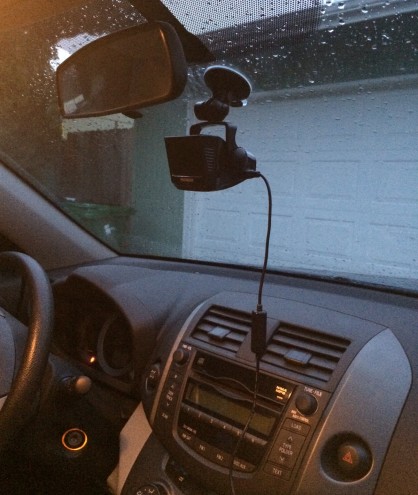 For your power you are given a very long cord with a cigartte lighter charger on the end. This worked out great for us because we had my iPhone charging in the front car lighter, so we had to run the cord to our next car lighter / charger which was all the way in the rear of the vehicle. It went all the way back with no issue, so I am very happy they thought to include such a long cord.
To attach you pull a little lever to release the suction cup and then hold onto the surface and press lever down so it will suction onto the surface and stick. While driving it did fall off once on us, but it was just after pulling out of a driveway with a bump in it and after reattaching it we didn't experience it falling anymore, even over bumps.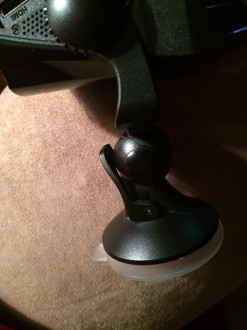 The display is small, but just right, in our opinion. You can press the mode / camera button to see other screens, such as your speed or direction. Press again and it returns you to your recording. Each recording lasts 5 minutes. I didn't find a way to override that and not sure if you can. It will automatically begin recording again after the 5 minute recording is up, so you don't have to do anything to turn it on again.
There is sound, we choose to turn the microphone off, which was easy to do in the settings. We figured we'd be talking a lot on our trip and didn't want to bore you with review talk or even more boring, shop talk.
Take Pictures or Video
The camera is very easily adjustable, even while it's on your windshield. I fiddled with it to find best views, I preferred it when just the road is seen, but my husband liked it with a bit of the car hood and dash in view. Really it's up to you and since it starts over every 5 minutes you can both have your way. You can also easily push the buttons while it's still mounted, go through settings, look at your husband's traveling speed (ha ha) and more. It will still record while you play with it so play away. It can also take pictures not just record as shown below.
Why get a Dashcam?
Practical applications to having a dashcam include having evidence of an accident, use it to send great shots of a trip to friends, or a travel website, or with a dashcam like this one if you're on the road a lot using it with the extra's of telling you when you're about to fall asleep (cross a side or middle line) or you're too close to someone is a big benefit.
Now, just for fun having it? That's totally up to you. We do not travel that often, but we did both fall in love with having this handy little device in the vehicle. It may be that we're just both tech geeks and love our gadgets and may never use one again, but then again, we really did love playing back some of our videos and seeing where we went. We also never (knock on wood) get into accidents, however, stuff happens so having it just in case would be pretty nice. It would show snapshots of the crash, speed, gps info, all could be in your favor; or not, so be careful. You can take snapshots by the way instead of all video and snapshot even while using the video.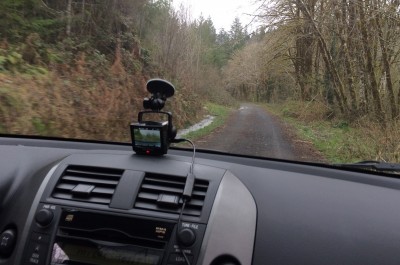 For your recording time with an 8GB you get 90 min, 16GB is 180 min, and 32GB you have 360 minutes.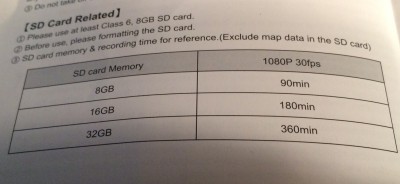 Something nice that I noticed is that when you play the video back you can even see your GPS coordinates (longitude and latitude), as well as the time and the speed that you were going. Then when you see that 55mph sign go by on the video and look down to see your guy was at 60 you can wag your finger at him and nag at him a bit. I must say though that my normally speedy hubby was right on target for most the trip, as I noticed during playback.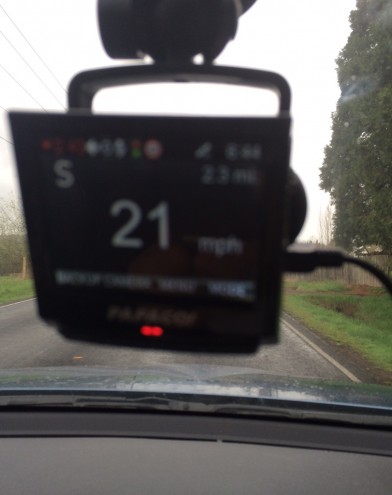 Finally, overall opinion: As I began with, we really loved it. I like all the extra features, which makes it so much more worth the buy because using it only for recording trips isn't something we would likely use it for. Having a bit more help by knowing if you're not paying attention and start crossing a line or coming up to close on someone's bumper is a really nice feature to have, something that lately comes with some newer model cars, but with this camera setup you don't have to buy a new car for those extras, just use your dashcam.
**Just for fun: a test using iPhone 5s as a dashcam: Video
So, should you buy one? If you are on the road a lot my answer is a definite yes, you won't be sorry. If you are more of a home buddy and local driver my answer is a more of a maybe. If you have the funds to buy something fun, you like taking pictures, you like the idea of a little extra protection while driving, then yes, do it. Prior to doing this review I saw absolutely no reason to ever use or have a camera on my car's dashboard, but I have to say that I, well we (hubby), actually really see the appeal to it now and would be glad to have one up there all the time.
I always try to find a negative in a review, even when the item is really well liked like this one, so as both my husband and I really tried to think of any downsides we could only think of two and they are really pretty minor. The first is that I / we wish that the manual had a bit more information in it. Perhaps a bit more detailed, but that is likely something they have on the site. Secondly, the fact that it did fall a few times was a little bummer, but again, minor because we think it was user error as after we mastered it we stopped it from dropping. The good thing is that the few times it fell from the window it didn't seem to harm it at all and it even kept recording…and no I am not showing you that video, it was a bit embarrassing.
I am going to put a few of our trip videos up for you so you can see the quality. Feel free to fast forward! There are some great views of some rapids, some windy backroads, and a really fun road with rock slides, oh and also a tunnel, so maybe you'll enjoy some of them. I also took a video using my iPhone5s by holding it on the dash, um, not so great, but I will put it up so you can see the difference and why you'd rather put a dashcam up instead of holding your iphone up. The stability of the cam is very noticeable, no bumpiness like you will see with my iPhone and me holding it.
**Remember: Please check out our review on YouTube as well and extra more on our video footage too here.
*You can trust our reviews at The High Tech Society! All opinions are our own and never paid for. We base it on the use of the product, which may differ due to different conditions like different computer specs if it's a software review, however, we all try to do our best to give you the best info we can so that you can make a good choice on whether to purchase the item or not. We always welcome your opinions on these products too so please feel free to share!