High Tech at Oregon Logging Conference 2013
High Tech at Oregon Logging Conference 2013
If you're joining me from the Eugene Daily News regarding the 2013 Oregon Logging Conference, welcome! If you're here just after finding this article from the Internet, welcome too! As I covered the Oregon Logging Conference in Eugene, Oregon this year for the Eugene Daily News and The High Tech Society, I found there was a lot to talk about, so I decided to split it up so that you could also enjoy all of what was there, including more pictures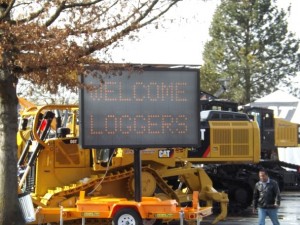 .
The Oregon Logging Conference celebrated its 75th Anniversary this year and as a present the local community came out with a best showing since 2008. They also had more participants sign up for their weekly seminars and other training, so it was a hit all the way around. Since the Willamette Valley (which holds Eugene) is often referred to as the Silicone Valley of the North West, this conference that brings the newest technology, especially in regards to eco-tech, and high tech in the logging industry is a perfect fit for the local community.
You may ask why a high tech website would want to mention the OLC. That's because even in logging technology is advancing. They have the most innovative and amazing machines now, as you can see in my first EDN article about the OLC where I spoke of the Peterson Pacific machinery. As a high tech society, we hope to attend as many technology conferences from as many industries as we can, so that there will definitely be something for everyone on our site.
Joining from EDN? Start Here! And, What Else Was at the OLC:
I won't repeat myself since you can just go and read today's article (I will post the link once it's up) to see what else was there, instead I will just mention anything that I felt would be too long for the news, and yet was still interesting to the reader. If you left off from the EDN article, you were probably at the part about the wildlife that was there. There were a few creatures visiting Eugene, Oregon from Grants Pass, that had been injured by logging trucks, or other vehicles or otherwise injured.
In the booth occupied by Wildlife Images, there were three adorable, yet dangerous (at least to mice and fish) birds, the booth attracted both old and young. Among their wildlife was a scary looking tarantula, or so it appeared to be as I didn't go close enough to read the label.
Those that didn't terrify me included a barn owl named Petri, more about him in a minute, a red tailed hawk and a screech owl. Interesting stories for each of them, especially the barn owl and hawk, as we were told by the person manning the booth at the time. The red tailed hawk, actually had a much longer name and was said that his coloring is one in a million so he looked a lot more pale than most, was a transplant from Medford, Oregon.

This poor fella had first been found a few years ago after he had apparently flown into a building and fallen to the ground. Once rescued the group determined he wasn't injured and so they released him back near where they first found him hoping he would go back to normal red hawk life. A few days later however, the wildlife group was called back to the exactly same building as they had been to before, and with the same scenario as before. This time they took the hawk to a human opthamologist who actually held a scope up to the bird's eyes and found that the poor thing was blind in one eye and nearly blind in the other. Poor red hawk's days of flying were over. Something all hawks need to survive is their eyes of course, and normally they, like eagles, have vision that is amazing.
The second interesting animal, the barn owl name Petri, has been with this wildlife rescue for over 19 years. All those years ago, young Petri was found as an egg. He was with a few eggs, all abandoned. These wonderful rescuers put wrapped the eggs gently with a cloth and placed them in a cigar box, what they called their 'petri' dish. Only one egg hatched, and he of course got his name Petri from where they helped him survive from. This owl has always been owned and raised by humans, hand fed as a baby of course, and as such he wasn't able to make it amongst the other owls so he stays with his family at Wildlife Images.
Technology at the Oregon Logging Conference
There really was a little bit for everyone at this event. Even for techies! Check out this wood carving of an alien from the movie Predator. It was a movie from 1987 starring Arnold Schwarzenegger. This wood stump with an alien face definitely stood out against all the usual suspects of a woodcarvers booth, such as bears, fish and eagles, which were all also great to look at, but being a tech person, the alien became my quick fave.
The machines were also something any techie would love. There were big log loaders playing with their stumps as they stacked them as high as they could without toppling them, lots of different machines that turned trees into wood chips or into lumber by making them into planks, and others that I have no idea what they do but were just really cool. These machines also fit in as eco-tech as recyclers, and help an area to use or reuse something they couldn't use before in the form it was in, such as an old home and the lumber and shingles on it. It is recycled by putting it through a grinder and turned into tinier pieces, easier to dispose of or use in some manner if wanted.
The most high tech of them all were the grinders and chippers made by Peterson Pacific. They were definitely the cadillac among similar machines. The difference compared to others is something very noticeable, even to me, someone that is of course not a logger or mechanic. Peterson is certainly the most innovative manufacturer in their industry, and they have oodles and oodles of patents to prove it. They have engineers on staff at the local manufacturing facility, that work hard to create and build something no one else has, and it definitely shows.
The pride of their work was also what showed and made them into what I called the cadillac of the logging equipment industry. These machines had the best designs, again even I could see that, and were so well put together that they just blew the competition away. Their beautiful paint jobs didn't hurt either. With the majority of machines being yellow and orange, whoever picked blue for these mammoths did them a favor because they certainly stand out, in a good way. They paint these machines on site with their own painters and booths, ones that are also just as proud of their machines as the engineers and builders, as it does really show.
This may seem like a little thing, or even a girl thing to notice a paint job, or to also see that the materials they use are just plain "prettier" than the rest, okay more heavy duty and expensive looking if you're a guy, but really it is something noticed by anyone that walks by as you can hear if you're a listening in on other's conversations, like me. Hey, it was for the show, I had to listen in.
Well, that's about it for this year's Oregon Logging Conference. As the largest logging conference west of the Mississippi, it's a conference that has been held locally for the past 75 years and ever since day one has been used in part to showcase the newest technology in the logging industry, so you can be sure that we'll be there again next year to tell you what else is new.
I will also be doing a special article on the Peterson Pacific machines soon, since these really did stand out to me as the most high tech machines out there. I'd love to hear how their engineers come up with their ideas or maybe even hear what they may have coming up that will be new to the industry, if they'll tell me.
Let me know what you think of some of these cool machines! Check out more images from the OLC (including a log loader playing Jenga with large stumps) and see video of the grinders here.
Log Loader building a tower (for more images showing this in action go to the more image link)