New Technology In The Kitchen: Amazing New Kitchen Tech!
 Some Amazing New Technology In The Kitchen
Not everyone remembers the Jetsons, that space age family with all the neat things and technology in the kitchen. Flying cars, robot maids, and kitchens that did everything for you were the norm for them, Everything was space age and cool. We may not be there yet but with the new technology in the  kitchen, we can experience a kitchen that seems to do things for us. Gone are the days of spending hours in the kitchen to prepare meals and clean up.
The crock pot was a wonderful appliance, and still is, when it first came out. Imagine a meal ready when you got home from work! There was no mess, no fuss, just a warm meal ready to feed the family. Microwaves were another invention that helped speed up cooking time. Everyone was all for less time in the kitchen. With the new technology we have today the appliances, gadgets, and the kitchen itself can be amazing.
New Kitchen Technology For Coffee Lovers
No more waiting for a cup of coffee, cappuccino, or espresso when there are fast one-cup machines available today. There are Keurig Brewers that will make a cup of coffee in seconds. The K-cups used or each cup of coffee comes in over two hundred flavors. The machine can be used for so much more than coffee. New kitchen technology has made it easy to have that first cup of coffee in the morning.
New Technology Of K-Cup Types
Coffee
Cappuccino
Espresso
Cocoa
Hot apple cider
Latte
Teas
Another one-cup machine is the Nespresso. It too will have your coffee done in less than a minute. It uses high pressure and can make cappuccino and espresso. Some models have a wand to froth milk cream for cappuccino. You can choose from sixteen kinds of coffee. With the wonderful new technology of these types of machines, there is no more wasted coffee.
New Technology For Counter Tops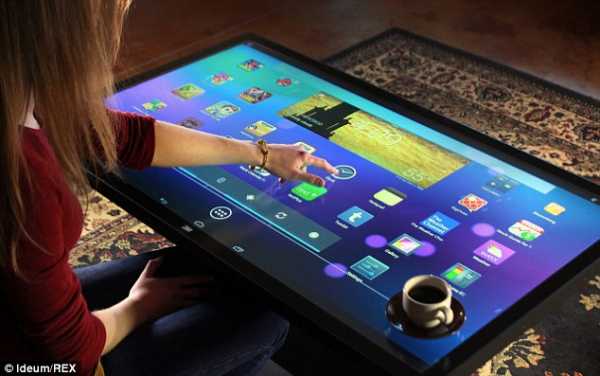 You may soon have an amazing and helpful counter top with a brain thanks to new technology in the kitchen. The Touchscreen Counter Top, also called the Oasis System, is a smart appliance that seems it might have come from the future. The counter top interacts with you, talks, and helps with portions and calories. The touchscreen knows what is placed on it and will give helpful recipes for using the food.  This was a prototype in 2010. Ryder Ziola, a University of Washington graduate student, and a research team were successful in the research and concept of the smart touchscreen counter top. If only this were in every kitchen!
Bring The Internet Into The Kitchen With New Technology
Everyone has those recipe books, the ones used all the time with the favorite recipes in them. The ones in the kitchen drawer or on the shelf that are all stained and covered in years of use. With the new technology we have that can be a thing of the past. The Pandigital Kitchen Technology Center will sit on the counter or table and let you see your recipe on the 15.6-inch touchscreen. This wonderful little gadget has wireless internet so you can browse for recipes while in the kitchen. It is also a high definition TV and digital photo frame so when not in use for cooking your photos can be displayed in a slide show.
New Technology And Refrigerators
The 7-inch touchscreen above the ice/water dispenser on the Samsung French Door Refrigerator lets you control the temperature of the refrigerator as well as water filters. You can control it all right from the front panel. It also keeps your schedule, has a calendar, and lets you see nutrition information and view photos.
Stoves And New Technology
The stove is sometimes the center of the kitchen. The advances in new technology have come up with a way to make the LG Solar Cube Light Wave Oven. This appliance is like a cross of a microwave, grill, and range that does not take up much space. It cooks with a quadruple heating system, which means it uses a halogen heater, convection fan, grill, and microwave to cook. It cooks food four times faster than a regular oven and you do not need to preheat it. I mention this one because I would like it but as of now, they are only available in Europe, but look what we have to look forward to!
Find more tech in the kitchen in our newest kitchen tech article!
Appliances that make things quick, easy and get us out of the kitchen faster is what new technology is bringing us. With the way technology advances what we have will soon be replaced again with new technology. Improving on energy use is one way appliances in the kitchen have benefited and continue to benefit. Saving time, making life easier, and making time in the kitchen fun is what these amazing appliances are doing for us.