March is National Women's History Month! Celebrate With Us
National Women's History Month March 2013
As a website created and run by women, we at The High Tech Society hope you will join us in celebrating National Women's History Month by remembering and honoring women in the fields of Science, Technology, Engineering, and Mathematics. These fields of industry are known by the acronym of STEM.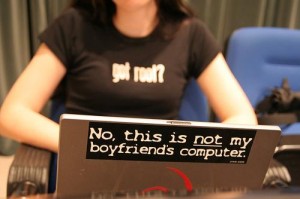 There are so many women in these fields that we would love to mention, but there are just too many to be able to do so. Below we shall list some of our favorites though, and we would love to hear from you as to what woman in technology, or any of the other STEM fields, that you like most.
4 of the Smartest and Brightest Women in STEM History
Maria Agnesi (1718 – 1799). Maria is a woman in STEM history known for her mathematical genius. She began, however, with a love for languages and by the age of 13 was able to speak 7 different languages brilliantly.  OnlineColleges.net says of Maria Agnesi: "She followed up the invention of Calculus by Sir Isaac Newton by writing a 1000-page, two volume mathematics tome that includes the first reliable book for teaching differential and integral calculus. The French Academy of Science lauded her achievement and said, "This work is characterized by its careful organization, its clarity and its precision. There is no other book, in any language, which would enable a reader to penetrate as deeply, or as rapidly, into the fundamental concepts of analysis. We consider that treatise the most complete and best written of its kind." In addition, she advocated education for women, was elected to the Bologna Academy of Science and awarded by Pope Benedict XIV, two rare honors for women at that time."
Marie Curie (1867 –  1934). Marie Curie is quite well known as a woman in history, this is because she was the first person to be awarded two Nobel Prizes, one in Chemistry and one in Physics, and the first female professor at the University of Paris. She was a recipient of these due to her discovery of polonium and radium. These are two of the elements that make up radioactivity. Marie then developed techniques that separated radium from its radioactive properties so that the element could be studieds on its own. She was studying the potential of radium in therapeutic medicine and of this she said, "It may be easily understood how deeply I appreciated the privilege of realizing that our discovery had become a benefit to mankind, not only through its great scientific importance, but also by its power of efficient action against human suffering and terrible disease. This was indeed a splendid reward for our years of hard toil."
Marjorie Stewart Joyner (1896-1994). Believed to be the first female African American to receive a patent, Marjorie is known in women's history as the inventor of a permanent wave and hair straightening machine. Marjorie was the granddaughter of a slave and a slave owner, but she came through these hardships with help from the first black American female entrepreneur, Madame C.J. Walker. Marjorie's prototype was made of pot roast rods, which she attached to a hair drying hood joined by an electrical cord, which heated the rods to seal the curl. As she later said, "If I can take pot roast rods and have a one-of-a-kind invention, believe me, people can do what they set their minds to."
Katharine Blodgett (1898-1979). Katharine was also an inventor, and she was the first woman to receive a Ph.D. in physics at the University of Cambridge. As the first female scientist for General Electric, she created the first 100% transparent, non-reflective glass, which she discovered during research into monomolecular coatings while working for the company. According to OnlineColleges.Net: "Her new method of reducing glare on glass, which was patented in 1938, revolutionized photography, scientific equipment including microscopes and telescopes, and eyeglasses. She is perhaps most famous, however, for inventing a color gauge to measure the molecular coatings on glass. Among her other inventions were a method for de-icing plane wings, and poison gas absorbents."
These are just 4 of the wonderful women in history that we should remember and honor during National Women's History Month. Who is your favorite? One of these listed or do you have someone else in mind? She doesn't have to be in the STEM industries either, she may be Rosa Parks or Hillary Clinton. You decide!