Meet the SunJack Solar Charger – The World's Most Portable Solar Charger In Its Class
Gadgets & Gizmos
Meet the SunJack Solar Charger – The World's Most Portable Solar Charger In Its Class
With the growing popularity of solar energy, and the increasing need for eco-friendly energy sources, the sun is quite simply one of the best places to turn. Because solar panel technology is becoming lighter, more affordable, and easier to manufacture, it's an ideal solution to energy problems around the world. Unfortunately, many of the portable options available today are either excessively expensive, too bulky to carry, or not powerful enough to meet the needs of the owner. The SunJack Solar Charger is a device that aims to combat that by offering portable solar solutions at 15 or 20 watts of power. The SunJack was just $700 short of it's fundraising goal at the time of me writing the article.
What is the SunJack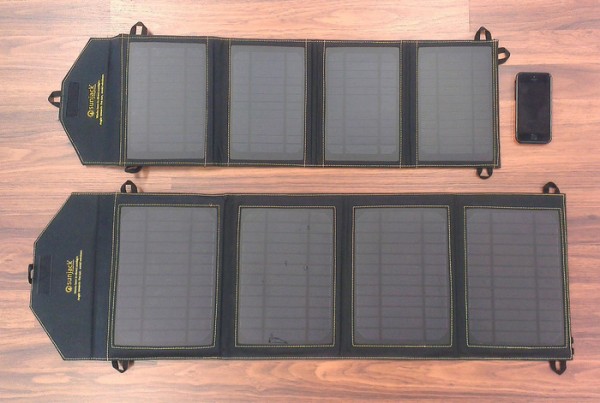 The SunJack is a portable solar charger that rolls up to fit into a backpack or bag, and then unrolls to collect sunlight from wherever you happen to want to place it. The charger collects energy from the sun's rays and then stores that energy directly in a battery pack, you can choose to purchase more than one battery with your SunJack so that you can charge more than one and have extra energy available. The battery allows it to charge items at night as well as when the sun is shining.
Each SunJack is available with a small 15 Watt battery or a larger 20 watt battery, and each features a different number of solar panels in the pack. Both batteries charge with 5 hours of sunlight, and then the small battery can charge an iPhone up to 4 times, while the 20 watt can charge an iPhone up to 8 times. It also provides 8 or 16 hours of 2.5 watt lighting, which is enough to read by. The battery features 2x USB 2.0 ports and a flashlight, so that you can use it with any of your USB devices.
At just 2.7 pounds in weight and 8.5x 12 inches when folded, the SunJack is also portable, easy to carry around, and great for travel. At $100 for the 15 watt and $200 for the 20 watt, it's not cheap, but SunJack does intend to donate to 3rd world countries in need of personal solar solutions if they get enough in terms of sales.
Why Is It Important
Solar power is one of the most promising eco-friendly energy sources, and a lightweight, portable, and affordable option like the SunJack could be the best thing ever for a range of different uses. While most of us living in the U.S. will use it for backpacking and camping, students can use it to charge their phones and devices while on lunch break, people who are sailing, boating, or competing can use it, it can charge your phone from your car dashboard on the way too and from work, and it works as an emergency power source. Most importantly, it could also provide low-energy solutions to areas without a regular power supply, giving users the opportunity to use phones, cameras, lights, and other USB charged gadgets more freely.