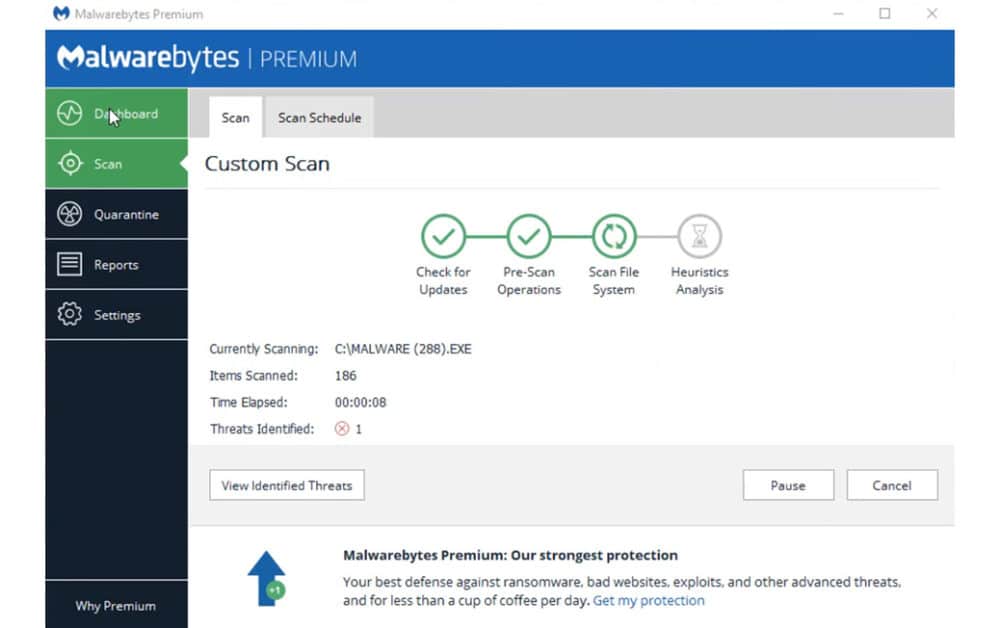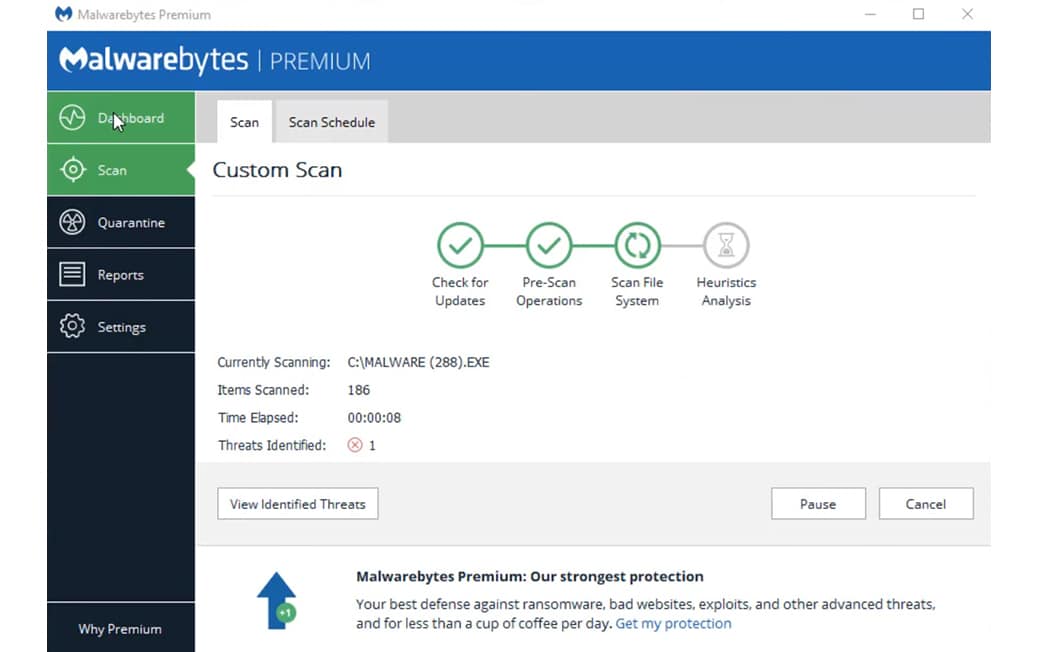 Malwarebytes is hugely popular for a reason. Its free version offers a seek-and-destroy engine that removes malware from your computer. On the other hand, a single user can expect to pay $39.99 per year for advanced protection. The question, as always, is: does it provide enough protection to warrant the bloated price point?
This series is composed of three of the most popular anti-malware software available on the web today. That includes Bitdefender, IOBit Malware Fighter, and Malwarebytes.
While Bitdefender is a lot of ooga booga marketing coupled with redundant features, IOBit Malware Fighter fails in several key categories to deliver the kind of basic protection that an end user should expect from a piece of security software. Malwarebytes is obviously different, but how different?
Malwarebytes Free Version
Like most free anti-malware systems, the free version only comes with the ability to scan, detect, and quarantine threats. However, upon downloading, you get a 14-day look at what the paid version can offer you.
When testing Malwarebytes, the antivirus assured me that it had blocked websites that had malware, riskware, and committed fraud. Since the paid version has lapsed, Malwarebytes has ostensibly not been doing any of that and my computer is no worse for the wear.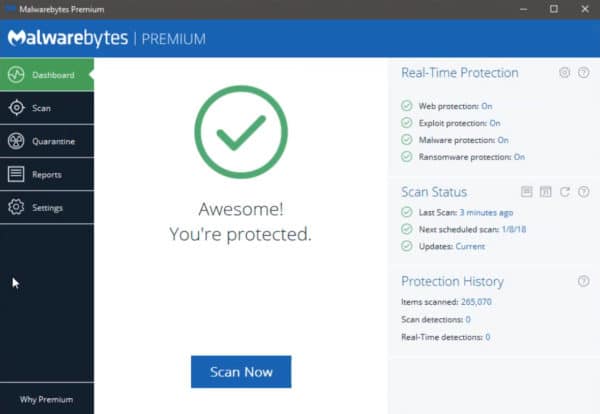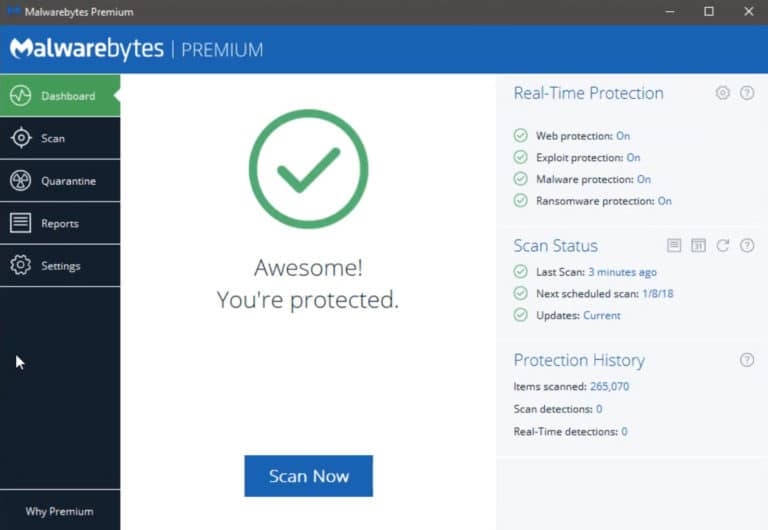 The interface is pretty standard for an anti-malware program and intuitive to navigate. The Settings menu allows you to add exclusions, set a scan schedule, and tweak which protections are turned on and off.
The important thing to understand is that Malwarebytes has no real-time protection that prevents malware from being installed on your system. It only includes the ability to scan and remove.
Malwarebytes Premium Features
With your typical antivirus software, a scan is performed by comparing a malware signature to different programs in a selected folder, or with a full scan, every file on the hard drive. Malwarebytes, on the other hand, blocks malicious or suspicious behavior. This is one reason why it's the best package of the three.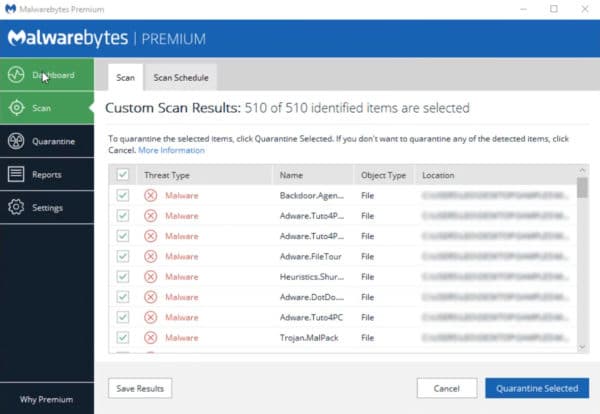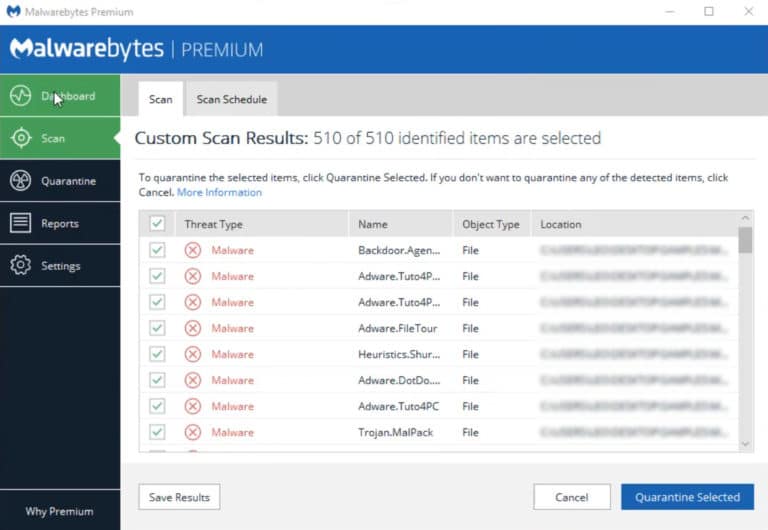 That functionality, on the other hand, is crippled in the free version. You need to have the paid version in order for Malwarebytes to give you real-time protection. That being said, it's actually good real-time protection.
On the other hand, the free version doesn't do much that's useful. It's search methods are fairly compromised and only do an average job at detection. In other words, in order to have an effective piece of anti-malware software, you're basically forced to purchase the paid version at an expensive $39.99 per year.
So then the question becomes: what do you get?
Preventative Protection
Malwarebytes, unlike Bitdefender, is not going to try to bamboozle you with an endless list of features, most of which are redundant. Signature matches are an outmoded style of protection that is becoming increasingly obsolete as technology moves forward.
Malwarebytes URL filtering is one of its best features. It also includes an anti-exploit module that blocks a number of common attacks that hackers use to infiltrate systems. These include:
DEP enforcement
Anti-heapspraying
ASLR enforcement
Java monitoring
Memory attacks
VBScript protection
Information concerning some of these security protocols can be found here.
In addition it has an anti-ransomware module that prevents ransomware attacks.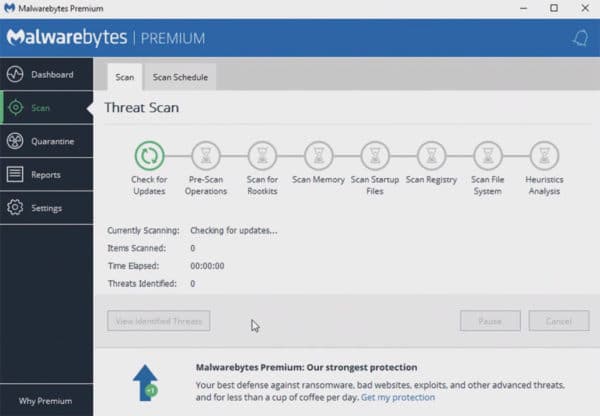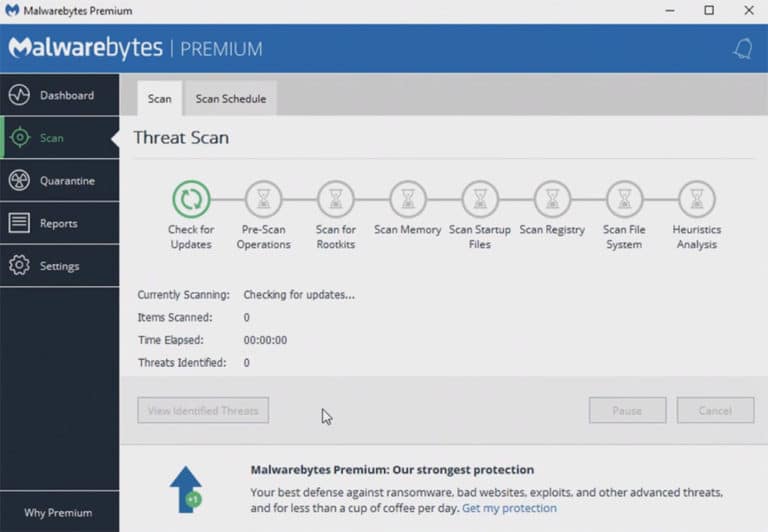 By stopping malicious behavior, Malwarebytes has put itself more in line with modern approaches to security protection. On the other hand, it's very difficult to test just how well works. That being said, Malwarebytes won't interfere with other programs like Windows Defender. It is not at all worth paying for the Pro version if you don't run Windows on your machine.
As far as I can tell, it's moving in the right direction. Signature scans will not be a relevant method of security for computer systems for long. Targeting and trapping exploits and stopping malicious actions is the future.
Nonetheless, the best form of antivirus software has live humans on the other side who really know what they're doing. How can Malwarebytes automate all the functions that living security experts can perform?
The Bottom Line
If Malwarebytes requires a second virus program to run alongside it then it's difficult to justify the $39.99 / year that you have to pay for a single license for a single computer. On the other hand, the free version does not provide much value. The seek-and-destroy aspect of Malwarebytes is not very good, to put it mildly. Where Malwarebytes excels is in preventing attacks by identifying suspicious behavior.
If Malwarebytes works as advertised, and if you have confidence that Malwarebytes works as well as advertised, you should go out and purchase yourself a copy. In my estimation, whether it's easy to test or not, it is performing the most cutting-edge security and threat detection methods available of the three security suites that we've reviewed here.
The future is not scanning hard disks for bad files. That is a remarkably inefficient means of securing a computer. The future is trapping malicious processes before they have a chance to do serious damage.
The reason why this is the future is due in large part to the presence of IoT devices. On the other hand, there are security services that offer the kind of protection that I'm referring to. To the extent to which Malwarebytes is superior to them or that they are superior to Malwarebytes in unclear. But most businesses do approach their own security by trapping processes instead of running scans.