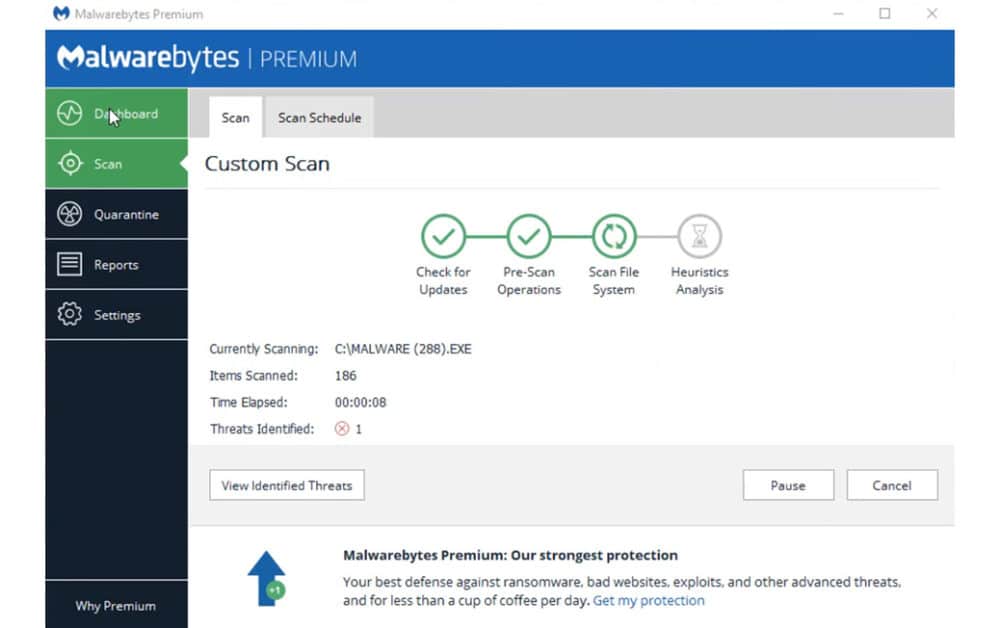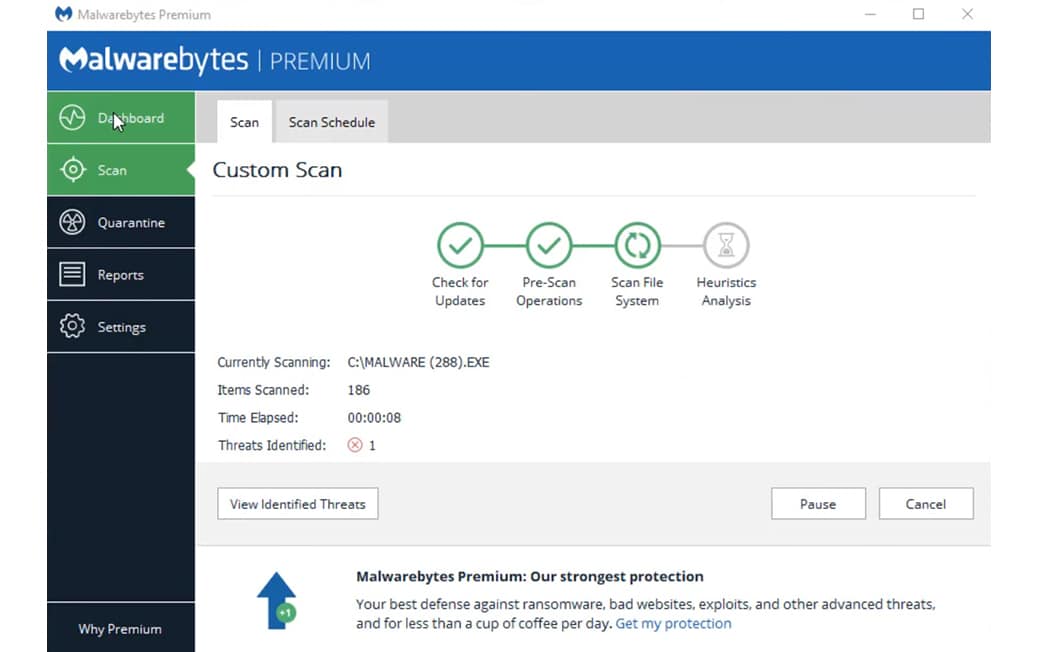 This anti-malware program was first released to the world in 2006. It is available as both a free and a paid product, with fair payment plans for frequent users. With each new update, the Malwarebytes team has perfected the original "model" based on their fifteen years of expertise in the area.
It is important to understand that anti-malware suites are not as effective as leading antivirus solutions. Consider this product a modern brick wall against cyber threats, an additional layer of protection that will function in tandem with a traditional antivirus software such as Bitdefender or Avast. Malwarebytes would not be able to defend you against the most harmful forms of malware by itself.
It also doesn't interfere with other antivirus software and has a low device effect. As a result, our experts strongly advise downloading the free version to assist the key antivirus program in combating the most recent threats. Malwarebytes is constantly on the lookout for new threats even the most powerful antivirus software, such as Kaspersky, can miss.
We'll go over the lab test results, conduct some in-house testing, discuss pricing, product compatibility, setup, ease of use, and more in this analysis. We'll also talk about the Premium version and go over all of the extra features it offers. Finally, we have a FAQ segment where we will answer the most frequently asked questions on the internet.
Real-Time Protection
Malwarebytes Premium has a powerful "Real-Time Security" function that looks for zero-day attacks, malware, and possible threats in software or code that cybercriminals might exploit. The Real-Time Security function employs four layers of protection at the same time:
These four layers of security are still active at the same time and serve as the software's base.
Notice that Malwarebytes Free does not have Real-Time Security, so I do not recommend using it as a dedicated antivirus. If you've been wanting a free antivirus, take a look at our top Windows and Mac antivirus recommendations.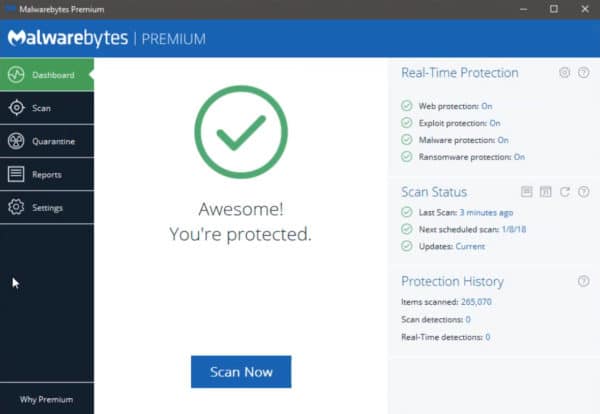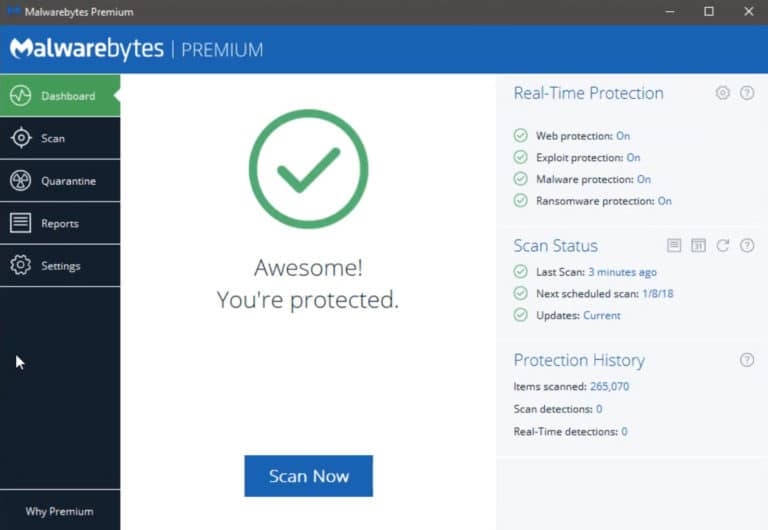 Malwarebytes also uses sophisticated activity (heuristic) analysis and modified virus signatures to identify possible threats.
Signature-based detection, which targets viruses which have infected other computers using specific sets of data and bits of code, accounts for only approximately 5% of Malwarebytes' detections.
Rather than that, Malwarebytes relies heavily on heuristic analysis y examining relevant factors such as a program's configuration and actions to detect and counteract previously unknown viruses and malware.
This is a fantastic device that distinguishes Malwarebytes from the competition. Although most antivirus software include some form of real-time protection and heuristic analysis, Malwarebytes' focus on these features (and the fact that they function well) elevates it from being just another feature to a formidable defense against malware.
Scanning Options
The Scan menu is located on the left side of the screen. In total, three scan forms are open, and we put them all to the test for our Malwarebytes analysis. If you want the antivirus to perform a fast scan and examine the most vulnerable/frequently infected areas, choose the Threat Scan option. Registry, sensitive data, memory, and startup programs are among the locations checked.
This scan takes Malwarebytes two minutes to finish. This isn't, however, the quickest way to search the operating system. The Hyper Scan takes about 10 seconds to complete and only scans the startup apps and memory. Assume that it is less accurate than the Threat Scan. Finally, there's Custom scan, which lets users choose which files and directories they want scanned.
There just aren't quite quite so many customization options as Avira or Avast, but it won't matter to a daily user. Malwarebytes Free is only compatible with Windows and iOS, so keep that in mind. Additionally, it will not allow you to schedule custom scans. On the other hand, it's still a good choice for fast scanning on an iPad or iPhone.
The only drawback to Malwarebytes scans is that they sometimes flag legitimate apps as potentially harmful, but this is rare.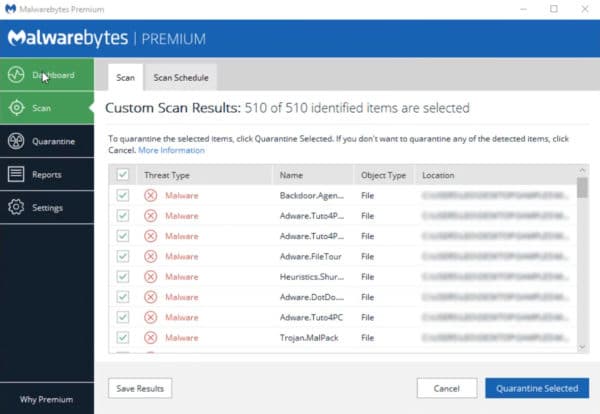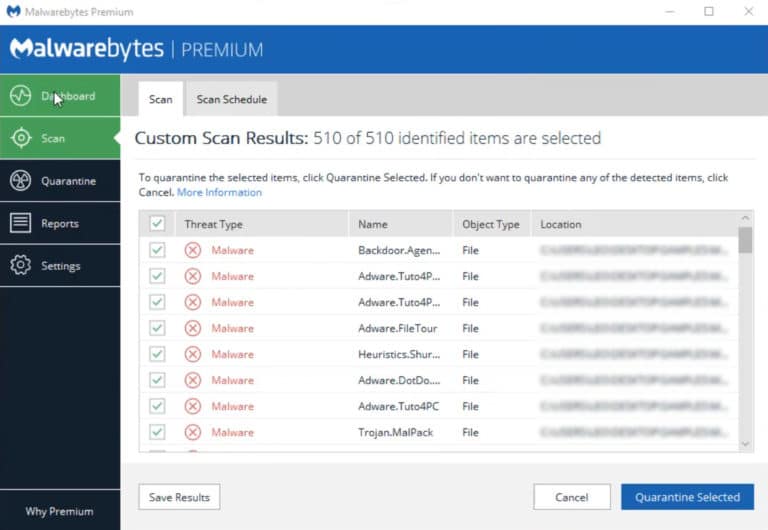 Signature-Based Protection
Malwarebytes uses Signature-Based Detection in addition to providing effective real-time security against malware and viruses. Numerous cybersecurity organizations employ signature-based identification to identify malware that has already been found on the internet and archived as part of a large database. Malwarebytes uses special bits of code and sets of data to target malware and harmful viruses which have infected other computers, which is a simplified explanation of signature-based detection. To detect possible threats, Malwarebytes often employs advanced action or heuristic analysis. To detect and stop previously unseen viruses and malware, the research looks at a program's related factors such as actions and structure.
URL Filtering
Malwarebytes also includes basic URL filtering, which detects and blocks malicious connection attempts. This protects all of your apps at the edge of the network, without the need for browser extensions.
Although the results were average in our testing, that is sufficient for usefulness, and it is a valuable addition to the kit.
The Settings dialog is mainly for turning features on and off (updates, alerts, web filtering, malware security, and so on), but you can fine-tune Malwarebytes' exploit protection, which employs various techniques to guard against zero-day attacks for popular applications and application forms.
User Interface
At first glance, Malwarebytes's interface can appear confusing.
The dashboard is very informative: in the middle of the screen, there is a large Scan Now icon. On the right, you can view Malwarebytes' real-time defense configuration, which includes protection against network, exploit, malware, and ransomware.
However, it is not the interface that is perplexing. That becomes apparent later, when you know that the Settings tab contains the majority of the software's features. Scrolling up or down and figuring out which button does what might be tedious for a new person.
We're now going to continue our Malwarebytes analysis. The Scan tab contains all scanning options. Three types of scans are available: Danger, Hyper, and Custom.
Additionally, you can schedule a scan from this page. Apart from the standard schedules (daily, weekly, etc. ), a scan may be scheduled for a particular day.
Although this isn't the most customizable feature in the cybersecurity market, it's something that I wasn't able to find in other antivirus suites.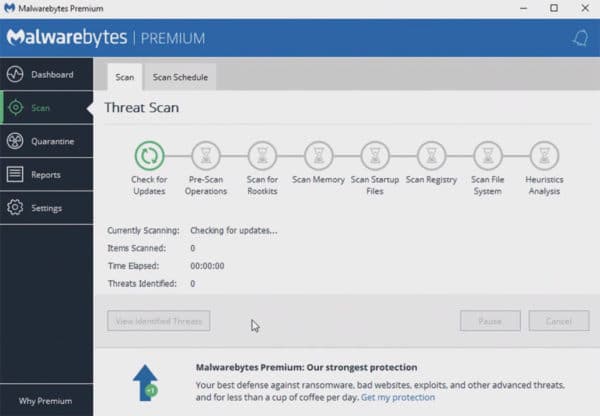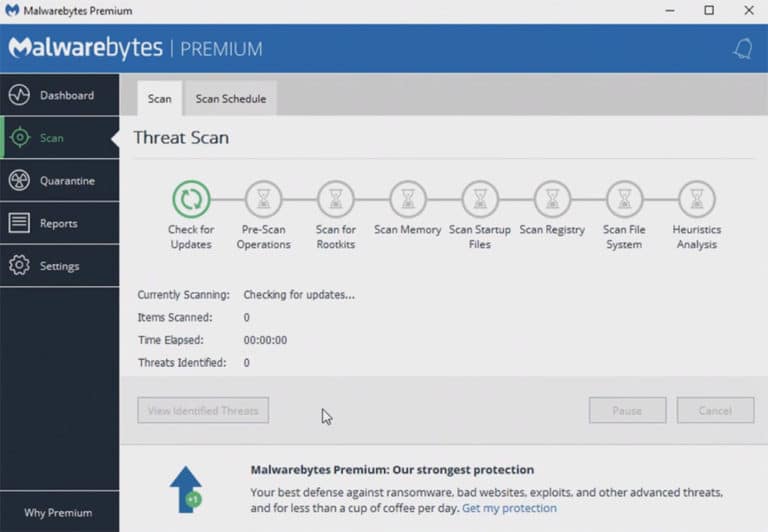 Malwarebytes Mobile App
The Malwarebytes mobile app is available for download from the App Store or Google Play. Each app only takes a couple of minutes to install and has a user-friendly design.
Although Malwarebytes can be used on both Android and iOS devices, there are some differences. The Android version examines your smartphone for viruses and programs that are harmful to your device, including spyware & ransomware.
You have three choices if your antivirus program detects a threat: ignore, delete, or whitelist. The appropriate response is determined by the source and severity of the threat.
You can run privacy checks on your phone apps with the Android edition. From a single place, you can check applications that contain your private information, and their controls.
The test allows you to determine whether or not such apps are a danger. Call Security is one of the features that the iOS version does have and the Android version does not.
This service allows you to avoid calls from numbers that are unfamiliar or suspicious. The same is true for text messages marked as garbage or spam.
When you go online, both apps have reliable phishing security. If you're at risk, the antivirus program scans for new threats and warns you. Advertising and ad monitoring apps are also blocked by the iOS app.
Compatible With Other Security Software
Malwarebytes has stressed in its press materials for years that even the premium-level software is compatible with many other antivirus programs. It's fine to use it alongside Kaspersky or Bitdefender, for example. Customers who do want to buy two security packages, on the other hand, are a small group. Malwarebytes used to do some clever things with Windows' Security Center to allow it to work with Microsoft Windows Defender Security Center, as well as provide configuration options to allow it to work with other third-party solutions.
In version 4, this changes slightly. The product, which is now a full-fledged antivirus program, is set to register with Security Center by default, which means that if it launches, Windows Defender is put to sleep. If you just want to use Malwarebytes alongside another antivirus, you can adjust a setting to prevent it from registering as the primary antivirus.
Pros
It works well in Windows 10: Some users (including ourselves) recorded blue-screen errors in Windows 10 after upgrading to version 3.0 unless they deactivated all or most of Malwarebytes' scanning functions. As a result, it was difficult to tell the difference between the paid and free versions. However, throughout our evaluation of 3.2, we did not encounter any BSOD's in Windows 10. Since this was the only genuinely big problem we found in version 3.0, resolving it restores Malwarebytes' "recommended" status.
The scanning engine is still of excellent quality: During our tests, the app's malware scanner discovered several files and a Registry entry that had been left over from a seemingly incomplete uninstallation of a utility that may have included a potentially unwanted software. Rather than removing these files, Malwarebytes defaulted to quarantining them. This is the preferred reaction since PUPs aren't always dangerous, and removing them will uninstall the software they came with.
Detailed, easy-to-understand explanations: Malwarebytes is excellent at telling you precisely what a given function does, while other security vendors sometimes slather on fancy-sounding terminology. Take, for example, the "Use and Threat Statistics" toggle. This refers to the anonymous user data it gathers. Malwarebytes lists basic information in its website overview, such as how many people are using the free, trial, and subscription models. Malwarebytes is used all over the world. What types of malware are detected the most often, and how often are they detected?
Its complete privacy policy also provides side-by-side informative and simplified descriptions. This level of data openness — and the purposefully restricted scope of it — is beneficial, but it isn't as standard in the cybersecurity market as it should be.
Cons
It sometimes hangs for an extended period of time while running a simple command, in our case exporting its scan results.
We've encountered significant stability problems with Windows 8.1 and Windows 7. When we tried to scan a folder through the context menu entry, it would often get stuck in a loop, failing to get past the pre-scan operations process. Our attempt to cancel the mission was unsuccessful, and we were forced to terminate Malwarebytes.
The "Malicious Website Security" module performed poorly in our review, allowing access to a large number of known defective websites while blocking only a few. Our virus samples had no impact on the real-time guard.
When there is malware detected, the software is deceptive. While it claims to have deleted the things successfully, a simple examination reveals that the files remain. After an undisclosed amount of time has elapsed, you will be greeted with a popup window requesting a device reboot to complete file removal.
Free vs Premium
Only Windows and iOS are supported by the free edition. Its sole purpose is to search the computer for malware or spyware and, if found, to delete these risks.
The Premium edition, as previously mentioned, protects from ransomware and backdoor attacks. It also protects your computer by removing malware.
One significant difference between the two is the ability to detect malware in real time. After malware has infected your computer, the free version will erase it. The Premium edition scans for malware on a regular basis and prevents it before it can infect your computer.
Pricing
The pricing structure of Malwarebytes is refreshingly straightforward. The "Premium" package can be used on one device, while the "Premium Home" bundle can be used on up to 3 devices. After that, you can choose how long you want to commit to a subscription.
For business clients, the deals are more tailored, mainly based on the total number of users.
Due to the fact that Malwarebytes is among the few antimalware providers that makes pricing so straightforward, contrasting it with other products can be difficult.
Some applications come in a variety of premium models, each with its own set of features.
Malware Signature Database Updates
You must manually update MalwareBytes' free version because it does not update automatically. If you haven't updated in a long time, it will prompt you to do so.
MalwareBytes Premium has the ability to upgrade itself and allows you to customize your update frequency. It checks for updates every hour by default, but you can change this to any duration from 15 minutes to 14 days. MalwareBytes publishes updates on a regular basis, although there is no public update schedule.
System Performance
Running a scan, like all security software, will have an impact on your computer's results. Malwarebytes is a relatively light piece of software that, for the most part, does not slow down our machine. We used a Dell Inspiron running a Intel Core i3 7th Generation processor and 4GB RAM to test it.
We didn't do anything on the screen except run a complete scan. It went smoothly, and the entire scan took just 8 minutes.
After that, we searched the machine once more while using the browser and browsing the web. It slowed down when we opened new apps, particularly those with a lot of graphics.
Overall, if you run Malwarebytes in the background when using your machine, it won't hinder your productivity. To avoid slowing down, postpone any tasks that use a ton of RAM until after you've completed the scan.
Is Malwarebytes safe?
When entrusting your Mac's protection to an anti-malware application, take a moment to consider whether or not the software is secure to use.
You have little to fear with Malwarebytes, as it is absolutely secure for your Mac. It doesn't delete something critical from your Mac and allows you to double-check files before pressing the Delete button.
Malware and viruses are not quite the same thing, despite the fact that the terms are often used interchangeably. Malware is a catch-all word for any malicious software, independent of how it functions or spreads. A virus is a form of malicious software that infects other files by inserting its code.
Another thing to keep in mind is to keep the malware security program up to date. When programs get older, they become ever more vulnerable to malicious software, which your malware detector definitely doesn't want.
To combat this, Malwarebytes can be set to automatically search for updates and install the most recent version. You can also set the app to update each hour to guarantee you're still running the most up-to-date and safe version of the program.
Why Ransomware Is A Problem
Ransomware security is more critical than ever with the proliferation of ransomware attacks on companies, governments, and individuals. Ransomware, on the other hand, is fundamentally distinct from other types of malware. The majority of malware is designed to take advantage of your computer, whether it's for bitcoin mining, launching DDoS attacks, or simply stealing any private data. Typically, they want to prevent detection, which means avoiding any apparent damage to the device. A post-infection antimalware cleanup will remove malware from your device's nooks and crannies, returning it to a healthy and stable state.
On the other extreme, ransomware remains silent until it has completed its malicious task of encrypting all of your valuable data. Once completed, it shows the terms of the ransom note. Attempting to remove the ransomware during this stage is futile. It will also impair your ability to decrypt your files if you want to pay the ransom. Malwarebytes Premium prevents ransomware attacks; Malwarebytes Free is powerless once the files have been encrypted.
Malwarebytes for Mac
Their macOS app has a similar appearance. Malware scans are around the same speed, so there are no noticeable performance drops due to device differences.
The similarities, however, end there. Apple users will once again receive a stripped-down edition of the Windows version. It has a Quick Scan as well as other malware security features, but that's about it.
The App block, which prevents unknown apps from running in the background, is the only feature exclusive to the Mac version. Despite the fact that Gatekeeper is installed by default, I noticed no changes in functionality.
Conclusion
Malwarebytes has a great interface, good functionality, a reasonable price structure, and a unique setup that allows you to try out the entire working kit for 14 days for free. The poor test results and poor customer service are what hold it back. Laboratory testing is almost non-existent, and it failed our testing process with the exception of one trojan found on a research website.
To be honest, the company may have decided not to use the EICAR virus test file for its applications. That isn't a problem because the file isn't harmful. We were unable to contact the company to inquire about it, so we must accept the testing results in the absence of contrary evidence.