MacKeeper Reviews are Popular, Here's One That Tells You the Truth
MacKeeper Review's are Popular, Here's one That Tells You the Truth
By Kimberly Carver
If you have ever noticed your Mac computer slowing down, or occasionally freezing up you have no doubt looked online for a solution and may be thinking about investing in a Mac cleaner program to help speed it up. One of the most popular of these products available for speeding up your Mac and fixing slow down and other performance issues is MacKeeper. MacKeeper is also an antivirus and has other tools on it, so if you're a Mac owner you have probably come across it at some point or another.
Note: For this MacKeeper review I am using the newest update of MacKeeper which is MacKeeper 2.5. It will be available to everyone in March, 2013. I will make note of anything new that I feel is worth mentioning, in case you have an older version and are curious if you should upgrade or not.

Because it is quite popular as a Mac fix-all, like most of us, you may wonder if MacKeeper really does all of what it says. This leads you on a hunt through search engines for MacKeeper reviews, I know, because that was me about a year ago when my 3 year old MacBook Pro began getting slow. I really didn't find any credible help though. All the MacKeeper reviews appeared to be completely biased. Not all in a good way either!
I was surprised to find just as many really terrible MacKeeper reviews as I did great MacKeeper reviews. There were none that appeared "real". People either loved it so much that it was totally "bought" sounding, or hated it so much that it also had that "bought by competitor trying to make it look bad" feeling. So just what did I do?
MacKeeper's Trial Version
As to what I did in not finding any seemingly legitimate MacKeeper reviews was to go ahead and downloaded the trial version as I was in desperate need for a faster Mac since I work from home on it. The MacKeeper trial version was easy enough to use, all pretty self explanatory and as it said on its website, you click a button and just a few moments later it's done.
Although it is a "fully functional" trial version, as the site says, it will only empty or get rid of a certain amount of the junk it finds. This means that you can't really tell if it's a good product or not because it won't actually perform the part that would really make a difference, which is emptying out the tons of junk it finds.  As bad as this may sound, it's really not unexpected as most products do it this way too.
So once again you, or at least I, found myself hoping it wasn't a bad product and since I was in great need of having my Mac back to running fast, what could I do but buy the license key? I paid for the MacKeeper Mac cleaning software and upon doing so the complete cleaning was instantly available.
But, how did MacKeeper do as a Mac cleaner? What did it clean, and was that my Mac's problem? Basically you want to know, did it fix my slow Mac or if you are looking at MacKeeper reviews to see how it is as an antivirus you want to know how well it performs in that way too? So let's get to it!
*See our review policy at the bottom of this article.
MacKeeper Installation
MacKeeper can be installed on any Mac computer running OS X 10.5 or later, and is very quick and easy to install. As mentioned earlier, unlike a lot of other software, you can get a fully-functional, trial version that will allow you to run a quick clean up. However, if you want it to remove all that it finds you will need to pay for it. The cleanup that will usually find and remove several gigabytes of trash from your hard drive when first used.
On most Mac computers, you can download, install and run the quick clean up in less than 5 minutes. Something that I was able to do with both my MacBook Pro and my iMac. I will tell you how it did at the end.
Interface
MacKeeper 2.5 has a new look to it. It's still mostly what it looked like before, which includes a user friendly layout that is easy to understand and use. Still the same as well is that on the left side, you will see a list of options that include all the program features and tasks. All you need to do here is decide which task you want to begin, and then click on that task, most tasks will usually be completed in 2 minutes or less.

On the right side of the screen, there is a short description showing you what the program features do, a link to the user manual, a tutorial if you feel you need it, and the help area for contacting support.
What's new with the update (2.5 version) is that when you open any task or option now you will see a page that describes what that task will do. It will also explain it even further if you want more information before proceeding with that Mac cleanup option. I was actually really pleasantly surprised at this new feature.
I had liked the MacKeeper interface before and didn't really think of anything it really needed, but now that I see this added I like it and am surprised that I didn't think of it being something to add before as they already gave a brief description on the right side.

This is one of the things I always have praised MacKeeper for in relation to other Mac cleaners, in that they have had a description of what the task is going to do whereas most cleaners, such as Magican, do not. I should note that Magican is still a good product and it's representatives did say they will be updating and including such a feature  in the future.

Features & Support
MacKeeper is one of those several products in one types. Many Mac cleaners come with a lot of features, but few come with as many as features as MacKeeper does. In addition to its cleaning tasks, it includes internet security with an anti-virus program, an encryptor for keeping private stuff private, anti-theft protection (they help track it when it's stolen and even takes a snapshot of the thief when he or she turns it on for the first time), app uninstaller, update tracker, backup abilities, file shredder, file finder and file recovery.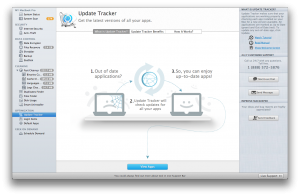 This does make it, to me, more of a value. Not just monetarily, because you get all of those products in one (many of which end up being purchased separately at some point), but also because you get all of these products in one nice package. This means that instead of downloading and installing multiple programs, you're only downloading and installing one. This in itself is helpful to a Mac in that it helps keep the amount of programs down, helping your memory and hard drive.
Some of the cleaning tools that MacKeeper includes are:
Cache Cleaner, Binaries Cutter, Logs Cleaner, Language Cutter, Login Items (you pick and sort through what to get rid of to help save memory and space) and Duplicate Finder. Of course some of the other tools mentioned earlier also are helpful in Mac cleaning, such as the app uninstaller, since you can use it to properly get rid of any useless apps and programs that are hogging up resources.
Individual programs that clean languages like MonoLingual, or that get rid of apps the right way as well, like AppZapper, can be handy if that's all you find you need to do to clean your Mac.
As for support, MacKeeper has a 24/7 support team. I did try their support out so that I could include how they did in my MacKeeper review. I did a chat with a rep and got my solution in minutes. The tech was nice and knew what he was talking about. The other way I tried was submitting a support ticket. I was responded to within an hour (they do say it can take up to 24 hours), and my question answered. So, I give it two thumbs up for their support and features.  

Optimization and Performance
There are many things that can be done to keep your Mac running optimally, but many of these things we often forget to do such as: keeping programs up to date, and keeping login items to a minimum. I did find that these are things that MacKeeper can do for you. With it's Updater feature you can keep all of your programs updated by scheduling it so that they will update automatically. Many times an issue with a program can be fixed with an update, so it's important to keep everything up to date on their updates.
The login tool will let you see and manage everything that opens when you login to your Mac, making it easy for you to turn off those that aren't necessary. This will help to optimize and speedup your system quite a bit. I found much that I didn't need to have upon login and therefore, turned them off.
The program performed as it should, which was glitch free, fast and easily. All of the clean up tools also worked as they should and found lots of useless junk in both of my Mac's. Since my iMac is only a few months old, I didn't see much, if any, difference in my Mac's performance after using MacKeeper, however, the opposite is true of how it worked on my 3 1/2 year old MacBook Pro. After running the cleaning my MacBook was running awesome again.
MacKeeper AntiVirus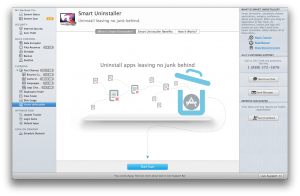 First of all, let me say that yes, Mac computers can become infected with viruses, and a good antivirus program is a must. In fact, my MacBook Pro had malware on it, so it does happen. As far as MacKeeper's included antivirus program, it has been compared to many of the other antivirus programs available, and matched or beat all of their features, including Norton Antivirus.
One huge benefit with MacKeeper that many other antivirus programs are lacking, is that it will also work as an antivirus for Windows, meaning that if you use a program such as Parallels Desktop to use Windows on a Mac, MacKeeper will protect both operating systems. Since the antivirus comes with the cleaning tools, it is a good thing to keep turned on and I have not noticed any interference from it, something some antivirus programs do.
Conclusion
Here's my conclusion on MacKeeper. I found that MacKeeper is a full system utility program that can accurately scan and report on the many operations and components on your Mac.  Many of the utilities are extremely useful, and some are really necessary to keep your Mac running optimally. As a program, it's extremely easy to use, and even a beginner will be able to understand its interface and features, especially now with its 2.5 version that includes detailed information on what a particular task does.
As you may recall, I know this review is long and the intro was way back at the top, I was having major issues with my MacBook Pro and it's why I sought out MacKeeper in the first place. So, am I happy that I found it? I am.
I did really look for something, anything, to not like so that it doesn't just sound like I am saying this is a perfect product so go buy it, but I couldn't find anything that I thought was wrong, bad or should be changed. I think it may be due to its many upgrades throughout the years, as like Magican, the company, ZeoBit, does take into consideration what their customers and reviewers like myself have to say, and then make a change in the next version. I also find that to be a positive. Not many software companies respond and make changes to their software like that. Because of their doing so though, the product is certainly getting better.
As for what others think of MacKeeper, I did find mixed reactions. I truly feel that these are paid for or that they profit in some way from saying that it either sucks or is fantastic, so I really didn't give them much creedence when doing my review.
I did of course look into any comments that were negative to see if there was anything to them and in my investigation of MacKeeper, I found any accusations to not be at all true.  It does what it says it will do and does it well.
My overall opinion (as well as the opinion of other TheHighTechSociety.com writers) is that not only does MacKeeper perform well, and has some amazing features; it's also a program that will do many different jobs, eliminating the need for several different programs filling up your hard drive, so I would (and have) buy it. At $39.95 I find it well worth it. I therefore, give MacKeeper our 5 star award, and with a good conscience I also can recommend you give it a try. You can try the no cost trial verstion to see if it's as I say, easy to use etc, and then if you decide to buy it you can do so from the trial itself.

I will end this by first saying thanks to my fellow Mac911 writer Trish, for also reviewing MacKeeper and giving me her thoughts on it, some of which I included in the review, and also that I will be doing an article soon that will compare MacKeeper to other Mac cleaners, as most of them do clean these same areas. That way you, and I, can see which one finds the most junk and which ones does the best for a Mac.
I will say that I have in fact used every Mac cleaner on the market so far, and two of them were not so great, meaning they were either difficult to use and understand or actually screwed up my Mac in some way by deleting things it shouldn't have, so be careful before you do try other Mac cleaners. Three you can trust for now that I will tell you about are MacKeeper, Magican and CleanMyMac.
If your Mac still runs slow after cleaning with any Mac cleaner, you may need to add memory to your Mac. Follow this link to learn how to install memory to your MacBook Pro.
*This MacKeeper review is done without any input, any bias, exchange of money or opinion between the MacKeeper company, Zeobit, and our website. I do not accept pay for my opinion, positive or negative. I created The High Tech Society to be a site of tech help, news and most of all of integrity, and therefore, our reviews will always be 100% honest.