MacKeeper 2015 Version 3 vs MacKeeper 2014 Version 2
MacKeeper 2015 Version 3 vs MacKeeper 2014 Version 2
MacKeeper version 3, known as MacKeeper 2015, is super new, in fact it's so new we're the first to review it. Up until today I had MacKeeper 2 (2014) on both of my Macs (an iMac and MacBook Pro). I went ahead and uninstalled MacKeeper 2 from my iMac so I can start from scratch with this version and see how it works. You can read our MacKeeper 2015 version 3 review to see how it did, and you can also read our MacKeeper 2 review, which is still available if you prefer that version.
*Screenshots are from MacKeeper 2015, you can see MacKeeper 2014 (version 2) screenshots in the MacKeeper 2 review.
Differences
The major differences between these two versions is that version 3 (2015), the one I just reviewed, includes an even beefier 'geek on demand' or human expertise experience, which is that the way that it cleans in version 3 involves that human expertise (a certified Apple specialist), and the interface is a bit different. It's just brighter, cleaner, more streamlined, and for me, nicer  to look at. I will get into the human support part a bit more later.
They have some information back that I like too, which is on the right side bar. An info box will appear for each task that tells you a little description about what it's about to do. Like MacKeeper 2, it still also has the extra information on the screen, like what that task does, the benefits of that task and a tutorial video or screenshots, but the little info box is something I like as well. Chat is still there, and in fact better, and all of the same tasks that version 2 offered are also in version 3.
Performance
This would be one of the main factors, which one performed best? Well, here is how it went for me,  just prior to my using MacKeeper 3 I ran a scan on my iMac using MacKeeper 2 and my system was in excellent condition it (version 2) said (and you can see that in my past review of version 2). Then I downloaded version 3 and ran it and it did indeed find junk files and other items that apparently version 2 didn't catch.
So, did it find things that version 2 didn't or did I accumulate a bunch of junk in that short time of swapping between the two? I can't say for sure of course, but my guess would be that version 3 is the upgraded version and therefore it would stand to reason that it would have done a better job.
Which to Get?
Performance: I think that deciding between MacKeeper 2 or MacKeeper 3 won't be up to you for very long, likely the newest version will just be sold, but for now you have that choice and so which choice should you make? I think performance wise that 3 does better, but if you have 2 and are happy with it, or 2 is cheaper, you'll be fine with that version. It will still clean and maintain your Mac and protect it.
Upgrading / Newest Features: If you are new to MacKeeper or if you really want the best, I would upgrade to version 3. I think the added benefits of the Geek on Demand, the human expertise that is now included in live time, and the instant chat, is just so very much worth it.
At this time there's nothing really like it. PCKeeper has those things, but MacKeeper did not so I was hoping they would add those features, and it turns out my hope came true! That's quite a value really, having a Geek on Demand for you anytime for any Mac question you have? I'm not even sure how to price that. *Update: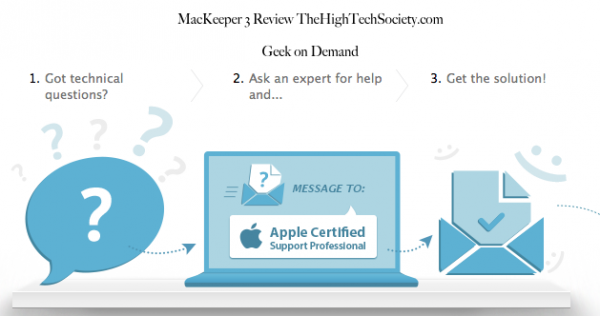 Version 2 does have Geek on Demand, so you can ask questions, however, it doesn't have the human support that version 3 comes with, which is something you get when you start your Find & Fix Scan. As the program scans an actual human will be scanning too and will be right there to chat with you and tell you if they find anything else that you should address.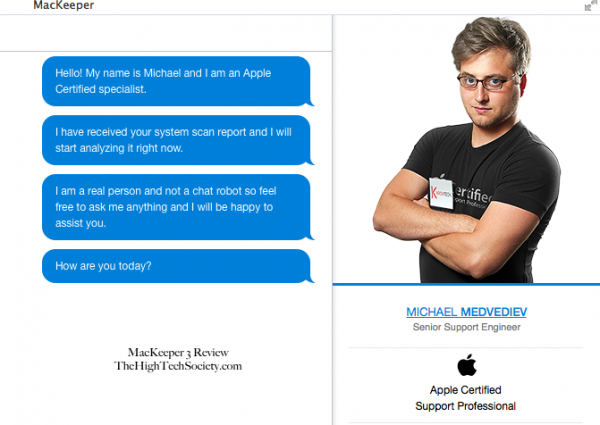 My Advice: If you asked me, I have to go with MacKeeper 3 if I am new to MacKeeper. If I have MacKeeper and don't want to upgrade right now, and don't really think I need that extra human support part, then I may just stick with version 2, cause I'm cheap, I mean frugal.
I totally recommend that you at least try the free trial of MacKeeper 2015 / version 3 and let us know what you think.
*Update / reply to some comments: I am not paid to review MacKeeper. I received no compensation for my positive opinion or view on this product, opinions are 100% my own and stem from using the product myself (as with all reviews we do). We welcome your opinions on products as we may miss something or it's just nice to see a different view of a product. Thank you: Owner of The High Tech Society and Writer of this review.