All New MacKeeper 2015 Review
All New MacKeeper 2015 aka MacKeeper 3 Reviewed
MacKeeper reviews are spread throughout the internet, but like many reviews these days, it's hard to know which ones to trust. Who is in it just to make a buck and who is in it to tell the truth? One way to know is to look for screenshots, or actual pictures from the reviewer. That at least tells you that they actually used or tried the product in question.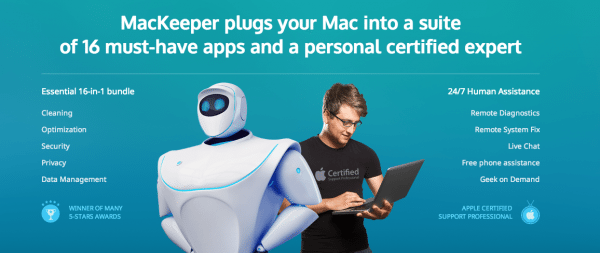 We do exactly that at The High Tech Society. We download the software, or get the product, and then we thoroughly use it and research it. We take our own pics or screenshots so that you can see true photos and not just advertisements, and then we give you our 100% honest opinion on how it worked for us. Which is exactly what we'll do know with this MacKeeper 2015, aka MacKeeper 3, review, so let's get started. By the way, we're also the first to get up this advanced look and review of MacKeeper 2015, so you're seeing it here first before anyone else gets to see it!
Install and Interface MacKeeper 2015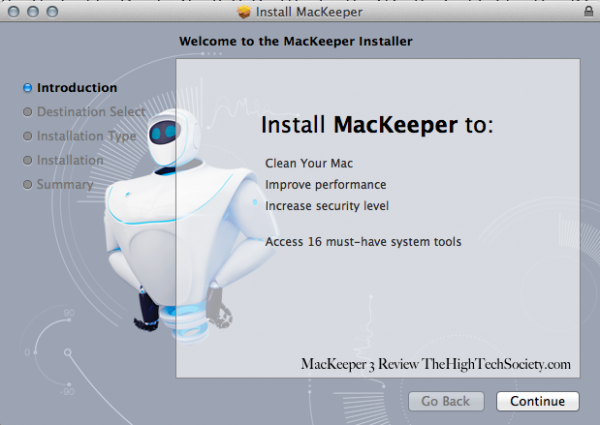 Install is quick and easy, just download and click on the next buttons. You will be asked for your computer password, don't be scared, it's fine to enter and give it access. With this version you'll also be asked for permission to add MacKeeper info to your keychain, you can click whichever button you wish, I clicked "Allow Always" as I am very secure with MacKeeper and have used, tried and reviewed all of it's versions now for over 3 or 4 years and never had any security concern. You can trust me on this, or you can click it to just allow it this once, or not at all.
The interface on version 3 is very easy to look at and use. It's always been that way, but this time there's just something a bit different that I like more about it. It's hard to really put my finger on it, but maybe the screenshots will help you see what I mean. It's not overloaded with information, although there's still tons of help in the form of info boxes and help screens, but it's just simpler looking. They did combine all tasks under one button: "Advanced Tools." That's one thing that helps it look better, in my opinion, and there's some color changes that I find easier on the eyes.
Startup: Find & Fix / System Status
Whether you get the trial version or buy it right away you will start the same way after it's installed, and that's with a scan using "Find & Fix." If you have the trial version, once the scan is completed it will clean some of what it found, but not all of it as you have a limited version. It will at least still give you an idea of how it works and allow you to check out all the other tasks it will do so that you can see if you're interested or not. If you wish for it to complete the Find & Fix, especially the Fix, you can click on the 'activate now' or 'buy now' buttons. If you're not quite sure you can also talk to your Geek on Demand, because a chat will start.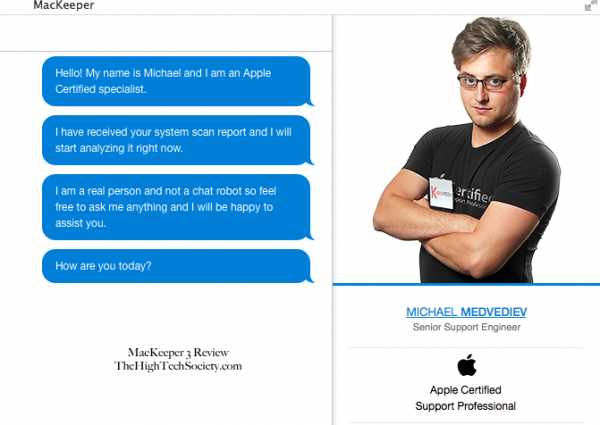 *Note: If you have downloaded MacKeeper for the trial and are trying it because you're having some issues with your Mac, such as it's being sluggish, the tiny beach ball is spinning more often, apps are crashing, I really recommend you go ahead and buy the license key and complete the 'fix' part. You will notice an immediate difference in your Mac if those issues were occurring. Sometimes I will restart after I finish the scan, but you usually can tell the change even without restart. If you find afterwards that you just don't think it was worth the money, they do have a money back guarantee (see at end of article) so you really can't lose.
After the Find & Fix is done, or rather as it is actually finding things to clean, you'll see the tech support person that has been assigned to you. He or she will pop up on the right and will begin chatting with you. You can chat or just read along as they tell you what they're doing to your Mac.
The Find & Fix process in the past MacKeeper versions was simply run by the program and then you clicked on "finish or fix issues" and that was that. With this newest version they have incorporated something that they have in PCKeeper, which is a human element.
So now the program not only scans your computer and finds any issues etc, there's also a human checking things on their end to see if they note anything that needs your attention. If they see something they will let you know in the chat box.
Once you're done Finding it's time to get to Fixing, so you click on Fix Issues Safely, and it's done! It will now tell you your system status. In this screen of System Status, it also tells you how often you should run this scan to keep your Mac in the best condition, which is every 3 months.
Geek on Demand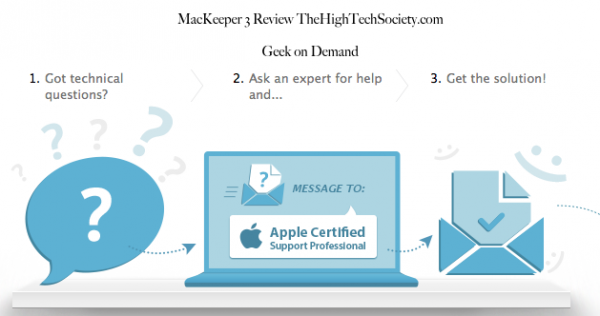 I touched on this in the Find & Fix part above, however, there's more to the Geek on Demand than a geek just being on demand to chat with you while your MacKeeper does it's first scan. You can also click on Geek on Demand at anytime to talk to them about anything regarding Mac.
They are Apple Certified Specialists, so you know that they'll know what they're talking about. I saw some of the questions people asked and was pretty amazed that they actually will take the time to just sit and help with you with questions. Here's a couple I saw: "which Mac would you recommend that I purchase?" or "Should I upgrade my Mac's memory, and if so, can you tell me how to do it?"
I use the word "amazed" because it's not like they are an Apple retailer, they don't sell Macs, or Apple products, so they're not making any money by giving you this service. It's just something they added as an extra, and that's just a huge plus in my book. You even have unlimited questions you can ask, so it's not like you can just ask once a month or something.
Features / Tools of MacKeeper
Security: Anti virus and Anti theft: With MacKeeper, any version, you will get an included anti virus and anti theft program. Depending on what setting you opt for, the anti virus will scan in real time, or you can run a scan when you want. Some say Macs do not need an antivirus, but I disagree. Macs still can get a virus, I have had two in the past, both quarantined by MacKeeper.
The thing I like most about their antivirus is that it's not invasive. Some other programs that I have had as a Window's user would really frustrate and annoy me as they were always popping up and blocking stuff that actually were a non-issue. I was a bit leeryon trying MacKeeper's antivirus due to this, but I am glad to report that you won't even know it's on. No interference with my other programs, no issues, no frustration, so that's a really good thing.
It's also nice that both the anti theft and the anti virus are included in the product, because it not only saves you the money of having to buy a separate program, or two, it saves room on your Mac by not having to also download separate programs. The same can really be said for the rest of the features and tasks that it has, because to get them all individually would not only be expensive, it would even worse take up a lot of needed real estate on your Mac.
Advanced Tools
These features I will list below are ones that come with MacKeeper 2 and 3, however, version 3 is of course the updated version so it not only looks a bit different, I'm sure it has some upgrades and actually does the process a bit differently.

The left sidebar shows the list of tasks or options that you have. They are under the heading of "Advanced Tools." They include:
Duplicates Finder, Smart Uninstaller, Files Recovery, Data Encryptor, Files Finder, Login Items, Disk Usage, Default Apps. Update Tracker, Fast Cleanup, Backup, and Shredder.
*These informational boxes in the image gallery are found on the right sidebar in the program when you click on that task / tool. Each tool also has a screen that will show you what it does, the benefits of it, as well as a tutorial.
Final Opinion
Differences in MacKeeper 3: MacKeeper 2015 or version 3 is not just a little different than it's last version, this is a major update and upgrade. By integrating Certified Apple Specialist's in your Mac cleaning, they've really raised the bar. I am not sure how any Mac cleaner will be able to compete with them now. The Geek on Demand alone is worth it, just being able to ask Mac questions or Apple, anytime you want and as much as you want, it's just really an awesome feature.
Tools: The tools all worked as expected, and each was explained in an easy to understand way so that the user knows what that tool will do and if they want to use it. The end result of my experience of version 3 is a super clean Mac that's running like it should, fast and smooth.
Current MacKeeper User: If you're not new to MacKeeper and you're curious on whether or not you should switch up to MacKeeper 2015 / version 3, I wrote up a MacKeeper 2 (2014) vs MacKeeper 3 (2015) just for you. You'll find links in there as well for version 2 in case you want to know more about that one.
New to MacKeeper: If you are new to MacKeeper, which version should you get? At the time of this writing they're both still available. In my opinion, you should go with the latest version, the one I just reviewed. I don't think you can beat the benefits of all that it comes with. No Mac cleaner can match up at this point, the personal human support during the scan as well as the support with Geek on Demand, both throw it over the top and put it above and beyond any other Mac cleaner now.
With the other included programs / tools like anti virus, anti theft, their new guarantee, and so much more, there's just no question in that it's definitely worth the money, not to mention all the space you're saving by downloading one product and not 5, 10 or 15.
My Opinion: We had some complaints come to us with some newer versions: Please read our update here.
This is all my opinion on MacKeeper, it is shared by the other Mac users here on The High Tech Society, but people can view things differently, and if you do try this Mac cleaner and you find that you just don't like it, or whatever opinion of it you have, we'd really love to hear about it. Feel free to look through our other reviews as well, we have reviewed many, I think all, Mac cleaning software programs available.