Jawbone Jambox: Blast Your Jams from your Fingertips
Gadgets & Gizmos
Jawbone Jambox: Blast Your Jams from your Fingertips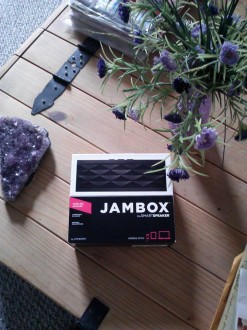 Like many of us, I spend a lot of time online searching for freebies and contests. Though I wasn't in the market for a new gadget, I was thrilled when I was notified that I'd won this Jawbone Jambox through a rafflecopter contest. I don't have much luck so I was psyched to see I'd won something that was valued at nearly $200. Once I actually had it in my hands, I was in love. The Jawbone Jambox is a wireless sound system that works with your bluetooth capable devices to play your favorite tunes anytime, anywhere from up to 33 feet away .
What's in the Box
In addition to the unit itself, you will get a power cord, a USB cord, an AC wall charger, a stereo cable for playing music from non-bluetooth devices, a carrying case, and a user guide.
Easy Setup
Setting up the Jawbone Jambox is a snap. It's a simple plug and play device that talks you through every step. Connecting with a Bluetooth device takes just a few seconds once the Jambox has been fully charged. Just hold the on button in the top position for a few seconds and the unit will respond by letting you know that it is searching for a Bluetooth device. Pair your phone or other device that you would like to use with the Jambox and you are ready to play music and complete other tasks if you opt to use the MyTalk features.
Size Doesn't Matter
The Jambox is a compact device that packs a powerful punch. It weighs less than a pound and measures about 6″ x 1.6″ x 2.25″. You can carry it anywhere. It packs away conveniently in its own little carrying case. Take it on vacation, to the beach, to the park, in the bathroom while you shower, or in your office. It's perfect to take along for a picnic table. I get a good sound quality indoors at top volume but hearing it over a large crowd might be a problem.

Features
Built-in microphone – Because the speaker also works as a speaker phone, you can accept calls and have conversations through your Jawbone Jambox when used as a wireless speakerphone. Though this feature is said to have echo-cancellation and an omnidirectional speaker, the party I tested it out on said it did sound like a speakerphone. This feature is good to use in the car or for conference calls.
Rechargeable – The unit takes about two hours to completely charge and plays for up to 15 hours continuously. I fully charged the unit and played it until the unit announced that the battery was low. That took 14.5 hours.
USB, AC, and Bluetooth connectivity options
Stereo input for playing music from non Bluetooth devices

MyTalk:

Installing MyTalk allows you to access all of your favorite apps like I Heart Radio, Pandora, navigation apps, and much more, totally hands free. Just tell your Jambox what you want to do and it's done. This feature is great while working in your office or while driving in your car.
Design Your Own Jambox to Show Off Your Style
The case of the Jawbone Jambox can be custom designed to reflect your style and color choices. Caps and grills to cover your speaker unit are available in a wide variety of colors and limited edition choices. Grill designs include Hex, Wave, Diamond, and Dot. My unit is all black with a black diamond grill and classic black caps. Caps are made of rubber and take seconds to change.
Conclusion
In conclusion, the Jawbone Jambox gives you a bigger bang for your buck than any other portable sound system. It's light, compact, and easy to use while providing hours of continuous play on a single battery charge. While the price tag may be a little high for some, the sound quality alone justifies dropping a few extra dollars. For those of you who will actually utilize all of the other features in addition to just playing music, it's a no-brainer. You're not going to find another portable speaker that allows you to access so many tools on your smartphone or other USB device like the Jambox does.
For more smart fashion items, be sure to read Best Smart Backpacks For Work, Play, and Travel in 2019