Intego's Washing Machine 2014 Review
Washing Machine 2014 Review
Got a dirty Mac? You need to throw it in the washing machine! Well, actually you need to throw the washing machine into your Mac, the other way will be quite disastrous. What on earth am I talking about though? Washing Machine 2014 by Intego This software has been around for a little while now, but  it has a brand new version, the 2014 gives that away I suppose, but it's not just some new slightly updated version that most software companies do with their products each year.
This time, Intego's Washing Machine was completely rewritten from the ground up, so it really is all new, this makes it perfect for us to review it since it's not so fun just reviewing a program that simply made a few minor changes here or there. There are many Mac cleaners out there, and this one has always been at the top in that category, and since I have already spent a lot of time on it I can say that it shouldn't have any trouble staying up there in the top, but with this newest release, I would say it should not only be a top 10 or even in the top 5, it should definitely be in the top 3.
Yes, I gave away the ending, the software is great, but keep on with the review if you want to learn more about what it can do, and why I rate this one so highly.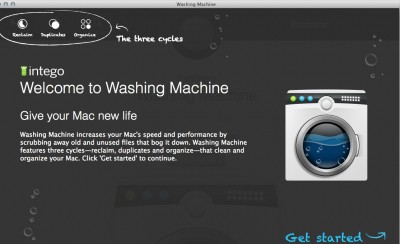 Install
Install is a breeze as normal, just one thing though: If you already have other Intego software, and chances are if you own a Mac, you probably do, then when you install Washing Machine 2014 you will find it in your Applications (in Finder) in the Intego folder and not as a separate app. This is just a note for you for when you install and go on the hunt for where to open it.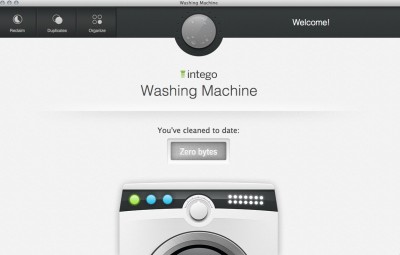 System Requirements
Mac OS X 10.6 or higher (even the newest one soon to be released: Mavericks)

Mac computer with Intel Core 2 Duo processor

50 MB of available hard disk space

Internet connection for NetUpdate security updates
There is some great timing going along with the newest Washing Machine release, which is going to be perfect for preparing for the newest Mac OS X release: Mavericks. Apple's new OS x is due to come out any day, perhaps even today (Oct. 22), and before you update, using a Mac cleaner like this one is wise to do. Why? Well, you want to clean up your Mac so that you can reclaim some of the space on it, because you'll need it when you upgrade your OS X.
Washing Machine 2014's Interface & Features
The previous versions of Washing Machine were a bit basic, however, they did the job and were very easy to use. This 2014 release is not basic at all, but it is still easy to use and very detailed in telling you what you're about to do. Intego has it setup with buttons that any woman will be familiar with, those on a real washing machine that washes clothes, but don't worry guys, it's super simple and all labeled, so even if you're not used to doing your own laundry, or cleaning your own Mac, you'll figure it out just fine.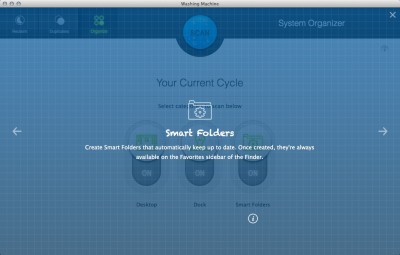 Most of the Mac cleaners on the market this year have really made the details of what each task or function does stand out in various ways, and Washing Machine 2014 is no different. Clicking on a cleaning function, such as Reclaim, will open to a window that describes to you just what it's about to do. If you need more information than that you can get it by clicking on the question marks near the various functions that the cleaner is about to do. Here's a list of what it does:
Reclaims Space – Seeks out files the user no longer uses or needs and quickly cleans them from their machine, freeing up gigabytes of space and increasing Mac performance. These files include downloads, caches, logs and trash.
Finds Duplicates – Identifies duplicate files by analyzing the bits, and lets the user select which versions to remove. Other Mac cleaners find duplicates by using basic techniques that fail to identify all duplicates.
Creates Smart Folders – A powerful OS tool, Smart Folders offer quick access to frequently used files and applications. Smart Folders can be added to finder favorites.
Organizes the Dock – Shows what apps are used the most (or least) and allows the user to quickly drag the apps to or from the dock.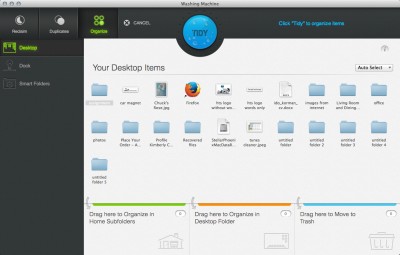 Cleans up Desktop Files – Moves files on the desktop to the appropriate finder folders or the trash.
My favorite features:
I like the cleanup that it does for your desktop, love the dock cleanup, and the fact that you can go 'safe' or 'aggressive' in Reclaim is a big like of mine.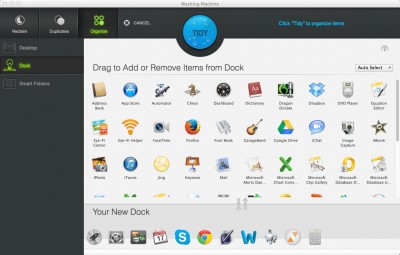 Performance
When reviewing Mac cleaners I not only run them on my iMac that is running Mountain Lion and on my MacBook Pro running Snow Leopard, I also run a comparison cleaning by running 2 or even 3 other Mac cleaners to see if they happen to find any "leftovers" or something else that the cleaner I am reviewing may have missed. So, how did it do against these others?
Let me start by saying that after I run other Mac cleaners through for a review that MacKeeper, Magican or CleanMyMac (the others I will run) often finds quite a bit of stuff left to clean up. This time though 2 of the 3 found nothing to clean up and the last (MacKeeper) found only a few KB worth to toss, and that could have been created in logs or cache just in the time I was running the other programs. So, final result in comparisons is that it did fantastic, better than others by far when I do this "test."
Not comparing it to others and just looking at it itself, Washing Machine 2014's performance is amazing. It found a lot more than the other Mac cleaners, and while running it I experienced no glitches or problems. You have the control to clean it as aggressively or as lightly as you wish, and I found that will all of the steps being explained as you go that I felt quite safe in clicking the final button that would rid my Mac forever of the files I checked.
Pros:
Super easy to use, no tutorial needed. It finds trash every time Reclaim is clicked and scanned, which I love. Other Mac cleaners say your system is fine, so it's nice to see that this one does a very in-depth search into the caches each time you scan and it gets rid of that junk which means your Mac is going to run faster and better. It's nice to choose what you want to clean or scan when you choose Reclaim, Duplicates, or Organize and finally:  I love the look, the design, and the performance of the 2014 Washing Machine!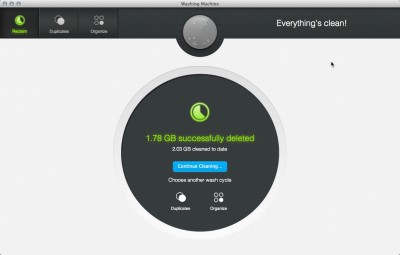 Cons:
This may or may not be a con, it may be that I am missing where to find it, it being a box that would allow me to "select all" when deleting duplicates. Instead you have to click on each file and then choose to delete or not. This may be a safety thing and a good thing, because this does give you the chance to look at it a bit more and determine if it's truly something you're okay with trashing forever.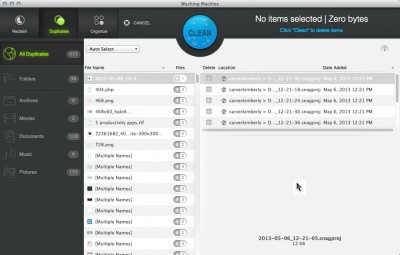 Final Thoughts
Washing your Mac is easier, and funner, than washing your clothes when using the new Washing Machine 2014 Mac cleaning software. The cost is great and less or on par with other Mac cleaners at $29.99. It's a free upgrade if you already have Washing Machine, and if you are a current Intego user you get 50% off. There's also of course the free trial that you can use, but it's limited in that it won't actually remove the items from your Mac, it is just to show you how it works and what it found, which will impress you into buying it, at least it does that for me.
Every Mac owner should have a Mac cleaner, and if this is one you pick be sure to let us know what you think of it!