Intego Family Protector 2013 Parental Control Software Review

A Review of Intego Family Protector 2013 for Mac
There are dozens of family protection software programs on the market, unfortunately, most that I have used have only lead to annoyance and frustration, not protection. They were glitchy, protected too well, meaning neither myself nor my kids could visit even safe sites, and they were not very customizable.
Since I had yet been able to find parental software protection that actually worked well enough that I would use it on our home's Macs, I instead trusted my children and just snooped the old fashioned way, by hacking into their accounts. Just kidding, mostly. It has been a while since I have tried any new parental control software, so I was and am glad to be able to see if they have gotten any better or if they are still a waste of money. This parental software review is of the Intego for Mac Family Protector 2013.
Features of Intego Family Protector 2013
Intego's Family Protector program has several features that can be used together or individually. Each feature or option is a way to monitor your child's action and interaction on the internet. Below are the key features that Family Protector uses to guard your children.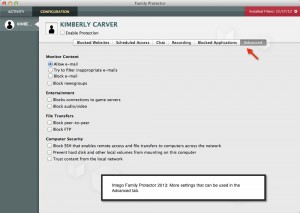 Text / Keystrokes: When this option is used, you the parent will be able to see everything your child (or whomever you are monitoring) types. Whether it be in a chat, email or even the search bar, whatever text they wrote will be recorded for you to view.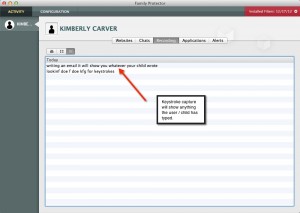 Screenshots: The Family Protector 2013 program will take screenshots as often as you want it to, or not at all, completely up to the parent. The child or user is not made aware of the screenshots being taken, nor are they aware of being monitored at all if you don't want them to know you are monitoring them.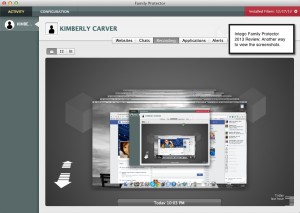 Websites: Monitoring where our children go on the internet is of great importance these days. With this software you can not only see what sites they went to, you also have many options available to you for things like banning them from a particular site and keeping them off sites with adult materials.
Making a list of good sites is also an option. This way the child won't run into any issues with filters. If you know of some sites that you feel are perfectly fine for them to visit, they are simple to add to a list of "okay sites."
Chat: Chats can be seen and monitored by this software. This Intego software will monitor the chat for any sign of behavior that may be considered dangerous to the child. It does this by watching for certain terminology that child predators would use. If any suspicious behavior is found, the program will automatically shut down the chat and then it will immediately let you know about the issue.
Timer: With the timer setting, you can set what time each child can get on the internet and the time they must be off by. You can also set restrictions for certain times of the day, for instance if they are supposed to be doing homework or chores from 3pm-4pm you can set Family Protector 2013 to restrict access during those times.
Unique Profile: With this family protection software you can set a profile up for each kid. This profile will allow you to set up individual settings for each user. An example may be if one child is only 5 and the other 12, the settings would be different for them both. A 12 year old is able to do a few more things or visit more sites than a smaller child is, so this allows the parent to control what each child is able to do. Every option, the websites, chat, screenshots, timer etc, is customizable to the child or user.
Additional Features: Some other things you can do include monitoring your child and changing settings from anywhere (not just from the computer it's installed on) and you can ban a specific contact or email address from being able to contact your child. The Family Protection for Mac also runs invisibly in the background, so your child will not know that you are monitoring them if you do not want them to know.
Conclusion
After trying out every single option, feature and setting, I found that parental control software has finally caught up with the times. The Intego Family Protection 2013 software is very easy to use, has a nice interface and tons of options. With all of the features also being customizable per each user or child, this family protection software gets 5 stars from TheHighTechSociety.com. There were no glitches, the program ran smoothly and setup was simple.
The price of the software is really great at under $40, but I have a tip that can save you a few bucks more. Before you buy it, first download the trial and try it out and then when you are ready to buy it, look in your email box as they have been lately sending out a 10% off discount code for those using the trial version.

If you do buy it, please let me know in our comments section what you think of this program. Do you love it? Hate it? Do you tell your kids that you are monitoring them? We love to hear from you, after all, it's your opinion that counts!
*Our reviews are not paid for, nor are our opinions. They are ours alone. If you experience any issues with the software that during testing we did not, we'd love to hear from you and encourage you to leave your own honest comments and opinions so that it can help others.