How To Hack Into Someone's iMessage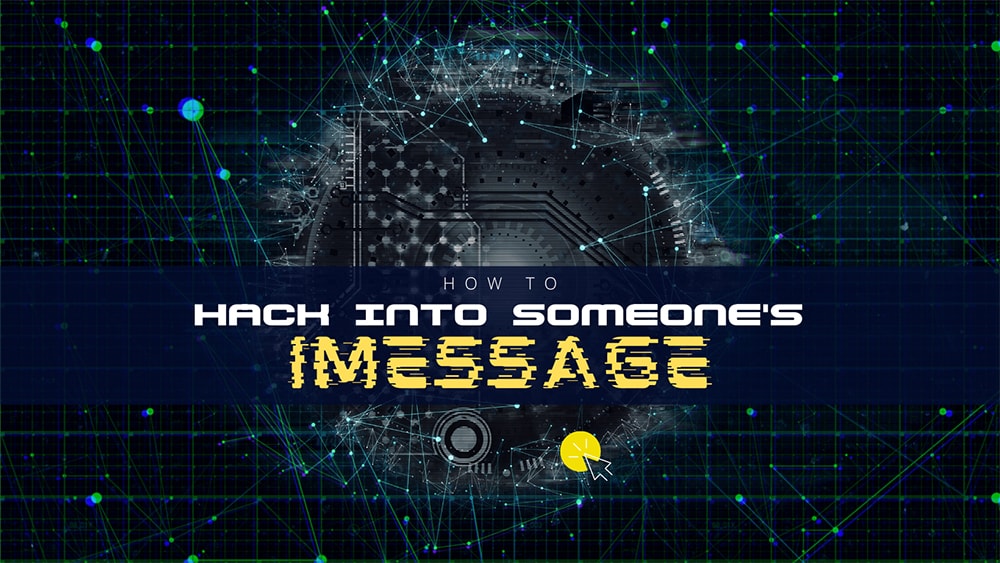 iMessage is designed to be secure and provide end-to-end encryption for its users. While there are many reasons a parent may need to hack iMessage, Apple designed it to be so secure that even spy agencies would not be able to read its messages.
That's not to say that it is impossible, just that signficantly sophisticated technology will need to be used to get someone's iMessages.
In this article, we will tell you how to hack someone's iMessage.
How To Hack iMessage
The only way to hack iMessage is to use a spy app. These tools can be used remotely, without installation on the target iPhone, if you know their Apple ID credentials. If you are able to physically access the target device and install the app, many more features will be available for your to use.
If you don't have the account information for your child's iPhone, don't assume that you can not access the phone for long enough to not arouse suspicion. There are usually plenty of opportunities that people overlook, such as borrowing the iPhone to make a call which should provide you with plenty of time to install one of these tools.
mSpy
mSpy is what I use to hack my son's iMessage. I didn't have to install anything on his iPhone because I have his login information. But, if you don't have their Apple ID credentials, installation takes about 5 minutes.
In addition to making it possible to hack into someone's iMessages, mSpy provides access to more social media apps than any other tool available including Tinder, Facebook, Reddit, Instagram, WhatsApp, Skype, TikTok, Telegram, Snapchat, and Zoom.
Although I intended to use it to get into his iMessage texts, this tool proved more useful for giving me full control over his iPhone. I can monitor and track his movements, with his location overlayed on a map and even be automatically notified about where he goes.
Live 24/7 tech support is available by phone, which can be a lifesaver if you are trying to install it in a limited amount of time, but I can't imagine it being necessary as it's pretty simple to do.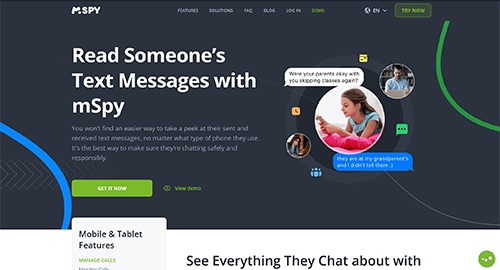 Pros
Proven track record

Totally hidden

Easy installation

GPS tracking

Great tech support
Cons
Not as user-friendly as eyeZy
EyeZy

EyeZy is a new and quite powerful cell phone spy app that can hack iMessage. Exploiting the cloud backup function lets you hack iMessage as well as gain access to the person's GPS location, photos, videos, contacts, SMS messages, and e-mails.
If you can get physical access to the target iPhone, eyeZy provides more advanced capabilities that include:
Keystroke Capture
Website Browsing History
Alerts for specific activity
Call logs
Geofencing
One of the most impressive features is its ability to spy on every major social media app including Facebook, Tinder, Snapchat, WhatsApp, Skype, KiK, and Instagram. This tool is also compatible with every iOS version dating back to 2014, which gives it the widest compatibility of any spy app I have seen.

Pros
Easiest to use

Totally hidden

Fast installation

GPS location tracking

Access all social media apps
Cons
Not quite as powerful as uMobix
FlexiSpy

FlexiSpy is not as user-friendly as other mobile spy apps, which is why it doesn't rank higher on this list of ways to hack iMessage, but it employs the most advanced security technology currently available. It too remains totally hidden and can record Skype, Facetime, and Facebook video calls.
To me, the most alluring feature of FlexiSpy is its ability to take control over the hardware on the cell phone. Once this app is on the target iPhone, it allows you to silently activate the front and rear cameras or turn on the microphone and listen as the target's iPhone spies for you.
Unfortunately, FlexiSpy has two problems, and those are why it ranks #3 on our list. The website is outdated and the application is expensive, but it would be a mistake to let either of these things turn you away from this marvel.

Pros
Extremely powerful

Live camera streaming

Pre-loaded iPhones

GPS tracking

Microphone access

Call recording
Cons
Older interface

Expensive
XNSPY
XNSPY is another spy app that makes it possible to hack someone's iMessage. Like mSpy, this app lets you hack iMessage without installation if you know their account information.
The XNSPY app is a comprehensive monitoring solution that can be used to track all activity on an iPhone, including calls, iMessage messages, emails, social media activity, contacts, and location. It also allows you to listen in on calls and record conversations.
One of the things I like best about XNSPY is that it provides an intuitive online dashboard where you can review all the messages collected from the iPhone. This makes it easy to quickly find the information you are looking for.
I found it very easy to use and was able to install it on the target iPhone within minutes using the information I already had. Overall, I was impressed with the XNSPY app and would recommend it to anyone looking for an easy way to hack into someone's iMessage.
FAQ
Can I receive someone's iMessages on another iPhone?
No, iMessage is not designed to be able to relay copies of messages from one iPhone to another and this would largely circumvent its security features. However, the tools we have discussed will let you hack iMessage texts on your iPhone or any other device.
How can I hack into someones iMessage for free?
No, there are no free tools to help you hack into someone's iMessage it is unlikely anyone will create one. The reason for this is that the technology needed to hack iMessage this is quite complex and no one is giving that away for free.
Beware of scammers claiming to know how you can hack iMessage for free or for too little money to be beleivable.
Can I see someone's iMessages without them knowing?
Technically, yes. Legally, you should consult a lawyer before taking any attempting to monitor anyone as there may be serious consequences.
Software that runs in the background can let you read iMessage messages without them knowing and without their consent. However, unless they are using an iOS device with cloud backup options enabled, you will most likely need to download and install a spy app first.
Legality
In most locations, it is only legal to spy on someone if you are their legal guardian or have their consent. You can almost never legally hack your spouse's iMessage without permission, though the issue can become legally complex if you own the iPhone in question.
Due to widely varying laws, you must consult with a lawyer before accessing someone else's iPhone. Failure to do so could result in unexpectedly severe legal penalties.
Conclusion
Using the right tools enables you to hack iMessage and ensure your child's safety in the most effective way possible. This is why it's important to carefully consider what features you will need to use before choosing an app.
There are numerous options on the market, each with its own advantages and price range. If you want the best available, choose software that allows you to track, spy, and also live stream. All of these capabilities are available in a reasonably priced package with all of the tools discussed in this article.