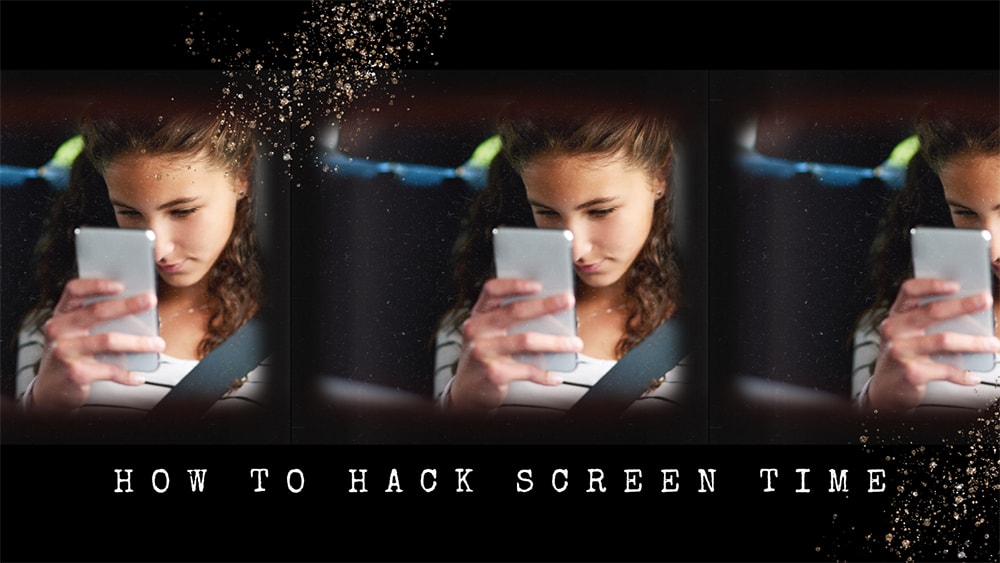 Apple's Screen Time feature for iOS devices lets parents place restrictions on what content their children can see, how much they can use the device per day, or restrict the amount of time their kids spend on specific apps.
Kids are resourceful, and most kids will have heard about these Screen Time hacks from their friends, which makes it particularly useful for parents to know how their parental controls may be thwarted.
Here's how to hack Screen Time in 2023.
Change the Date
The best and easiest way of hacking the Screen Time passcode is to simply change the date. Screen Time works by limiting when and how long your device may be used so faking a different date causes it to think more time has elapsed.
Open 'Settings'.
Go to 'General' and then tap 'Date'.
Toggle 'Set Automatically' to 'Off'.
Change the date and as needed.
While this will bypass Apple Screen Time passcode, it is also easy to prevent children from doing this. To disable this workaround:
Go to 'Settings' > 'General > 'Date & Time'.
Ensure 'Set Automatically' is 'On'.
Choose 'Settings' > 'Screen Time' > 'Content & Privacy Restrictions' > 'Location Services' > 'System Services'.
Switch 'Setting Time Zone' to 'Off'.
Go down to 'Location Services' and toggle it to 'Don't Allow Changes'.
Uninstall & Reinstall Restricted Apps
This seems like an extreme step, but app removal and re-installation rarely takes more than a couple of minutes and is an easy way to trick Screen Time.
To delete and reinstall, follow these steps:
Press and hold the app icon.
Select 'Remove' from the pop-up dialog.
Tap 'Delete' to delete it from your iPhone.
Download and re-install the App Store.
While this method is often overlooked, it's a common way kids can get past restrictions and does not need the Apple ID and passcode.
Fortunately, Apple knows about this way to cheat and it can be stopped by doing the following:
Tap 'Settings' > 'Screen Time' > 'Content & Privacy Restrictions' > 'iTunes & App Store Purchases'.
Set 'In-App Purchases', 'Installing Apps', and 'Deleting Apps' to 'Don't Allow'.
Bypass Communication Limits
iPhone Communication Limits restrict what contacts can call your child and who they can communicate with. Limits can be applied for all contacts or only specific contacts.
In cases where specific contacts have restrictions placed on them, you can get around Screen Time's limits by removing the person from the contact list.
The only way to prevent this is if Screen Time settings are configured to limit communication with everyone, thus blocking calls and messages from unknown numbers. However, doing this will limit the child's ability to communicate with everyone, including their parents.
Run Safari From 'Settings' Via Warning Icon
The most common, and useful, limit parents use on iPhone is the ability to control how long their children spend browsing the Internet. The limitation on using Safari is problematic, but there is a way to unlock Screen Time without knowing the password.
If there are duplicate passwords saved for two or more separate sites a warning icon will appear under 'Websites & Passwords', buried within your 'Settings' dialog. Interestingly, this exposes a Screen Time glitch that allows it to be circumvented.
Open the 'Settings' app.
Choose 'Websites & Passwords'.
Look for a warning icon.
Click on any warning icons and then 'Change Password'.
This will unlock a new and unrestricted browser window will be launched and you can browse the Internet with no restrictions.
To ensure you will be able to use this method, you should intentionally set a duplicate password on two websites.
Break Out Of 3rd Part Apps To Access Safari
Many iPhone apps have some kind of built-in web browsing functions and many others still display advertising that will start the default web browser even if Screen Time should be limiting access.
For example, apps most kids already have installed like TikTok, Facebook, SnapChat, and Telegram display in-app ads that will open a new browser window when clicked.
There is currently no patch for this security hole.
Hack Screen Time by Using iPhone Screen Recording
This method is so simplistic that it's surprising how often it works. iPhone's recording feature will not only make a video of the screen but also picks up when the passcode is entered.
The recording feature can be activated through the notifications panel. To block this, a parent simply needs to perform these steps:
Go to 'Settings'.
Tap 'Screen Time'
Select 'Content & Privacy Restrictions' > 'Content Restrictions'.
Toggle 'Screen Recording' to 'Don't Allow'.
Use iMessage To Watch YouTube
iMessage provides an alternative for being able to watch YouTube by getting around the passcode on iPhone or iPad.
Within iMessage there is an Applets icon that will allow you to share links. This feature will also allow you to watch videos even when it has been restricted.
Parents can prevent this by doing these steps:
Open the 'Settings' app.
Select 'Screen Time' > 'Content & Privacy Restrictions' > 'Content Restrictions' > 'Web Content'.
Tap 'Limit Adult Websites'.
Click 'Never Allow', and then 'Add Website'.
Enter 'https://youtube.com'
Use iMyFone LockWiper
Apps like iMyFone LockWiper are available to remove the passcode and restrictions on iPhone, iPad, or other iOS device. I am listing this option almost last because it removes and resets the passcode which, while effective, makes it obvious that Screen Time was circumvented.
However, if you have forgotten your password and need to simply clear it from your phone then this is a wonderful way of avoiding having to factory reset your iPhone which would cause data loss.
To use iMyFone LockWiper, your iPhone must be connected to a computer for the duration of the process. The reset instructions are easy to follow and I did it in about 5 minutes on my phone.
Factory Reset The iPhone
This option should only be used as a last resort if a parent forgot the passcode. Resetting the phone to factory defaults is irreversible and will cause data loss!
If you are sure there is no way to recover the password, you can reset an iPhone as follows:
Open 'Settings'.
Select 'General' > 'Reset'.
Tap 'Erase All Content & Settings'.
Enter your iPhone passcode.
When you confirm your choice the iPhone will be reset to factory defaults and remove any limitations.