How To Coupon In Today's High-Tech Society!
How To Coupon In Today's High-Tech Society!
Changes in technology affect everything around us. Even the process of shopping has completely changed over the past five or so years. When shoppers want to save money, they use coupons. Shopping with coupons can be tricky and time consuming, but new high-tech ways of using coupons have made it easier than ever. This is a great time to learn how to coupon the right way with technology.
Traditional Couponing
The traditional method of couponing consists of collecting the coupons from the newspapers, fliers, blinkie dispensers, internet, and from the mail. This way of collecting coupons can take a lot of time but might be your 'how to coupon' basics that you would learn from your mother or grandmother. To successfully save money at the store you not only collect coupons but also create a list and shop from it. Doing so can take a lot of time without some high-tech help. If you want it to be easier, you'll have to learn how to coupon with technology.
Newspaper Inserts
A majority of coupons come from the various newspaper inserts. Most Sundays there is at least one RedPlum, one SmartSource, and once a month a Procter and Gamble insert. Many people that take couponing seriously will get anywhere from two to ten or more papers each week. So many papers mean a lot of coupons to clip, so if you want to know how to coupon from newspapers, make sure you're patient. Some clip all and some clip none until they plan on using them, both are great if you're trying to learn how to coupon, but too time consuming for most.
When items you plan to buy are on sale, going through all of those inserts can take forever. There are several websites that keep a database of coupons for each item, which is the best way if you want to know how to coupon in today's high tech society. Two that I use regularly are Hot Coupon World and the I Heart Publix database. You can find weekly ad match-ups for almost any store on-line on blogs and websites who follow the ads each week. These sites make completing the shopping list and compiling the coupons so much easier.
Printable Coupons
Printable coupons are the ones that you can find on-line. The Internet is full of these coupons which is where coupon technology really comes in. They used to be only found on manufacturer and certain other websites, but now with social media, many can be found on Facebook as well which makes learning how to coupon online very easy. Printable coupons tend to come and go depending on how high of value they are. Good coupons on Facebook can be gone in a matter of minutes. When creating a shopping list, these kinds of coupons are usually mentioned in the match-ups for each store's ad.
Some good websites to get these coupons:
Coupons.com
RedPlum
SmartSource
Coupon Network
Promo Codes
Promo codes are used to get discounts on on-line merchandise. A majority of stores offer these discount codes to their shoppers. Sometimes they will offer these promos monthly or to customers on their mailing list. Ways to easily get these promo codes are through social media, blogs, and forums. There are several major sources for promo codes online.
Best places to get promo codes:
Slickdeals
Retail Me Not
Fat Wallet
Facebook
Coupons In The Mail
Writing to companies is a good way to get coupons from them. In many cases, both good and bad comments can get you coupons from manufacturers. Asking companies for coupons with a nice comment written in the letter works pretty well. With the advances of social media, mailed coupons have become easier to get so this part of learning how to coupon with technology isn't that hard. At least a few times a month manufacturers will give out free samples and coupons through websites like Facebook and Twitter. Usually these coupons will be mailed to you. Sometimes they contain coupons for free products, making it even more worth your effort.
New High-Tech Coupons
The kinds of coupons mentioned above are not the only kind you may receive. The advances of technology changes the way that we coupon. The traditional methods of how to coupon are still widely used, but they still contain the imprints of new technology and social media.  As technology changes, those methods will adapt with them. The same goes for the new type of coupons.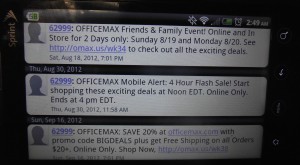 Coupons By Text
With the huge popularity of smart phones comes coupons by text. These coupons are usually in the form of promo codes. Sometimes you can score mailed coupons from different text promotions.  These only come to consumers who sign up for texts with the company, store, or manufacturer. Recently Target started sending digital text coupons that can be scanned at the register.
Social Sharing Of Coupons
Some of the coupon websites and some manufacturers allow the digital sharing of coupons. It is a practice that is encouraged. Doing so may allow you to receive an additional coupon or a better discount. Companies want to get the word out about their products to as many people as possible. This is one way they are able to do it, while rewarding consumers.
Digital Coupons
Digital coupons and discounts can be scanned directly from a smartphone. These are the newest type of coupons that is used today. These coupons are sent via text or email and are redeemed at the stores that are capable of accepting them.  Other kinds of digital coupons are applied automatically to loyalty cards and are knocked off the price of the order when the corresponding item is ringed up. SavingStar is a website that offers this service. They have a number of digital coupons that can be loaded on to reward cards to stores like Winn-Dixie and CVS. The digital coupons are not ready to replace printed coupons yet, but they just may in the future as technology evolves.
Couponing Has Never Been So Easy!
With technology as it stands today, you can learn how to coupon in many different and high-tech ways. It makes saving money so easy, especially in these troubling times with rising costs. Couponing can slice grocery bills anywhere from 10% to 90%. That is a lot of savings for any kind of budget.
We would love to hear how your couponing efforts have paid off.  Please leave a comment below and let us know which websites you use if they are different from the ones mentioned!  It would be great to hear how your experience with the sites we have listed has helped you save money while having fun at the same time. Now that you know how to coupon in today's high tech society, have fun shopping and enjoy saving money.