Green Tech Tips for Making Your Home Eco Friendly
Green Tech Tips for Making Your Home Eco Friendly 
Whether you want to celebrate Earth Day or just do something good for the environment at any day of the year, you can do so with any of these great tech ideas. Options range from easy phone recycling options to some pretty cool uses for things that you might have never thought of.
The following green tech ideas include recycling, repurposing, and buying green tech items for your home.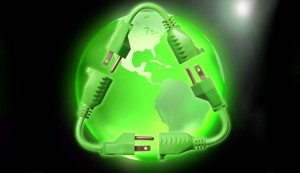 Recycle
Recycling is important on any day of the week, but these ideas should get you started on finding some of the best ways to recycle your tech and gadgets.  From reselling to finding someone who can put the item to good use, recycling helps to save the environment.
Recycle an Old Phone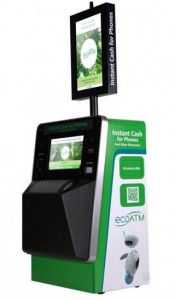 The first green tech ideas for Earth Day are to recycle. Did you know that you can recycle everything from your phone to an old battery and sometimes even get money for it? The EcoATM offers $1 to $250 for an old cell phone depending on the condition, the model, and the value, which is a good deal better than leaving it sitting in a drawer. A few tests of the kiosks show that a cracked iPhone may be worth as much as $90, which isn't bad for something that you can't use anyway.
Currently there are more than 300 EcoATM Kiosks, so finding an EcoATM location via the website and recycling your old phones can be a great green tech idea for Earth Day. Best of all, you might even get some cash! EcoATM accepts phones, tablets, and even MP3 players, although you might not get any cash for a very old phone.
Recycle Old Batteries
Did you know that you could get as much as $60 per pound for old batteries? Silver oxide batteries such as watch batteries tend to recycle for the highest amount of money, but most companies are willing to purchase most types of old and used batteries.
MyBatteryRecyclers.com is one of the best websites out there because they accept all types of batteries including car batteries. The process works with a mail in process, you gather old batteries, ship them via UPS or FEdex, and then receive a check in the mail. MyBatteryRecyclers.com then repurposes the metals. MyBatteryrecylers is actually a member of a range of organizations dedicated to a healthy environment, and are the second largest battery recycler in the U.S.
Unfortunately they may not pay for small amounts of batteries, but you can save up and then ask them to send you a box for your batteries in 3.5 or 55 gallon containers that are safe for batteries. How much will you get? First, you'll have done something great for the environment. Second, you will get money based on the net weight of any battery containing a precious metal which includes all phones and watch or button batteries, as well as most batteries on the market. So yes, you really can get paid for recycling old batteries!
Repurpose
Probably one of the best ways to help the environment is to re-use something rather than throwing it away. Repurposing is actually usually a lot easier than you might think. For example, you can take an older dresser, cut the legs off, add an outdoor chair cushion to the top and you have a very cute storage bench that you can set just about anywhere, but what about repurposing tech items? Let's get started.
Television Fish Bowl
If you like fish then this project is for you! All you need is an old TV or Monitor, a bit of patience, and some tools and you're ready to get started.  First, there are two ways to do this. You can insert a pre-made fishtank into the empty TV or you can purchase plexiglass and do it yourself. For anyone who is not handy with tools, the former option is the best. For anyone purchasing a fish tank, consider looking in local thrift shops before purchasing a new one.  * Please note that flatscreen TVs and monitors do not work for this project.  The TV should be unplugged.
Take the back or top off of the TV or Monitor.  If you have an old wood box TV, all the better.
Remove the innards from the screen. Most Tvs will require Phillips and Flathead screwdrivers and potentially pliers as well.
Use a saw to cut a hole in the top of the back of the computer or television backing. This is a great alternative to unscrewing it every time. If you would like it to close completely, consider purchasing a small pair of hinges and a small latch. You can install them so that they are hard to see, but easy to use.
Purchase either a fishtank that is as close to the size of the inside of the TV as possible and insert it into the tank. Otherwise, use this guide on Instructables to build your own.
Want more cool things to do with your old computer? Check this Facebook Page for more ideas, and tell them the High Tech Society sent you!
Turn a Router into a WiFi Radio
Internet Streaming radios are the thing of the future, and surprisingly easy to make with an old router. You do have to invest in a soundcard, but this 8 minute video will tell you all about how to do this tech repurposing project.
You can also check out plenty more green tech tips and gadget repurposing ideas here.
Buy
There are also plenty of things you can invest in to make your home more energy efficient.  First, consider replacing all of your lights with LEDS, they can use less than a quarter of the energy as traditional lights, which can actually save you money. Worried about the initial upfront costs? LEDs last ten times longer than a standard light bulb, so it will be longer before you have to replace it. If your budget is low, try one light a week.  What other green tech gadgets can you invest in?
Solar Charging Kit
What could be more green than a kit that allows you to charge your cell phone or laptop batteries with the suns power? While this isn't quite as useful in areas where the sun never shines, it's definitely a great idea. The options from Voltaic include backpacks that you can carry your laptop around in and charge it while on the move. Most solar charging kits start at just above $100 but can go well above $200 so shop carefully.
Maestro Vacancy Sensor
If you have a problem turning off your lights when you leave then the Maestro Vacancy Sensor might actually save you money. The gadget uses motion sensing to automatically turn off the lights when the room has been vacated so that you don't waste energy.
WiFi Thermostat
Most of your energy bills are probably in heating or cooling but you can get a wifi thermostat so that you can control it and check up on it via your phone. This means that you can always check to see if you turned the heat off when at work, or program the thermostat from any room in your home. Not every option works with phones, but you can certainly choose one that does.
There are plenty of green tech tips for making your home more eco-friendly. From recycling to repurposing, to buying new gadgets and electronics that are more eco-friendly, you can do a lot for the environment no matter what the time of year.