Google Glass Head Mounted Computer Updated By New Patent
Google Glass Head Mounted Computer Updated By New Patent
by Brandy Cross
Google Glass is an innovative design for a head mounted computer set in glasses, and the entire design has just been updated by the company's newest patent.  Smart computers are on the rise, and Google's idea of placing one in a pair of glasses could be simply revolutionary. Rumors indicate that Google might also be working on a computerized watch similar to the Kickstarter Pebble SmartWatch that was released over CES. Currently smartphones are the most mobile versions of computers, and there are more than 1 billion smartphones in the world. With added mobility, the option to strap the computer on or wear it as glasses, more uses and flexibility for mobile computers might soon be available.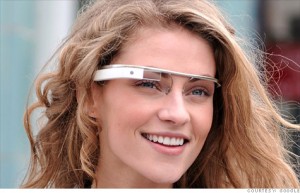 What is the Google Glass Project?
Google is well known for funding a lot of weird projects including driverless cars, but the Google Project Glass could be one of the most interesting. People around the world, and especially gamers, have been interested in creating an augmented reality headset, but Google Glass does so with a smart computer and in a smartphone like format. The operating system runs on Android and would be completely hands free with voice command operation. Project Glass has received a lot of media attention, including by designer Diane Von Fostenberg who had her models wear Google Glasses to film the audience as they walked down the runway.
Recently Google filed another patent for its Project Glass to include a projection laser which from the looks of things, will include the ability to project a keypad onto any nearby surface, including a hand. This would allow users to dial a phone number or type into a small keyboard to place a call or visit a specific place on the internet. Prototypes show a keypad like projection.
Laser projection is not a new idea and in fact, laser projection keyboards can already be purchased for a little more than $100. With new technology coming out daily, Google might be able to lower that price in order to make their Google Glasses more affordable.
The Future of Virtual Reality Headsets & Wearable Smart Devices
Whether the Pebble watch or the Google Glass project, which offers wearers fully augmented reality, wearable smart devices are clearly becoming popular research projects.  The idea of being able to wear a pair of glasses to access the internet, make calls, or pretty much anything else a computer could do is quite unreal, but whether or not it will be adopted by the public is another thing entirely. Many people care too much about fashion to wear unnecessary glasses, while other shouldn't wear glasses for safety concerns. For example, texting itself is dangerous while driving or walking down the street, but what about sending messages to a friend with augmented reality glasses on? Paying attention to the real world and the computer might be a bit more difficult than people have imagined.
Other options such as the Pebble smartwatch appear to be more practical for general use, and they should be. The watch is easy to wear, won't get in the way, and completely practical. It also interacts with your phone to send you messages, social alerts, emails, and phone calls, while telling you the time as well.
Google Glass is an interesting project that will likely be great for healthcare wearers, people at work, and persons who want to interact with their digital media at home, but not for people who should be traveling. There are literally hundreds of practical applications should Google lower the initial price. Currently the cost for developers is $1,500 per pair, so everyday users might not be able to afford them for some time.
What do you think about Google Glass? Is it too similar to the Microsoft Kinect Glasses debuted a few years ago? Or is it a revolutionary new look at the smart device? Would you use one?