Geeky Kitchen Gadgets to Buy as Gifts – or For Yourself
Geeky Kitchen Gadgets to Buy as Gifts – or For Yourself
If you're on the hunt for cool kitchen gadgets then this top ten list of must-haves is definitely for you. We've scrounged the internet, and kitchens everywhere, to find the coolest, geekiest, most must-have electronics and do-dads and then narrowed the list down to those that you can buy. That's right, everything on this list is absolutely for sale so you can have it in your very own kitchen! Ready for the kitchen geekery? Let's gets started.
Domo or Hello Kitty Toaster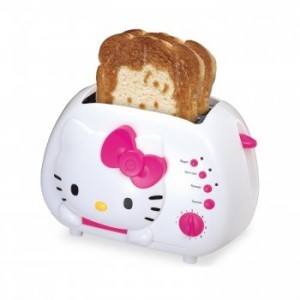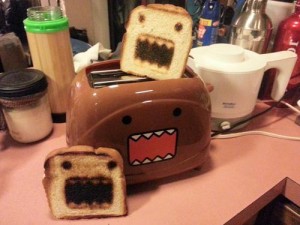 Whether you're looking for a way to spice up your breakfast, or want your kids to eat more toast, a toaster like this is the way to go! Both toasters toast an image of Domo or Hello Kitty onto to the toast, which makes it a lot more fun to present. Both include various settings such as toast, defrost, and reheat, while the Hello Kitty toaster is also equipped for bagels.
Domo Toaster – Starting from $24.99
Hello Kitty Toaster – Starting from $15.98            
Star Trek Enterprise Pizza Cutter
Star Trek is always a hit, and so is pizza! So guess what, you can't lose with this Star Trek Enterprise Pizza Cutter! Sure you might have to explain what it is to your grandmother, and you might be accused of being a geek, but one look at this baby and it's definitely worth it. This is a super geeky kitchen gadget, makes a great gift, and is affordable! Plus, it comes in standard silver or special edition gold, you can buy both!
Buy it on Amazon Starting from $23.99 
Tardis Mini Fridge

What could be a better kitchen (or man-cave) gadget then a refrigerator owned by the Time Lord himself? This Tardis Mini Fridge* is large enough to hold a 6 pack of soda (or beer) which makes it really perfect for the office. Show off your brand new desk accessory, give your workplace a geeky makeover, or just put it in the living room so you don't have to get up and walk to the kitchen. The Tardis fridge also includes a heating function in case you want lunch! Tardis sounds included.
*Warning: The Tardis Mini Fridge does not travel time, does not warp the space time continuum and is the same size inside and out. Repeat it is NOT bigger on the inside than the out. May be responsible for deliciously chilled beverages and snacks.  
Single Serve French Press
Tired of sharing coffee with your co-workers? Or don't want to buy an expensive French Press if you just need single serve? Make sure your coffee stays hot and always get the best with this Aeropress single serve coffee maker. Perfect for your office, your workplace, or next to your bed for when you wake up int he middle of the night with an urge for coffee. The Aeropress coffeemaker is fun to use, comes with a years supply of filters, and you can use it with any of your coffee. Enjoy!
Star Wars Lightsaber Popsicle Maker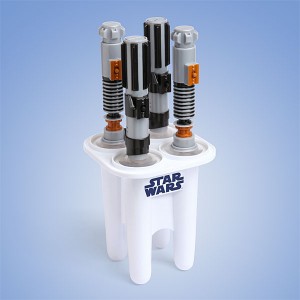 If there is a cooler kitchen gadget anywhere, we seriously have not found it yet. This Star Wars Lightsaber Popsicle Maker is synonymous with kitchen geekery. Why? With four included popsicle makers with 5" hilts and 6" blade, you can make realistic lightsaber ice pops for you, your kids, or your guests. Plus, the sabers actually have LED lights so that your pops can light up. You can treat your kids to a galaxy cooled treat … or have it yourself.