How to Choose a Gaming PC: A Practical Guide
GAMING
How to Choose a Gaming PC: A Practical Guide
If you are considering purchasing a dedicated gaming PC then you have to know which specs to look for, what you should be paying for the computer, and have some idea of what you need, and why you need it. Gaming computers are expensive, but for the hardcore gamer, well worth the money in terms of speed, capabilities, and performance. The following guide will help you choose a gaming PC that suits your needs and hopefully your budget as well.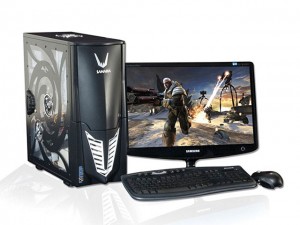 Why A Dedicated Gaming Computer?
First and foremost, you should decide if you need a dedicated gaming computer. As a computer gamer, you're really only as good as your computer, and for the most part, the computers on sale aren't that great for graphics and performance. Gaming PCs are designed to handle heavy graphics and fast paced action without skips, quality loss, or freezing. While there are a lot of reasons to choose a gaming PC, the most obvious is that you get a better gaming experience with what you have. For anyone who does not spend a great deal of their time gaming, or who already has an adequate computer, you probably don't need anything expensive and fancy, unless of course you have the extra money and want to spend it.
What to Look For in a Gaming PC
First and foremost, you don't need a branded computer. You can always choose to build your own if you want to save money or you think that you can do better on your own. Branded computers are usually a little more expensive and more 'cool' in terms of brand recognition, while non-branded computers require an in-depth knowledge of what is needed and what works together.
Processor
The first thing to pay attention to is the processor. The processor is typically measured in CPU, and labeled in Ghz (I.E. 4.3Ghz). Typically you should look for a minimum of a four core processor although six and higher are definitely preferable. If you would like to upgrade the processor in your current computer, you can do so, just remember to research which models work with your Motherboard. You can do this by checking your motherboard model and then finding out if it is 32 or 64 bit and then simply use Google to find out which sockets it has. From there you can easily see which CPU's are compatible with your motherboard.
Graphics Card
The Graphics card, chip, or video card is the single most important thing to most gamers. While memory or RAM do matter a lot, a computer with poor graphics will not even play some high end games. Choosing a graphics card can be difficult as there are many very nice ones on the market but if you purchase it on your own, good ones can range in value from just under $100 to well over $500, (you can check our guide on upgrading your video card on a budget for more information). Some of the best video cards on the market today include the EVGA GTX 680 Signature 2 , MSI HD 7770, Zotac GTX 650 Ti AMP!, and Gigabyte Radeon HD 7870 OC Edition, although there are literally dozens more of fully capable options.
Storage
Your storage needs actually depend on what you will be using the computer for and which type of games you prefer. Computers today can be equipped with upwards of 2 terrabytes of storage, which is actually a great deal. Typically you should choose something with 500 + gigabytes of storage if you plan on using disc and browser games, but if you plan on using a great deal of downloadable games, you should go for as much storage space as is possible.
Memory
Memory is another very important factor for gamers as it directly affects how you can game. For example, most gamers literally should not purchase anything with less than four gigabytes of RAM or DDR3 Memory. This is because some games might not even play with under 4 gigabytes of RAM. Standard needs are 1-2, but you do want to be able to play the higher end games. Some computers can be upgraded to up to 32 or even 64 gigabytes of RAM which is actually a little overkill in most cases, but does offer unlimited memory for multi-taskers, and heavy gamers. If you want to play a memory hog game and stream it to four different screens while hosting a LAN party, you should go for as much RAM as possible. If you just want to play World of Warcraft, 8 gigabytes is probably enough.
Everything Else
You will also want nifty things like a warranty (one to three years is good, look for full coverage), maybe peripherals such as a mouse and keyboard designed for gaming. Most gamers also like to have at least one high speed optical drive (Disc drive can be BluRay or DVD), and many prefer solid state drives which run faster and more quietly.
Laptop vs. Desktop
For most gamers, the desktop computer is considered to be better quality and more powerful than a laptop computer. However, most also agree that the laptop is more portable which is for the most part, more convenient. Gamers should decide on choosing a gaming laptop or desktop computer based on their individual needs. For example, anyone who wants to travel, tends to game in different locations, or doesn't necessarily have a dedicated desk or room for their computer should go with the laptop. This includes students, anyone with a small home, anyone who is sharing an apartment, or even anyone who travels. For everyone else, the desktop computer is a great option because usually it offers more power for a lower price as well as the ability to have a huge screen, including multiple screens. (You can connect a tower to three 25" monitors and have a near surround gaming experience. Both options are great options, but really depend on the buyer.
Mac vs. Windows
Unfortunately there is no easy answer to the Mac vs. Windows question for gaming computers. Technically both are personal computers, both offer good specs and decent display rates although Mac does have significantly less options. Most gamers eventually choose Windows because there are more games available for it, but anyone who plays a dedicated series of games, or those that are very popular can choose a Mac as well because the game is most likely to be released for both servers. One of the advantages of Mac is that the computer can be purchased with maximum stats of 2 TB of hard drive space and 64 gigabytes of RAM directly from Apple, although it is a bit expensive. Usually, choosing between Mac and Windows for a gaming PC is actually a personal decision.