The Five Best Tablets for $200 or Less
The Five Best Tablets for $200 or Less
In recent years tablet computers have become all the rage. So much so, in fact, that there are literally hundreds of different models, brands, and versions on the market. With that in mind, how does one determine which one will best suit their needs? Like everything else in the electronic world, all tablets are most definitely not created equal. Now, before you start thinking that you could never afford a decent tablet, think again. Good tablet computers don't necessarily have to cost a small fortune. Here, we have researched and found the five best tablets that you can buy without breaking the bank, all for $200 or less.
RCA RCT6077W2
While generally considered a television and stereo manufacturer, RCA has jumped feet first into the tablet world with the RCT6077W2 7" touchscreen tablet. This tablet contains most of the features commonly found on other, higher priced, tablets, but seems to be lacking in specs. For instance, its 4GB internal flash memory pales in comparison to other models, and the 1GHz processor is lower than you would find on higher end tablet computers. However, RCA makes up for this by offering the tablet at a cost much lower than most other tablets. The RCA tablet only features a front-facing camera, useful for videoconferencing, but lacks a higher resolution rear camera for taking photos and videos. It does use the standard Google Play store for apps, however, rather than a customized OS like some other tablet brands.
Nook HD
The Nook HD is quite a popular tablet, not only because of the great specs you get for the price, but also because, like the Kindle Fire, it also doubles as an eBook reader. Granted, all tablets have the ability to read eBooks via specific reader apps, the Nook HD does so natively. The Nook HD features a 1440×900 resolution, similar to that found on many widescreen laptop computers. The 7" fully laminated screen looks sharp and provides for extra wide viewing angles. The battery life on the Nook HD is comparable to other tablets, at about 10.5 hours of reading or 9 hours of continuous video streaming and viewing. The downside? It uses the Barnes & Noble app store, rather than the more common Google Play store.
Kindle Fire HD 7"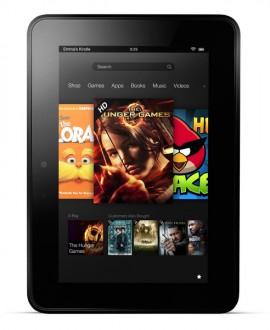 Like the Nook HD, the 7" Kindle Fire HD is an eBook reader and tablet combined into one sleek device. Also like the Nook HD, it does not use the Google Play store, relying instead on Amazon's own app store. While the Amazon app store contains a variety of content, it simply does not compare to Google Play, the official Android marketplace. That being said, however, the Kindle Fire HD 7" is a great little device, although the newest model seems to have dropped some common features found on its predecessors, most notably the cameras. Still, however, the Kindle Fire HD 7" is a great tablet/eReader for the price.
Samsung Galaxy Tab 3
The Samsung Galaxy Tab family of tablet computers is one of the most popular, but expect to pay a slightly higher price. It uses the official Google Play store for app purchases, and ships with Android 4.1.2 (Codename: Jellybean). One of the greatest things about the Samsung Galaxy Tab 3 is that it sometimes comes with some great perks, like a Hulu Plus membership, Boingo WiFi access, and even a credit for the Google Play store, not to mention 50GB of Dropbox storage for free, approximately a $50 per year value.
Asus Google Nexus 7
Finally, there is the Google Nexus 7 tablet by Asus, coming in at about $190. This tablet offers impressive features, like 32GB flash memory as compared to the 4GB and 8GB offered by other tablets on this list. It runs on the NVIDIA Tegra 3.0 chipset, a quad-core mobile processor that really pushes the boundaries. The high performance Nexus 7 also ships with Android 4.1 and uses Google Play for apps.
Tablet Model Comparison
Take a look at the following chart to see, side-by-side, how the various tablets stack up against each other:
| | | | | | |
| --- | --- | --- | --- | --- | --- |
| | | | | | |
| | RCA RCT6077W2 | Nook HD | Kindle Fire HD 7″ | Samsung Galaxy Tab 3 | Asus Google Nexus 7 |
| Operating System | Android 4.1 (Jellybean) | Android 3.0 (Honeycomb) | Custom Android | Android 4.1.2 (Jellybean) | Android 4.1 (Jellybean) |
| Memory Capacity | 4GB | 8GB | 8GB | 8GB | 32GB |
| Processor | 1GHz | 1.3GHz | 1.5GHz | 1.2GHz | 1.2GHz |
| App Store | Google Play | B&N Store | Amazon Store | Google Play | Google Play |
| Camera(s) | Front | None | None | Front and Rear | Front and Rear |
| Price | $85 | $115 | $139 | $159 | $190 |
Don't Forget Tablet Accessories
No tablet computer is complete without accessories. Sure, having a tablet is great, but the addition of "necessary" accessories makes all the difference in the world. First, regardless of the tablet you decide to purchase, you should seriously consider both a case and a screen protector. Screen protectors are relatively inexpensive, but can really save your bacon, preventing the screen from being scratched, and sometimes even cracked. It will also help prevent those unsightly finger smudges from accumulating on your screen after periods of use. Cases, likewise, help to protect your device, and can add an air of personality to your tablet. A wide variety of styles and designs can be purchases to truly make your tablet unique, especially if you purchase a custom case. And while you're at it, don't forget a stylus, extra charger cable, and a cleaning kit (a microfiber cloth that keeps the tablet looking pretty).