Fin – The Gesture Control Ring
Gadgets & Gizmos
Fin – The Gesture Control Ring
While gesture control is not a new topic, and indeed the Fin is not the first device of it's kind (the Myo is very similar), it is very, very cool. The Fin is quite literally a thumb ring that turns your palm into a gesture control interface, where you can control any Bluetooth 4.0 device including smart TVs, your phone, or Bluetooth gadgets. In essence, it's got almost all of the same features as the Myo gesture control armband, but in a smaller package.
Meet the Fin
The Fin is a thumb ring with a built in optical sensor that tracks the motion of your thumb in your palm. So, when you turn the Fin on, you can control your gadgets via Bluetooth by swiping your thumb across your palm, typing with your thumb into your palm, and making gestures, allowing you to do anything from type onto a numeric keypad to change the channel on your TV. Because it uses Bluetooth, you can work with most Bluetooth gadgets, and because it recognizes individual fingers on your hand, you can perform all sorts of thumb based gestures. Some of the things the Fin team suggests you can use the device for includes dialing a phone number without grabbing your phone, changing channels, opening apps, and changing your music on your iPod while running.
How it Works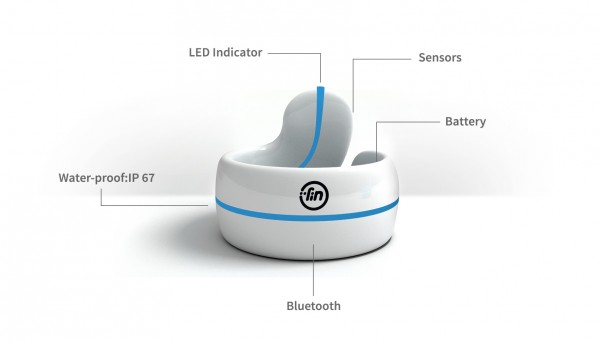 Optical sensors typically track movement through changes in light, proximity to objects, and actual motion. While the makers of the Fin have not given a great deal of information on the actual tech specs that go into their device, the sensor in the Fin is most likely a motion and proximity sensor that tracks your individual fingers and then offers results based on pre-programmed configurations. So, for example, a swipe of your thumb on your palm would be a swipe on a screen, a push a click, and so on. The video shows basic motions, although they also suggest that you can flick, and use your fingers for extra control. The ring itself includes Bluetooth, a battery with a supposed life of one month, an LED indicator, and a one size fits all custom fit. It also charges via Micro USB, which is convenient for most users.
Getting It
The Fin gesture control ring is up for sale on IndieGoGo until February 22nd of 2014 and can be purchased for $130. The ring will ship at the end of 2014 if Fin reaches their funding goal.
What's the catch? The Fin is technically more than a little 'late' to the party, as the Myo Armband from Thalmic Labs is slated to ship out in the early months of 2014. In addition, they've supposedly already sold more than 100,000 units at $149, which, with limited market for gesture control, puts the Fin at a bit of a disadvantage. However, each gesture control gadget uses different technology (the Myo tracks arm muscles). Plus, according to the Fin's page, they haven't yet completed the biometrics, which means that what you're paying for is only a prototype. However, when the Fin is finished, it could very well be one of the coolest gadgets to come out, and it looks a bit more versatile for mobile use than the Myo, meaning that it has it's own market.