Facebook Home for Android Phones to Launch on April 12
Facebook Home for Android Phones to Launch on April 12
Mark Zuckerberg began his Thursday talk on Facebook live with the announcement of a phone, but to the surprise of many, it wasn't a phone but a mobile operating launcher app for Android. That launcher app, known as Facebook Home, can be used to turn almost any Android phone into a Facebook centric device. How does it work, and do you want it? Keep reading to find out.
What is a Launcher App
Android devices use 'launcher apps' to launch the home screen, lock screen, and menu system with a specific look and feel. All Android phones come with one built in but you can purchase others for use on your Android. These usually add different elements such as a different look and feel or multiple screens, but in the case of Facebook Home, it allows you to see Facebook on your home screen. (Currently some of our favorite Android launchers include Crazy Home and ssLauncher). Essentially, this app simply takes over from the Android launcher already on your phone so that you see Facebook Home rather than your Android. You can get the same effect with a variety of other launchers, and you can even build your own if you know code.
What is Facebook Home
Facebook Home is apparently Mark Zuckerberg's answer to creating a Facebook phone without having to produce and ship physical models. With Facebook Home, anyone can turn their Android into a Facebook phone, which is definitely more cost effective for Facebook than risking a mobile handset.
Home will be launched on April 12th for the HTC One X, HTC One X+, Samsung Galaxy S III and Samsung Galaxy Note II as well as future phones when they are launched. Facebook promises a monthly update, and at first that should be mostly dedicated to making Facebook Home Available for a range of other phones.
Facebook Home runs using all of the same apps and you will have to download from the Google Play store or Amazon, same as with any other Android Phone. You will also be able to keep your settings while turning your phone into a people centric device. There are a couple of new features but Zuckerberg pushed the messaging and the news feed, both of which are updated a bit.
One of the most extreme new features is 'chatheads' which sounds a little weird. Each time you get a text, Facebook message, or etc., your phone will have a small popup of the persons face and a preview of the message. This is just a circular version of the Facebook profile photo so not to worry that it will be anything extremely new, just new for Facebook and mobile updates.
Facebook included the announcement that Facebook Home is to be pre-loaded on the HTC First phone which can be purchased at HTC. They are also working on a future lineup of pre-installed phones, although these have not yet been announced.
Get Facebook Home
From April 12th, users with compatible phones who have both the Facebook App and Facebook Messenger installed on their phones will be able to click a download link that brings them to the Google Play Store. From there, it is relatively easy to download and install and Facebook promises that Facebook Home will not mess with your existing apps or settings. You can also easily uninstall it at any time to return to your more familiar home screen. Upon install, you will be able to choose to 'try it once' or launch it every time.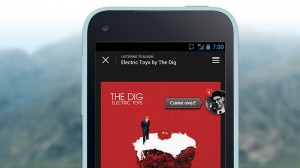 Will Facebook Home Succeed?
There are a lot of questions surrounding Facebook Home, but a lot of people think that this launch is going to be a failure.  Most of this logic surrounds the fact that other people centric phones such as the Motoblur and the Windows Phone haven't really caught on. Most people still want the basic mobile phones that they can trust (I.E. Android or iOS).
However, Facebook Home has a few things going for it including that it can be easily downloaded and installed and then uninstalled by anyone who doesn't like it. This gives the Android launcher a huge advantage over failed competition because interested persons can simply try it out and then if they don't like it, just as easily delete it. What do you think? Will you be trying Facebook Home? Check back after the 12th to read a full review and our thoughts on Facebook Home.