Charge & Sync Color Cables Review
Charge & Sync Color Cable Review
Alright, you may be wondering what's so great about a cable (cord) that has color and why there's a review on it, I mean what can one possibly review or study about a color cable? If you think the answer is 'nothing,' you'd actually be quite wrong, as was I when I first considered reviewing colored cables. However, I have now reviewed a few different brands of these cables and since realized that aside from checking them for quality, there's also some real benefit to their being colored, and with these ones there's even more to the benefits besides their color.
That's why I was happy to be asked to review this newest colored charge and sync cable cord that is aptly named "Color Cable.' I received my Color Cable in the mail a short time ago so that I may get the review done before the companies Indiegogo campaign is completed (which is in about 15 days). We are asked by dozens of crowdfunding entrepreneurs weekly to review their items and because we are inundated with so many requests we are pretty choosey as to what we actually accept, and as you can tell by our reviewing it, this one fit the bill so we accepted the offer.
Packaging / What you get:
When your cable arrives I am not sure you'll get the same packaging as I did as they may still be working on their product's package, but as you can see from the images below the way I received it was in a shiny and cushiony silver envelope ( I love shiny) and then within that is a rainbow colored box with the cable inside. Normally in a review I do not say much on packaging since it's not really about that, it's about the product, however, I have received cables in the past that are simply wound up and tossed in a plain envelope, no cushion, no packaging at all really, and this can and has damaged the cord before, so I do really appreciate the care that Color Cable has taken with their shipping of the cable.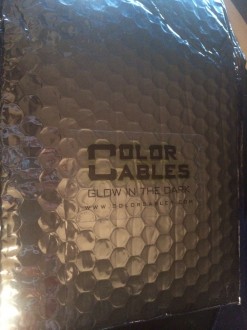 The box is also nice in that it has a few instructions on it (for the glow in the dark part which I will get to soon) as well as computability options. Back to the shiny part, the packaging is shiny so it made me feel like there's something quite special inside, and actually there was…a 6′ color cable (red) that will glow in the dark!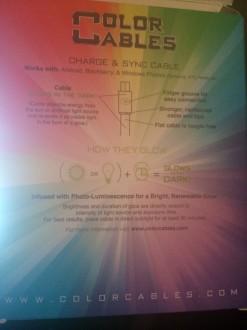 What I received were two cables to try out, one the Apple Lightning to USB 2.0 that would fit my iPhone, iPad etc and the other a micro USB to USB 2.0 for devices like Android, Windows, or Blackberry phones. Both are in 6′ lengths and are red color.
Now, although the packaging is great, and again, shiny, it (the cord) otherwise doesn't really look so special. It appears to be just another cable, although a bit wider than most (which is a good thing). As I mentioned about the packaging earlier, the box has directions to tell you now how to make this not so special looking cord look much more special, which is by first exposing it to a light source. Just give it some light, under a lamp or in your window is fine, and ta-da, your Color Cable cord is now going to have that special specialness that will later stand out… why or how? It stands out later (later being in in the dark of night), by glowing….in the dark, but how? This cord is infused with a photo-luminescense technology, and that is why it's so darn special!
Are there really any benefits of a color cable that glows in the dark?
I have reviewed other cables for various companies, some I have loved and some I have hated, what has led mostly to love or hate has been quality. I have even reviewed cables that come in different colors, albeit not glow in the dark ones, but fluorescent so they did stand out more than the ever so boring white. I really did like those cables, I like them due to the variety of colors they came in because this allowed you to know which cable you are attaching to whichever gadget you wish without having to look at the end (connector), but I also liked the length and quality of them, and in comparing those to these, I must say I like these better. Why?
They have all of the same good qualities as the others I reviewed, the color variety, the quality, etc, but even better, they glow in the dark, I did say that already didn't I? Sorry, I just really didn't think that would matter much to me, the glow in the dark aspect, but it's something that after you use it you see the real benefits, and also just overall fun of seeing them glow (and no I am not a teenager, but I am a geek and still like glow in the dark thingies).
Here's a list of the benefits I personally found from these cables and they're being color / glow in the dark:
1) The color part of the cord alone, and this particular cable currently comes in seven colors (blue, red, orange, green, purple, gray and pink) is helpful in being able to quickly identify which tech gadget the cord is for.
2) The color and difference of this cord allows me know which is mine and which is my husbands.
3) The glow in the dark benefit allowed me to easily see my phone on my nightstand without fumbling about for it and waking up my husband if I wanted to check the time.
4) With a glowing cord I finally don't have to worry about if I am going to trip over it, and now I really want this for my fans and a few other things I trip over at night.
5) The brightness, which is very low, yet perfect for your eyes to not have to adjust to so much so that it wakes you up or that you are annoyed by any glare, it's a very very light glow that is, well all I can say is "just right." I did attempt to capture them glowing in the dark using my camera but the light was too low for my camera to pick it up so it's kind of something you have to take my word for.
Quality
Other things I like, aside from the color and glow in the dark aspects, include the cables overall quality. They are thick and don't tangle, they lay flat, the connector ends are not cheap or wiggly (I have tried some others in the past that the ends wiggle and feel like they will detach from the cord at some point). I also like that there's a way to feel if you have the right end to insert into your gadget (a small indent so you know you have it facing the right way). Lastly, that they come in 3′ and 6′ lengths, and I have the 6′ ones, which I happen to prefer. This longer length is especially helpful if you're plugging it into an adapter that plugs into a wall outlet.
Price:
Next question you may have would be on price? Do you have to pay to have a colored glow in the dark cable? For these cables the answer is no. Their price is the same or comparable to other cables that come in the same old, plain old, white. For example, an Apple 30 pin 6′ cable (in any color) is $11, the 6′ Apple Lightning Connector to USB 2.0 cord is $16 and the 3′ (Micro USB) is $9. You can pre-order them on their Indiegogo page http://www.indiegogo.com/projects/color-cables-glow-in-the-dark-charge-sync-cables.
Final Opinion: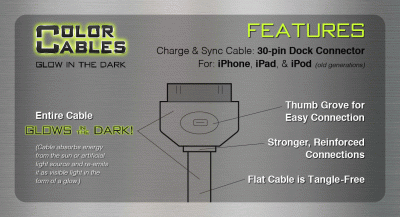 As you can tell from the review I really like these cables and try as I may I cannot find anything negative or even slightly unlikable about them. I do highly recommend them to anyone looking for a good high quality cord for their phone, tablet, or other electronics for all the reasons I mentioned earlier. As I also said at the beginning, these cables are currently on an Indiegogo campaign and have about 15 days left to finish raising their goal of $20,000, which means that there's still time for you to take part in helping them towards their goal by pre-purchasing the cables now. This is a common tactic with crowdfunding and something I have done a few times and so far haven't regretted it. So that's it! Let us know what you think if you get these cables as we always love hearing from our readers and finally…..
My / our congrats and good luck wishes to the creators of Color Cable, James Crofton and Nick Fineman, two guys that really seem to know what they're doing because I / we love this cable and look forward to seeing more great ideas from them!
Final tips on buying cables:
Whether or not you purchase these cords or not, I want to give you a quick few tips on what to look for in any cord you are buying for your electronic device. The main tip is regarding quality. There are cheaper cables available than the ones I have just reviewed, I have purchased them, but you truly pay for quality so be careful on what you buy. Make sure to look for an unbiased review like this one or to read the reviews available on the purchasers website. Once you purchase the cable make sure to check the ends, see if they seem well connected or loose. If they're at all loose you should return them, it's not worth risking damage to your phone or other device. Also, if you buy the very inexpensive ones, there are some as low as just a few dollars on sites like Amazon, know that they may not work with your gadget even though it says it will, that it may surge and damage your item, or that it may just work temporarily.