How To Burn Blu Ray Discs On Mac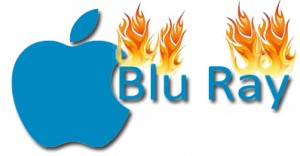 How To Burn Blu Ray Discs On Your Mac
There are many reasons why you might want to burn a Blu Ray disc using your Mac computer. Maybe you want to burn HD home movies, or burn some of the HD content that you've downloaded through iTunes. You can even use a Blu Ray disc for data storage, and they can hold a lot more data than traditional CDs or DVDs, although there may be more practical methods for data storage. But whatever your reasons are for burning Blu Ray discs on your Mac, you still need to know how, and we are going to show you.  This process will work best on a Mac with a G5, or Intel processor and running OS X 10.5 or later.  You will also need plenty of free drive space.  Roughly 25GB for single layer, and 50GB for dual layer discs.
What You Will Need
The first thing you will need to do is purchase a Blu Ray drive, these are available as internal and external models in most computer parts stores, or you can purchase one on-line. You can also read more about how to add the Blu Ray drive to your Mac by reading How to Rip or Play Blu Ray Movies on Mac.
Next you will need some software that is able to burn Blu Ray discs. Roxio Toast 11 Titanium with Blu ray video disc plugin is said to be one of the best. If you already have Roxio Toast 11 Titanium without the plugin, you can purchase the plugin separately directly through the software.
You will also need some HD video. This can be from your TiVo, iMovie, HD video camera, or any other HD source.
Next you will need some recordable Blu Ray (BD-R) discs. These can be purchased at most stores that sell other blank media, or you can purchase them on-line.
The last thing you will need is time, and patience. The encoding and burning process can take quite some time to complete.
Buy Toast 11 Titanium and Save $20 Instantly Use Coupon Code: 20TOASTROX
Buy Toast 11 Pro and SAVE $30 Instantly Use Coupon Code: 30OFFT10PRO
How To Complete The Burn Process
Of course the first things you should do is install your new Blu Ray drive, and your copy of Roxio Toast. Both of these should be quite easy to do, and both the hardware and software should arrived with easy to follow instructions. If you think you are ready to start the burn process, follow these steps:

Open Toast, and click the 'Video' button on the main screen. It will be in the upper left part of the screen. Once you are at the video screen select 'Blu Ray Video'  from the menu.

Now it's time to add your movie or other content. To do this, browse to the content you want to burn, and drag them to the right side of the window. If you are burning more than one movie, or other content, you can pick the order that they appear and play in by dragging them up and down the list.

Next you may need to adjust the disc options. To do this, look in the lower left of the window until you find the Options menu. If it is not already open, click on it to show the options for the disc, and then click on the 'More' button.
Make sure that you are working in the 'Disc' tab, and you should see five options.

Disc Name This is where you can give your disc a unique name. You can use any name you like, but it should be a name that will help you easily identify what is on the disc at a later date.
Auto play disc on insert This option does exactly as it says. If you check the box, your disc will start playing the first video on the list, without going to the menu, as soon as you put it into the Blu ray drive. If you have multiple files on your disc, or would just prefer to see the menu, leave this option unchecked.
Play all items continuously Again this option speaks for itself. If you have more than one file on your Blu ray disc, and this option is checked. Each video will begin to play immediately after the previous one has ended. If you want to be able to choose the order that the movies play in by being returned to the menu after each completes, then leave this option unchecked.
Add data content This option is for adding DVD-ROM data to the disc you are burning. Usually you won't need this and can leave it unchecked.
Add original photos If you are creating something like a photo slide show. This option will store the original photos on the disc. This is another option that can be left unchecked most of the time.

Now change to the 'Menus' tab, where you will see some more options that will determine how the disc menu works.

Menu Title This option allows you to give the title that shows at the top of the menu a name. Usually you would give it the same name as the title of the disc.
Menu Style If your disc is going to have a menu, it has to have a style too, and this is where you select which style you are going to use. When you pick a style, a preview thumbnail will appear on the left, and you can zoom in by clicking on the magnifying glass icon below the thumbnail.
Aspect Ratio If you are burning HD video, you will want your aspect ratio to be 16×9. Or you can simply leave this option as Automatic and the software will choose the correct aspect ratio for you content.
There are a few other options including, number of buttons, button colors, scene menus, slide menus, smartlists, and shuffle play. These can all be left alone, unless you decide you want to customize your menu even more. Most of these other options are self explanatory, but if you would like detailed information on each, you can look in the Roxio Toast documentation.

There is one more tab in the options screen, and this is the 'Encoding' tab. This tab has two main options. Automatic, or Custom. most of the time Automatic will work perfectly, but if you would like to tweak a little more, read through the documentation about the custom options and then you can customize as much as you wish.
There are also three options for video quality, but remember that the higher the video quality, the longer the encoding time.

Good This option is great for simple videos without much movement, and will have the shortest encoding time.
Better This option will work well for the average video, one that has both still shots, and movement shots, and the encoding time will take longer than if you choose the 'Good' option.
Best This option is for videos with a lot of action, while this option does have the longest encoding time, you will get the best quality playback.

Now you have gone through all of the options and can click the 'OK' button and return to the main window.

This is where you can give each clip some specific information such as name, date, and time. There are two tabs 'Video' and 'Text'.

Video The video tab is where you can choose the frame that will be used as the button picture. To do this select the frame using the playback bar, and then click 'Set Button Picture'. You can also set chapter markers if you want to by selecting the 'Chapter Markers' menu.
Text The first line in the text tab is how the button text will appear in the menu, and you can set this to whatever you want. The other lines can usually be left as default.
Once you are finished with both tabs, click 'Done'.
Now you have your content selected and your options setup. It is now time to  begin the encoding process.
In the bottom right side of the window you will see a big red button, and to the left of that an indicator that shows the type of disc you are burning to, and how full it will be when you are finished. Make sure that you have BD-R selected for the disc type.
You can burn directly to the disc right here, but if you encode and burn at the same time, any problem that may occur will cause the burn process to fail. So it is advisable to create a disc image and then burn from that.
To do this click the 'Save as Disc Image' button, and choose the location you want to save the image in. Once that is done the encoding process will begin.
*Remember that the encoding process can take some time. An hours worth of video can take an average of an hour and a half to three hours to encode depending on the speed of your computer.

Your disc image is completed and it is now time to burn.
First find the 'Copy' icon in the top left corner and click on it.
Next select 'Image File' in the menu that pops up. Browse to the disc image you created and then drag it to the window on the right. Put a BD-R into your drive and click on the big red button.
Now the burning window should pop up and, if you have more than one, you will need to select the burner by using the 'Recorder' menu.  To check that you have selected the right burner, look underneath it and you should see 'Blank BD-R'.
Click the 'Record' button and your burning process will begin.
Gather your friends and family together, serve some drinks and snacks, sit down and enjoy the movie that you just created and burned to Blu Ray using your Mac computer.
Have you burned one yet? Are you planning on it? We would love to hear from you on how the process went for you.  Please leave a comment below!  HTS loves to hear your personal stories!