Breathometer – A Breathalyzer for Your Phone
Gadgets & Gizmos
Breathometer – A Breathalyzer for Your Phone
There are plenty of cool phone gadgets out there, some of which can do extraordinary things, but a breathalyzer on your phone is an entirely new idea. If you've ever wondered whether or not you'd had one too many to drink, or even wished you had a breathalyzer to test your blood alcohol levels before you get in the car, then the Breathometer is for you. The Breathometer is a unique smart phone plug in device that comes with an app. It works by allowing you to breathe into the device and then see your blood alcohol level based on the breathalyzer.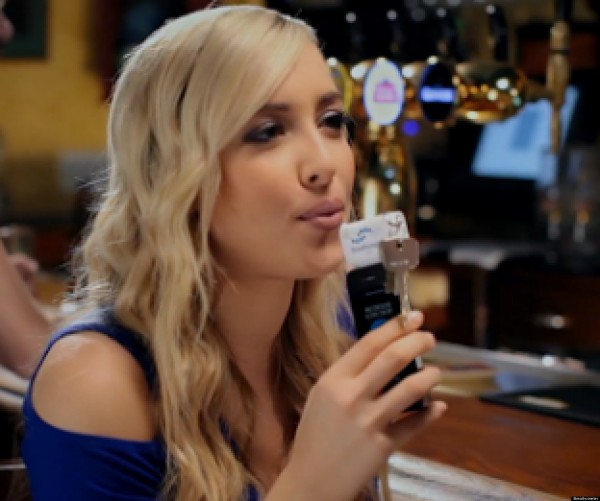 What does it Do & How Does it Work
The Breathometer is actually a relatively simple device. The breathalyzer section is just a couple of inches wide and about one inch tall. It uses a headphone jack to plug into your phone so that it can access and utilize the computer in your cell. Before you panic, the Breathometer doesn't take over, it simply sends information to the Breathometer App.
You breathe into the top of the Breathometer while it is plugged into your phone and it uses the phones computer to calculate your blood alcohol level based on the breathalyzer test. The technology is fairly simple and actually only analyzes the chemical makeup of your breath by using the chemicals present to create an electrical reaction which is then converted into your blood alcohol level. This is the same as a standard breathalyzer test. Breathometer is also FDA approved and has a patent.
Why Breathometer?
Studies show that 80 percent of the population knows someone who has received a DWI or DUI. A further 67 percent of the population has driven while intoxicated. In addition, a survey showed that 67% of people asked knew someone who had been involved in an accident caused by someone who was drinking. In fact, I (writer) have had a family member die in an accident where drinking was involved by both parties. Alcohol is one of the leading causes of accidents and death in the United States. Breathometer is an easy way to test blood alcohol level which might actually save lives. For example, most of us know when we've been drinking, but it is very easy to dismiss this as 'you only had a few' or 'I feel fine'. If you test your blood alcohol level first and see just how drunk you are, it is a lot harder to make the wrong decision.
Last year Breathometer ran an IndieGoGo campaign in an attempt to earn a goal of $25,000. Instead, they earned a whopping $138,377, well above and beyond their goal. Now, Breathometer is on pre-order for $49.99 and will begin to ship sometime later this year. The device itself comes in a very small, portable size and can be attached to a keyring, placed in a purse, or even in your pocket. You can then reach for it and use it whenever you've been drinking and are thinking about driving.
While the Breathometer isn't for everyone, it is definitely very useful to many people. Small bar owners can invest in one and test their patrons before going out the door. Partyers and anyone who likes to drink can grab one so that they know when they've gone over their limit. In addition, anyone who goes out with family or friends can get one as well as the device is easy to use, capable of testing multiple people, and is very fast.
Why? By knowing when you've had too much, you can call a cab or get a ride with a friend and potentially save your life or someone else's.
The pre-order is $49 and the device comes in two color choices of Artic White and Jet Black. Standard shipping costs $5.99 while two day shipping is twice that. You can pre-order it here.