Breast Cancer Stories of Encouragement, Survival and Remembrances

Part of The High Tech Society's Breast Cancer Awareness & Support Week: Breast Cancer Stories of Encouragement, Survival and Remembrances
Each year during the 4th week of October, we open up The High Tech Society as a place to help bring awareness to Breast Cancer and Support to its victims. We also open it up as a place to share stories of breast cancer survival, or even to remember a loved one that didn't make it. Throughout the week we continually add to this page. During that week you can follow our link for Breast Cancer Story Submission.
Check out our main page too, if you haven't already. It will tell you more about the special week at The High Tech Society, including how new technology is helping some win the fight, how we can all help raise awareness, help others in their fight and help fund the battle against breast cancer.
Breast Cancer Stories & Memories of Loved One's Passed
Letter From Breast Cancer Survivor, Chris Walters
Hi I'm Chris Walters,
I found out May 17th, 2012 that I had breast cancer in my left breast, stage 3 with lymph node involvement. Honestly the day the doctor told me of the diagnosis I was just too stunned. Me? with Cancer? How would I tell my family, especially my two little girls about this? I found my words the best way I could and just was honest with them.
I started chemotherapy in June and it went until the end of August. I handled it all pretty well until my last 3 treatments. I began to get awfully sick and weak. I kept working as much as I could, our family only has one reliable income. My only thought was how do I make it through another day? What if this doesn't respond? What if it spreads and there's nothing they can do? Well I believe the power of my prayers, and the prayers of others brought me through such hard days. I have had so much love and support from my family and friends that I cannot imagine anyone having to go through this alone.
I had a double mastectomy 3 weeks ago and I'm home recovering from it. It was a lot harder than I thought both physically and emotionally. I cry alot and wish I could go back but realize that really I can only move forward and try and make life better in anyway I can. I know I will come to a time in my life when it will be my turn to help others like me who will be stunned with the same diagnosis and not know where to turn.
I am now cancer free and pray to continue to be that way. All I know is that cancer truly challenges and changes you, and no one truly knows what this feels like unless you go through it or go through it with a loved one. I pray for all the women and men to get mammograms early and get help if the results are positive and seek the help even if you don't feel like it. I might be a caterpillar now but I will become the butterfly once again. Thank you for letting me share.
Sincerely,
Chris Walters
Remembrance For A Friend
No nicer person could you meet,
A lady, A teacher, A friend,
A lucky husband who said she was sweet,
And she smiled until the end,
Six months left, well that's too bad,
I'll keep living with what I have,
And please don't worry, don't be sad,
I'll keep living with what I have,
She pulled away and turned us down
And walked away from what she knew
She turned away, but I know now,
To make it easier on those she knew
And I heard him cry and beg and pray
And say he'd fight it till the end,
While she said love, now it's okay,
And she smiled until the end,
Anonymous
Teenagers Whose Parents Have Cancer
Hi, I'm Sam, and my story goes out to all the teens or people who have parents that have cancer. My best friend, who is also my mom, found out a few months ago that she had stage 3 breast cancer. She didn't know how she was going to tell me, but when she did, my whole world turned upside down. I didn't know how to feel; I was upset, sad and confused. How could this happen to my mom? She told me that she was going to fight for me and everyone else, and no matter what, she wouldn't give up.
The first couple months that she was went through chemo she got so sick and started loosing her hair. It was so tough on my mom. I even would of gone bald for her because she'd do anything for me. And after all her chemo, it was surgery day that was the scariest day of my life, but fortunately I had family there with me. I stayed in that hospital for 6 hours until my mom woke up, and when I saw her she was still beautiful and still my hero.
Now my mom is recovering and somedays are better than others but I have learned that if you stay by their side it makes them feel so much better. My advice to others going through this, is that how you're feeling now might not be you. Just know that what you're going through is normal, and that things will get better. Keep your head up. The way I felt was really sad, mad and confused. If you have these feeling too, you really need to talk to someone. It's even okay to cry, it makes you feel a lot better to get it out. You can even talk to your parent about how you're feeling, because they are concerned about you and no parent wants to see their kid be sad; they want the best for them. You can also talk to your closest friend, your pastor or someone else you can trust.
This whole thing has brought my family close together, and I take every single day seriously. I also thank God that I still have my mamma, she's my world. Thank you for reading my story, and if you're also a teen with a parent that has breast cancer, I hope it helps you get through this hard time.
Sam Walters
Dennie, You Will Never be Forgotten
This isn't really a story because I can't write enough to make it a story without crying. Its to remember a wonderful woman named Denise Wareham, who passed away a year ago.
Dennie fought breast cancer for years, and it appeared she was winning. I knew Dennie for a long time, and she was rarely down. She was always laughing and smiling and the life and soul of any get-together.  She was such a dear friend to me, even though we never met in real life, we were internet friends. She was planning a visit as soon as she was well enough, but unfortunately that wasn't in the cards.
Although it appeared that Dennie was beating the breast cancer, they eventually found cancer in her spine. She fought valiantly, but unfortunately she still lost the battle.
I love you Dennie, as do so many others. You will never be forgotten and now you are up there, raising the roof probably, and in no pain.
RIP sweetheart,
Trish Rounsaville
Fighter
I have a friend who had breast cancer, went through treatments, and even had one breast removed, and won the battle. However now, just a few short years later, she has breast cancer again, and is going through the same thing.
In 2010, I got a breast cancer tattoo in honor of her, and anyone else who will "Fight Like A Girl". These women who battle breast cancer are brave, strong and empowered women. I hope that I never have to fight like that, but if I do, I hope I can be as brave and as strong as they are.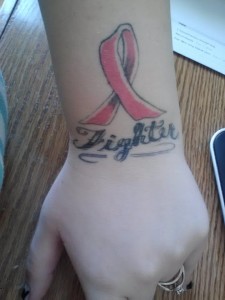 Jennifer Tyree
Remembering Lois Morris Shalda Haskins
Lois was my grandmother. She was sweet and fun, just like a grandma should be. She loved to sew and make dolls, and made my brother and I lots of cute outfits and for me, the coolest dolls ever. My brother and I were just 11 months apart in age, so she often made us the same outfit, it was kind of funny really since she had to make something that would work for either sex. I didn't know back then how twin like (and kinda silly) we looked, wearing our little blue jumpsuits with matching denim hats, but it's fun to look back on now and smile. Anyway, denim jumpsuits with matching hats were "in" in the 70's, so I'm sure it was pretty cute, then.
I always remember my grandma with her beautiful white hair (she went white pretty early), big beautiful blue eyes and always wearing pink. I am not sure why I think of her always in pink. I'm sure she wore other colors, well I know so since I have seen her other pictures, but maybe it's just that she dressed up in something pretty and pink when we visited. She also would always have something cooking when we arrived. I don't know if it was always beef stew, but that's also the way I remember it. The best stew ever too, which coming from a girl that isn't much of a meat lover is quite a statement.
My grandma was born as Lois Morris, and she was born during the great depression. She was a fighter in every meaning of the word. Her family worked hard to take care of one another. They did anything they could to make money, even farming in Colorado for a while; they were from West Virginia. Later though, beautiful, young Lois joined the Army to help fight in the war. It was World War II, and women serving in the army was something new. She was a nurse, but she also became a Captain. She helped lead her group through Africa and then into Italy. Even after she finished serving she fought hard for our veterans, in fact in her little town they even dedicated their little VFW branch to her.
She really lead an amazing life. After her service she got married and had 4 boys, the youngest of which is my father. By the time I was born, she had already beat breast cancer. Although I wasn't there, I also know it must have been a tougher fight than normal, because at the time that she went through her fight with breast cancer she was also going through a divorce. Not of her choosing, so this was something I cannot even imagine having to endure, but she did. She did later meet the most wonderful man (in my opinion), and she lived out her last years with always a smile on her face.
I was very fortunate to have had my grandma in my life until I was 15. My cousins were not so lucky. My brother and I had been born before many of them were born so we did get the privilege of really getting to know our grandparents. However, we also had to feel the tremendous pain when they died.
Unfortunately, many years after her breast cancer survival, she later developed multiple cancers and she was just to overcome to survive. Her death was the first major loss I had ever had and it was very hard on me. I remember praying and begging God to split my soul with hers and allow her to continue living on inside me. Yes, the thinking of a dreaming and grieving 15 year old. Her last letter may have prompted such thinking, as she wrote in her beautiful cursive writing, "Every time you look in the mirror, think of me, because I'm part of you."
I conclude this and say to my grandma Lois: I love you. You're right, I see you in the mirror every time I look. You're always with me, you always have been, and I learned so much from you. You were the sweetest, kindest, gentlest person I ever met. Yet on top of those qualities you were also what may seem contradictory, in that you were able to be the most courageous and strong woman I had also ever known. Thank you for loving me, thank you for teaching me through example how to be a good person, thank you for giving me my father and thank you for all your words of encouragement throughout the years. I miss you still, and if there is indeed a heaven, I pray you and Chuck (my brother) are there together. I love you always.
Your granddaughter,
Kimberly Shalda Carver