HandsFree, Waterproof, Portable, Bluetooth Speaker by Wusic
Gadgets & Gizmos
HandsFree, Waterproof, Portable, Bluetooth Speaker by Wusic
If you've ever taken your smartphone into the bathroom with you, taken it to the pool, the beach, hot tub, or anywhere else water is at, you always know you're taking a risk of damaging it. You can try to be careful, try to keep it dry, but anytime our nice tech gadgets, especially expensive phones, are around water or other liquids, it seems that we all experience getting the device wet at least once. This either damages it completely or we hover over it with a hair dryer or toss it in a bag of rice praying all the moisture will come out and it will soon work fine again.  Fortunately though, this little bluetooth speaker by Wusic may help take away some of the worry.
How Well Does it Work?
Setup: Super simple to setup, just pair it with your bluetooth device and you're done. When paired with your smartphone it even gives you options on whether or not you want to route your call through the speaker or not.
Sound Quality: When I got this little speaker I wasn't so sure it could deliver the sound quality it claimed it could, as it was very small, and very inexpensive. However, their claims are correct, the sound quality is very clear and it can go up loud enough to please your ears when rocking out to your favorite songs.
Speaker Phone / HandsFree Phone: Not only does music sound good, voices do too. This little bluetooth speaker takes phone calls. It's actually my favorite part of the device. When using it as a speakerphone everyone I spoke too said that they could hear me much better and clearer through the wireless speaker than through my phone's speaker function. I now keep it right next to me on my table and when someone calls I can just push a button to answer it. On your phone it will also say "answer with speaker or with wireless speaker."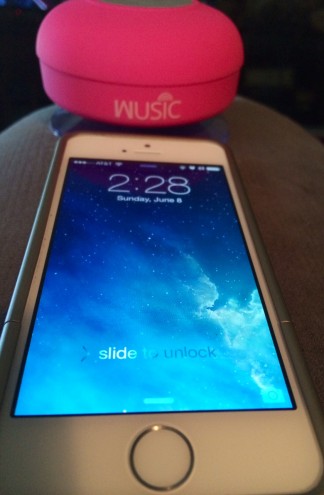 Siri: An added bonus that I didn't know about and that I don't see on their site or in the small directions booklet, is that you can use it to ask Siri questions (with an iPhone of course). I held down the phone button a bit too long and suddenly Siri says "how may I help you?" So I asked Siri to call my husband to try it out. Sure enough Siri dialed my husband's number and so it was all hands free. You can use it to also search with Siri and if your phone is still in sight range you can see what she has found or have her read it to you.
Other Features: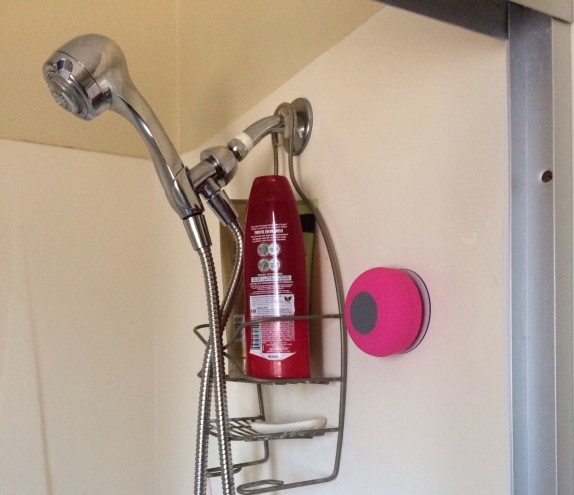 The features that really stand out for me include:
-It can go for 10 hours (it went 12 for me) without recharging
-Variety of colors: Blue, Green, Pink, Yellow
-You can use it up to 30 feet from your smartphone
-It works as a speaker phone, and you can use Siri with it
-Easy to change songs, in fact just ask Siri to play a song list for you, or use their buttons
-It's super lightweight (3.9oz) and really easy to take anywhere
-The suction cup on the bottom really works, usually they don't do so great
-Waterproof! I put it in the shower and on our hot tub edge and it did great. Kept my phone in the house when it was on the hot tub, where it stayed nice and dry.
-Sound for music and phone sounds very clear, my friends and family said they can hear me better through the Wusic speaker than through my phone
-Made of a durable plastic that really bounces well if you drop it (really, it survives any falls very well)
Final Opinion
I love this little thing! I think this little bluetooth speaker by Wusic will make a great gift for graduates, dads, moms, teens, even grandparents that need that extra speakerphone device so they can hear you better when you call. I think it would be even great to use in a car. This would be a great way to access your smartphone's music if you have an older vehicle that doesn't have an audio jack, as well as a really nice way to remain hands free while on the phone.
What's really going to be good is when the next iOS update happens, because then you can just say "Siri" and it will respond, you won't have to click the button anymore. This should also work through the device as it will play Siri's voice through the speaker.
So, bottom line, even if you're not looking for a waterproof bluetooth speaker and were just looking for a hands free wireless speaker that can play music and be used as a speakerphone, this is the one for you. I will definitely be getting a second one to keep in the car just for taking it with us or to get one for our daughter who drives a really old car and could now have a hands free phone and play her music.