Where Can You Find The ORB Bluetooth or Other Bluetooth Jewelry?
The ORB Bluetooth: The World is Still Waiting for this Bluetooth Headset
The ORB, just what is it anyway? The ORB is a cross between a ring, and a bluetooth headset that is being developed by Hybra Advance Technology, Inc. Sounds great, right? It does to thousands of people, many of which search the internet often looking for this bluetooth ring or other bluetooth jewelry. So what's the problem? Although this innovative piece of jewelry was first announced in 2009, as of October of 2012*, it's still listed as being in development.
A More In-Depth Look at What the ORB Bluetooth is:
The ORB (Orbital Ring Bluetooth) is both a ring, and a wireless bluetooth headset / earpiece. When not in use, the ORB bluetooth can be worn as a finger ring, and when you need to use it as an earpiece you simply twist it open and place it on your ear. The deluxe edition includes a FOLED (Flexible Organic Light-Emitting Diode), screen that will give you caller ID and calendar reminders. The deluxe version is also planned to include voice to text ability, so that you can communicate easily without having to remove the ring from your finger.
How Does the ORB Bluetooth Work?
The ORB bluetooth headset works by using a new bone conducting technology that sends sound through the bone to the ear; this is actually a much more accurate way of hearing, and eliminates the discomfort of placing an earpiece inside the ear itself.
When wearing the ORB bluetooth as a ring it will vibrate if you get a call, event reminder, or text message. With the deluxe version, you can simply glance at your ring to see the incoming message or the phone number of the caller. To accept the call, you simply twist the ORB open and slip it over the ear. To decline a call, you can push the cancel button on the ORB bluetooth device while it is still on your finger. There is also a button on the device that allows you to silence a call.
Sizing & Pricing of the ORB Bluetooth
When the ORB headset becomes available there will be many different sizes and styles to suit both men and women. Hybra had originally stated that it planned to start selling the ORB bluetooth headset in 2010, and at the time the projected price for the base model was $129 and the Deluxe models $175. There is even talk of limited-edition models that will feature decorative gemstones and the price of these will depend on the gemstones used.
When and Where Can You Get the ORB Bluetooth?
Unfortunately, there is very little information as to when the ORB bluetooth headset and ring will become available for purchase. Hybra had originally planned on a release in early 2010, but two years later the world is still waiting, and there has been no new information released on Hybra's website for quite a while. They do have a 'stay informed' link where you can sign up to receive details and updates about their bluetooth ORB bluetooth jewelry, but unfortunately, the link takes you to a broken page. *Updated 7/13/2015: As of July, 2015 the company still has not been responding to our emails and appears to no longer be in existence. The ORB may not be created by them, but perhaps one day another inventor will start a crowdfunding campaign and bring this awesome piece of technology to us.
Other Bluetooth Jewelry
If you like the idea of having a bluetooth headset that doubles as a piece of jewelry, you're not alone. The good news is that if you don't want to wait for the ORB bluetooth to be released, there are some other bluetooth jewelry options available.
Novero's Victoria Collection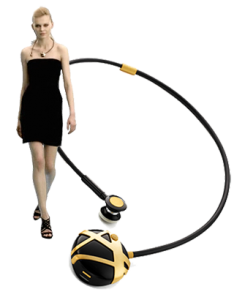 Novero recently released their Victoria collection. This collection includes bluetooth necklaces and chokers. The Victoria collection currently has three different styles available with more designs projected to be released. Prices start at $199.
Novero has plans for at least one other bluetooth jewelry collection, but a release date and pricing is not yet available.
Novero's Victor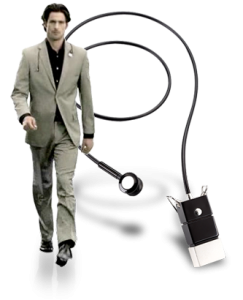 Novero didn't leave out men, and have released a bluetooth headset that is worn as a pendant. This device has a price tag of $349.
Bluetooth Body Jewelry
If you like body jewelry, a company called OmniSonik have released a bluetooth tongue ring, nose ring, and earrings. All of these products are available in many different colors at a cost of under $30.
Bluetooth Jewelry at Amazon
Bluetooth Bracelets for just $26 and up and free shipping.
Features listed on Amazon for some of their bluetooth bracelets:
This Stylish Bluetooth Bracelet solves the problem of having your phone buried in pocket or bag
Also, the LCD will Display the caller ID's number and you can just press the function button to pick the call or reject while you are too busy to answer.
What's more, the Bracelet comes with the "Link Loss Alert Function", if your mobile phone has gone more than 5 meters apart from you, the bracelet will notify you through vibration. So, you will notice that your phone has dropped in somewhere or may be stolen by someone
Stainless Steel belt prevent from allergy and comfortable to feel.
Elegant and clear OLED displays
Vibration prompt for incoming phone. Indication of incoming phone NO.
Bracelet controls reject/mute function
Break away cell phone prompt , it can send vibration warning to avoid lose or stealing
In Closing
Unfortunately, the world is still waiting for the ORB headset to be released. As soon as more information is available we will post it on this site, so be sure to check with us often. You can also sign up for our RSS feed at the top of this page or follow us on Facebook or Twitter so you will know as soon as there's an update. For more information about the ORB bluetooth, check out this great article!