The Best Wireless Mouse Options For $25 Or Less
The Best Wireless Mouse Options For $25 Or Less
A wireless mouse is a beautiful and practical thing. You get the precision touch controls of a mouse without cluttering up your desktop with unsightly wires. Ten years ago you would have had to spend $60 or more to even think about going wireless but today is another thing entirely. Good mice range in value from under $10 to upwards of $200 each and you probably want the best options on the lower end of the scale. However, it's not all about saving money. You want the best deal possible, and that means getting good quality. This article is going to go over the top ten wireless computer mouse options for $25 or less with a focus on quality. These are in no particular order.
Microsoft Wireless Mobile Mouse 4000
Microsoft's Wireless Mobile Mouse 4000 is a great wireless option that usually retails under $25. It is first on this list but it's also the least recommended, but still good enough to give it a go if you don't fancy any of the other options. It is available in a number of colors and prints, but is mostly just a basic scrolling mouse that retails for around $19.99 online.
Logitech M510
The Logitech M510 barely makes our list but because some sellers offer it for $19.99 instead of the usually $39.99 price, it does make a great addition. You can also find it for as low as $12 on Amazon if you want to get it as cheaply as possible. The M510 is an ergonomic mouse with 2 year battery life, back and forward buttons, and a responsive cursor.
TeckNet M002
TeckkNet's M002 is a great little $12  mouse with an 18 month battery. While not perfect, it offers a lot of bang for your buck in the form of general durability, ergonomic design, and good battery life. The connection isn't as stable as some other more expensive wireless mice so you may have to ensure that the transmitter is plugged into the front rather than the back of your computer. Other than that, it's a really good deal.
ZPS 2.4Ghz
The ZPS is the cheapest gaming mouse you will find anywhere, plus it's wireless. The ZPS mouse starts at just under $7, features 6 programmable buttons, and a pretty unique design. However, you do get what you pay for and it isn't extremely sturdy. For the price though, it's hard to beat.
Logitech M325
Logitech is a great budget brand for anyone looking for cheap basics and the M325 Mouse is one of their staple products. The M325 retails in stores for $29.99 but online it retails for $15-$20, which is significantly cheaper. There are a number of color and print options available, but otherwise it is a basic ergonomic mouse for scrolling the web.
Sharkk Computer Wireless Mouse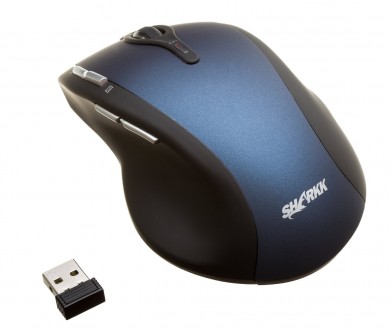 Sharkk is well known for their budget aluminum keyboards but most people don't know that they also have mice. Their Bluetooth wireless mouse is available on Amazon for just $16, making it one of the best mice you can get under $25. It's also one of the mostly highly recommended options on this list, so it is the one we suggest you check out first. The Sharkk features a couple of different colors, multiple programmable buttons, and is excellent for work or for gaming.
AYBSZ Mouse
If you're looking for an affordable mouse that isn't' total crap then the AYBSZ is something to consider. The mouse is light, sensitive, and you can usually buy it for under $10 including shipping. The mouse is lightweight, stylish, and works with Mac and Windows. It's literally the best you can get for the money. 
HP X4000
HP is another great budget brand for wireless mice, mostly because they offer pretty good quality for the money. The HP X4000 is a wireless mouse with laser sensor, and it usually retails for $14-$29.99, although you can sometimes find it as low as $8 online. The mouse stands out with a 30 foot wireless range, and HP suggests that one set of batteries should last you upwards of two years.
Anker Wireless Compact
Anker is popular for their budget wireless keyboards but you can also find a number of mice from their store under $25. The Anker 2.4G Wireless Compact is one of the best mini mice in the range, and you can typically get it online for $12 + shipping. It's black, ergonomic, 3DPI performance, and very easy to travel with.
Lenovo Wireless Mouse
The Lenovo Wireless Mouse is one of the coolest mice you can choose from design wise. If you go into a store to buy one of these, you will end up paying $29 + tax, but if you purchase it online, you can usually find it for $13-$20 with no problem. The mouse features a unique diamond shaped pattern that fits into your hand, a USB transceiver for your computer, a mouse wheel, and two click buttons. If you're looking for something that stands out, this one is definitely the way to go.