The Best Wireless Keyboards under $40 – The High Tech Society
Best Wireless Keyboards Under $40
If you're looking for a new keyboard, then a wireless one is a great option. Wireless obviously allows you more freedom and control, so you can go anywhere you want, and reduce clutter on your desk. Unfortunately keyboards can often be quite expensive so aren't quite right if you are on a budget. This top five list of the best wireless keyboard under $40 is a great alternative for anyone who needs a basic, cheap, and quality wireless keyboard.
Microsoft Wireless Keyboard 800

The Microsoft Wireless Keyboard 800 typically retails for $19.99 to $24.95 which makes it an excellent candidate for the top five wireless keyboards under $40 list. The Microsoft Wireless features secured hotkeys, a 15 foot WiFi range, battery status meter, and a battery power optimizer. Unfortunately it is not rechargeable so you will have to spend money on batteries.
The keyboard is basically on the smaller side so spaces between keys are pretty limited, however, once you get used to it, you won't have a problem. Other issues include that there are no indicator lights for Caps or Number lock if you accidentally press them or forget to turn them off. All in all, this is a great little keyboard that does not have lag, and types pretty quietly so you can't really loose.
Logitech Wireless Keyboard K360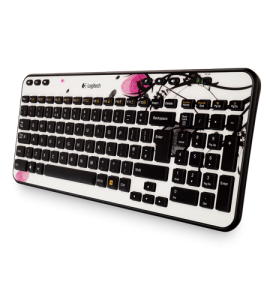 The Logitech Wireless Keyboard K360 retails for $29.99 and is available in glossy black, grey, and white as well as a variety of patterns. The keyboard features a slightly compressed design but has a full keyboard size including number pad and 12 one touch hotkeys for mail, music, and more. They keyboard promises that you will not have to change the batteries for at least three years, which does cut down on the cost and hassle of most wireless keyboards. The Logitech Wireless Keyboard K360 has a couple of slight faults including that there is no power light, and that there are no wrist rests. If your internet is spotty, the connection will be as well.
Microsoft Wireless Keyboard 2000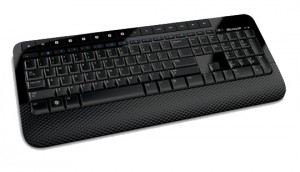 Another classic and basic from Microsoft, the Microsoft Wireless Keyboard 2000 comes in as one of the best deals for the money when it is below $40. The wireless laptop has an MSRP of $49.99 but usually retails for $30 or less on Amazon. If it is not $40, you can always wait until a sale starts up again as sales are quite frequent.
This keyboard features a palm rest, 128 bit encryption, and keyboard shortcuts. They keyboard also includes a battery status indicator, 100 mb hard drive, USB port, and is generally very quiet. Even at $49, it's roughly one of the best deals you can get for the money.
Hausbell Mini H7 2.4GHz Wireless Entertainment Keyboard with Touchpad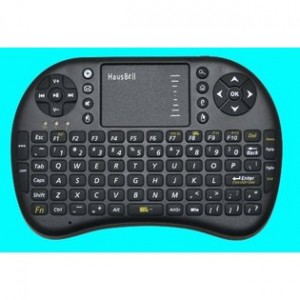 While not really a keyboard in the traditional sense, the Hausbell is a great solution keyboard for anyone who wants to game and type. They keyboard retails for $19.99 and is compatible with computers as well as game stations and TV boxes, which makes it easy to game and type almost anywhere. They keyboard features 92 keys, a touch pad, standard gaming steering buttons and controls, charger cable, and a range of 15 meters.
Logitech MK260 Wireless Keyboard

Logitech is still one of the best brands for affordable keyboards and is priced at just $30.60, which is why they get two spots on this list of best wireless keyboards under $40. The MK260 offers up to 24 months of battery life, eight hotkeys, and the package does include a mouse. With a 128 bit encryption to protect data sent over wireless networks, full sized keyboard, and spill resistant design, it's perfect for both home and office use. Keys are a little heavy and the keyboard has feet so it is best used on a desk, and not in your lap.
There are plenty of great bargains out there, especially when on sale, but this list of the best wireless keybaords under $40 should get you started.