Best STEM Kits for Kids in 2021
STEM kits are available in a number of formats. Some people are more interested in a certain area of STEM (Science, Technology, Engineering and Math) than others. There are undoubtedly different skill levels needed for various kits, but I've noticed that many people have the tendency to buy a kit slightly above the age level of their kids and help them with additional adult assistance when they are too young or lacking in required skill. For the kids, those can become tedious. It's critical to read each one thoroughly to determine if it addresses the STEM topics that is of the most interest to you and your children. My list is divided into three categories: monthly STEM kits, project-specific STEM kits, and how to make your own STEM kit. It's worth noting that the majority STEM kits are geared toward students in elementary school and up.
14 Best STEM Kits for Kids
1. KiwiCo Chemistry Kits


This chemistry kit is appropriate for ages 14+ years of age, and will keep teenagers off their smartphones and engaged in some cool hands-on learning. This kit contains an electrochemistry experiment, a fire laboratory, and a glow kit. Additionally, each kit contains all appropriate project materials and easy-to-follow instructions.
Read our full KiwiCo review to learn more.
2. Mel Science

If your child is interested in chemistry, the Mel Science chemistry subscription box is for them. Every month, they'll get 2 or 3 experiments centered on a common theme, all of which are meant to feed and inspire their love of science.
They'll even get a free VR headset in the first month that works with smartphones to make your children feel like they're working in a real lab! All of the required equipment, appropriate chemicals, and instructions are also included in the kit.
Mel Chemistry also has an app and website where you can find additional tools for learning how to use your monthly kits.
Despite the fact that all chemical experiments are guaranteed safe for children, parental oversight is always recommended.
Read our full MEL Science review to learn more.
3. Creation Crate

With an amazing range of electronics projects based on real Arduino micro-controllers, Creation Crate is a perfect STEM subscription box for children 12 years of age and older that are interested in the engineering and electronics side of STEM.
Step-by-step directions guide kids through the assembly of parts and the input of C++ code through some pretty cool projects, and online tutorials and resources keep it simple. Although the components can be soldered for long-term use, they are breadboard-based, which means that pieces are plugged in rather than soldered.
To learn more, read our in-depth Creation Crate review.
Creation Crate could be the right STEM kit for you if you've ever wanted to create a weather station or an optical security system with your kids.
Read our full Creation Crate review to learn more.
4. BitsBox


Bitsbox subscribers receive monthly programming activities that teach elementary school children how to program real-world software. The projects are completed online, and once they are done, the kids can interact with the app. It is not mandatory to have any previous coding experience. Bitsbox makes learning about coding exciting and interesting, and each project teaches a new coding ability.
Read our full BitsBox review to learn more.
5.Snap Circuits Jr.


Snap Circuits Jr. is an excellent STEM toy for young children who are only starting to discover circuits and electricity. It comes with 101 projects and an easy-to-follow guidebook with diagrams. Your child will enjoy assembling these projects, which begin with a simple light switch circuit.
They will learn about currents and how switches operate during this hands-on learning experience. The projects generate amusing warning sounds, music, and lights, as well as a spinning fan that can transform into a flying saucer! Additionally, it involves multi-person projects, including a racing game in which a pointer is spun by electricity. Snapping these bits on the board together is a satisfying achievement for everyone!
6. Gravitrax Starter Set + Expansion Packs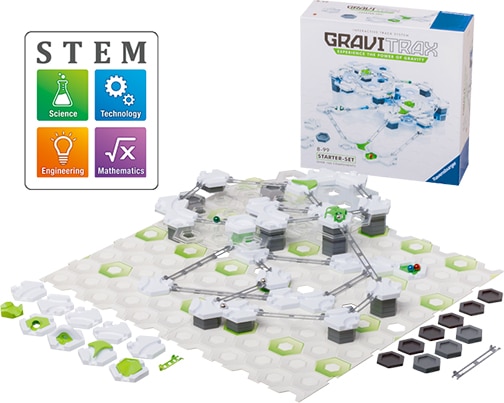 The Gravitrax Starter Set is a STEM kit disguised as a game for elementary students. It isn't exactly appropriate for a complete project-based education system, but it is an excellent addition to a physics or natural science lesson on gravity. It's an excellent way to get students interested in STEM concepts while also sparking discussions regarding physics, gravity, and also how height influences speed and potential energy. Students construct structures and paths for marbles to pass along using plastic parts. This STEM package features tracks, free falls, intersections, height-adjustable stacks, and even a cannon! This would be a great project for a person or a community.
Expansion packs are available to make the kit as big or as complex as you want it to be.
7. K'Nex 100 Model Building Set Engineering Toy
For STEM learning kits, nothing beats building toys, and one of the best comes from K'Nex, a brand widely known for its engineering sets. This fantastic kit includes 863 parts in a selection of shapes and colors.
It also includes an easy-to-follow instruction booklet that demonstrates how to construct various items such as vehicles, homes, helicopters, and more. K'Nex is special in that it enables children to create models of moving pieces. Additionally, it comes in a compact storage case for quick storage and organization.
8. LEGO MINDSTORMS Robot Inventor Building Set
A LEGO MINDSTORMS kit is a great choice for your child if they have a passion for inventions, ingenuity, and a creative mind. Your child can develop STEM skills when physically building, programming, and playing with remote-control robots that are able to fire rockets, drive, and play ball. This kit includes 1,000 unique LEGO parts, a smart Hub, four distinct motors, one color sensor, one distance sensor, and everything else necessary to build up to five distinct robots. The biggest robot stands just over 14" tall, making it an amazing robot friend to play with. Needless to mention, this collection is intended for children aged 10 and up.
9. Edison Robot
The Edison robot transforms learning into play by introducing children to computer coding and analytical thought in a friendly, hands-on way. This little robot sits in the palm of the hand and is filled with powerful features that even a four-year-old can understand. Edison is a perfect entry-level robot with a low price tag and a minimal footprint. Additionally, add-on building robotic kits are available to transform your robot into a number of devices. This gives you a lot of flexibility in terms of complexity, ingenuity, and sophistication. Edison will remain within your limits by drawing thick black lines, and placing a barcode in its way will prompt Edison to spin around after he comes across a black line. You can have a robot war by putting two Edison Robots within a boundary. Clapping can also be used to direct Edison: clap once to make it turn right, and twice to make it go forward. This practice teaches small children the fundamentals of coding so they begin to realize that clapping once or twice can be the code and that the Edison responds to unique instructions.
10. Weather Science Kit
The 4M Weather Science Kit makes for an excellent STEM gift for children, particularly those who want to be meteorologists or earth scientists. Via a series of hands-on tests, children will develop a deeper knowledge of meteorological phenomena and the water cycle. This kit is appropriate for children aged 8 and up.
11. Thames & Kosmos Wind Power
We cannot emphasize enough the importance of educating children about the benefits of clean, renewable energy. They will learn about wind power with this toy, but will also build their own 3 foot tall turbine and power a toy car with it. The package includes all of the components necessary to construct a turbine, that can be used successfully outside. Once the turbine was operational, we were able to conduct a set of experiments in which we altered the angle of the turbine's blades in order to increase its efficiency and generate more electricity. When the kids aren't engaging with the turbine, they will learn further about climate change by reading the book which arrives with the kit.
12. Mathlink Cubes
These bright cubes are ideal for practicing early math skills with young children. They can be used as counters, to group 10s and 1s, or to perform addition and subtraction. They could also be used to improve other skills such as color recognition, shape recognition, and pattern recognition.
They quickly snap together and remain together, while preschoolers can need adult assistance. There are guides about how to use them online, as well as several learning ideas.
13. PlayMags 3-D Magnetic Blocks
This colorful collection of 100 blocks can keep young kids occupied for hours. These blocks are solid and durable, allowing your builder to create whatever structure they want. This kit includes a 1 year guarantee and is designed to promote innovation and learning.
14. Kids First Robot Factory
It is not necessary to have programming skills to build your own robot. This is the Thames & Kosmos Kids First Robot Factory, which is excellent for introducing children to fundamental engineering concepts. The instruction manual is an interactive storybook that walks children through the process of creating eight separate battery-powered motorized bots. Children can also build their own creations, and as the story progresses, they can discover why every robot moves differently.
STEM Box Subscriptions for 5 to 8 Year Olds
For preschoolers, the number of options for STEM kits continues to grow. There are also subscription boxes for children that focus on crafts and painting.
For children in this age group, you should start looking at BitsBox. Although a parent may be required to assist a 5 or 6-year-old with some of the tasks, some children in that age group may have little difficulty completing the coding on their own. In our view, this should not be a problem for children aged 7 and up.
For much more in-depth information on each product, see our reviews of Kiwi Crate and BitsBox.
STEM Kit Subscriptions for kids 9 to 13 Years Old
This is, in my opinion, the tipping point for STEM box subscriptions. At this age, some kids will be ready to take on more conventional science, technology, and engineering problems. Others will continue to seek out experiences that place a greater focus on fun while remaining open to learning.
Little Passports has a comprehensive curriculum for this age group, in which each lesson builds on the previous. If you know the child you're thinking of is interested in science and technology, this is a perfect way to keep kids interested in the future.
BitsBox is a great option for students this age who are more interested in computers than other STEM fields. It enables even inexperienced programmers to easily build apps that do something other than print "Hello, World!" on a computer. Our sample box was diverse enough to keep a 8 year old occupied for hours.
It's an excellent choice for children who have moved past block-based languages such as Scratch and are ready to move on to type-based coding. The included cards provide enough hints for a child to discover for themselves how code can be changed to create a completely different game. If you're interested in programming but haven't yet learned a real programming language like Python, I highly recommend it.
The Atlas Crate is a monthly subscription gift box for kids who are interested in geography, history, and social studies. This is a product you can look into if you have a kid who is curious about different parts of the world and people who live there. It's fresh on the market, but as we described in our hands-on analysis, it's piqued the interest of geography enthusiasts.
Tinker Crate places a greater focus on engineering learning as part of STEM education. This is an excellent gift for a child who enjoys Legos but wishes they could do more. Although it is recommended for ages 9 and up, our 8 year old had a lot of fun with his mom helping him create Hydraulic Claw project. This is an excellent idea for a child who enjoys robotics or who wishes to hold something in their hand that they can use when they are done with the STEM activities.
Conclusion
The best STEM kits for children encourage kids to discover the world in a playful, hands-on manner. They can, ideally, capitalize on existing interests and provide opportunities for children to learn and develop in a stress-free atmosphere. These fun and interesting gift ideas range from STEAM engineering and chemistry sets to DIY kits, and are sure to resonate with the child's topics of interest.