The Best External Hard Drives Under $200
The Best External Hard Drives Under $200
If you're looking into the purchase of an external hard drive then chances are you want to back up your computer, or have a way to easily store data to move between one or more locations. Whatever your reasons, we're going to assume that you're on a budget and offer a list of the best external hard drives for your money. We're also going to keep all of the options under $200, because chances are that if you wanted to spend more than that, you'd just buy another computer or a server.
The Buffalo Drive Station DDR 3TB External hard drive is one of the best options you will see, but it barely makes the list because sometimes it is priced above $200. However, you can get the 3TB version for as little as $156 if you shop smart. Why would you want it? It's one of the fastest and most advanced options you'll find and features 1GB of dedicated RAM to speed up transfers and improve the built in tools, as opposed to the average 32-64mb offered by most drives.
The Western Digital My Book is a good, sturdy basic option that you can use with Mac or Windows. The 4TB drive from WD typically runs at around $199, but if you shop on Amazon, it's usually listed between $140-$170. You can also choose a smaller amount of storage for less month, but when you're getting 4TB for under $200, why would you have to. My Book is compatible with Apple's Time Machine and does include security, remote wipe, and some models offer wireless storage. What's the catch? It's almost the same size as a Mac Mini.
SeaGate is one of the biggest names in external hard drives and you can typically own one for less than $75. It's one of the best budget external drives out there, and it's fast, reliable, and great for moving around. The BackUP Plus starts at $219 for a 4TB drive, but you can get it for as little as $180 on Amazon. You can also choose to go with the 3TB for $160, or the 2 TB for $119. It's also small, stylish, and portable.
The Western Digital Passport is another great budget external drive to consider. While the maximum size is 2TB with an average retail value of $179, you can get this for as low as $119 on Amazon. The My Passport includes cloud backup so that you can backup your computer from the cloud, and set it to automatic downloads. However, the Passport is also great to travel with if you want to store photos on it.
Lenovo ThinkPad Secure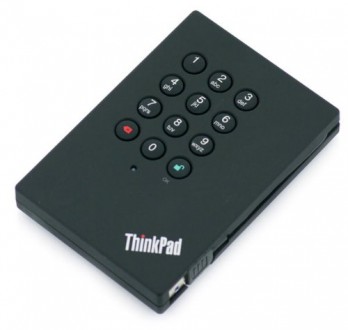 The Lenovo ThinkPad Secure only offers 750GB for $199, but it also offers a unique security option that you won't see anywhere else. Each drive features a keypad on the side, where you can enter a combination. Any data you put on the drive cannot be accessed until you enter that code. If you have really important or sensitive information (such as business plans or etc.) then this is a great option, otherwise it's just a bit too much money for what is an 'extra' feature.
If boring stuff is not for you, then the Fantom GreenDrive is. This drive features a solid aluminum body, decaled side, and 2TB of space for $99-$179 depending on where you shop. As you may have guessed from the title, it's also ecofriendly.
La Cie is the name in stylish hard drives and if you want something modern, they have a number of options under $200. However, as the "price for what you get", is a bit higher than most of the other options on this list, we're going to leave out most of the stylish hard drives and talk about their ugly one. The La Cie Rugged 1TB may be low on storage room, but it's also one of the fastest, most durable options you'll find anywhere. If you travel a lot, have small children who like to throw things, or are afraid that your hard drive might be run over by a bus, this is the option for you.
Tips
If you want a good hard drive but don't' want to spend a lot of money, consider not buying in stores. Most online stores like Amazon discount products as much as 20-40%, just because they don't have to charge stocking fees (like hiring sales people, keeping lights on, and renting a store), so they can afford to charge less. Generally Amazon.com is the safest place to purchase because you can see reviews and they have a good warranty. You can also try eBay, BestBuy.com, or a number of other slightly smaller electronics stores for deals.