Best Computer Speakers Under $50
Best Computer Speakers Under $50
Computer speakers are a must if you like music or prefer to use your computer to watch movies but don't necessarily want to use a pair of headphones, or rely on the typically low quality built in speakers present in most monitors. Chances are, you also don't want to spend a great deal on your speakers, unless you happen to be an audiophile. For now, we'll just assume that you prefer spending less, which is why this article is focusing on the best computer speakers under $50.
Altec Lansing VS2621 1 2.0 Channel Speaker System
If you're buying speakers for sound quality then the Altec Lansing VS2621 are not the best option on the list because they offer somewhat flat bass, but they are one of the most stylish speakers under $50. They feature a medium sound level that you can easily listen to from right in front of your computer, but not around the entire house, and multiple audio inputs so that you can plug in radio, stereo, CD players, and mp3 players without ever unplugging from your computer. With an average price tag of $49.99, they also fit neatly into the under $50 category.
Cyber Acoustics Subwoofer Satellite System – CA-3602a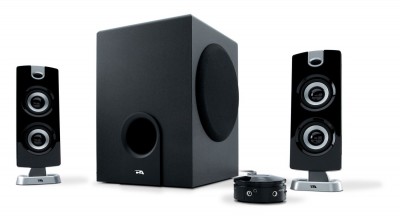 Cyber Acoustics is actually one of the best brands available if you want decently priced computer speakers, and they do have a few that are under $50. While they also have cheaper models, the CA3602a is the best for the money, and at $49.99 it's still half of a hundred bucks. What do you get for the money? A three piece speaker system with two 2 inch magnetically shielded speakers and a 5.25 inch subwoofer with acoustic wood balancing. You also get a desktop control with audio output, an auxiliary jack for headphones. You also get good quality bass, a decent amount of volume, and a sound range that is almost ridiculous for the price. In fact, they are one of the best user reviewed computer speakers out now, which is saying something.
Satechi Dual Sonic Speaker 2.0
The Satechi Dual Sonic Speaker 2.0 is a small, silver set of speakers that you can usually get for under $30. The speakers are USB powered, which is ideal if you have limited power plugs, feature inline volume control, with a wide audio range including quality bass. The speakers are quite small which is great for small areas, but they are not extremely loud. However, they are a great bargain for the money, and offer fabulous sound for the size. However, they are not your best option if you need them for heavy use.
Edifier M1250 USB Multimedia Speakers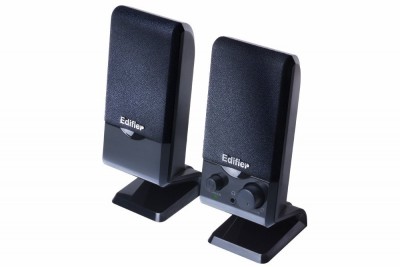 The cheapest speakers on this list are the Edifier M1250, which retail for just $21.41 and under. These speakers don't offer really great sound quality, but it is quite good for the price. The speakers are USB powered, magnetically shielded, a relatively durable design, and a relatively low-volume. While not ideal for listening to high quality music, they are perfect for listening to most movies, or for watching videos. They're also hard to beat on price.
Genius Hi-Fi Wood Speakers (SP-HF500A)
Genius is another great brand for computer speakers and you almost cannot go wrong with anything from their line. The Hi-Fi Wood Speakers, model SP-HF500A are the only model under $50, and one of the more traditional styles. The Genius feature wood sides, 14 watt RMS, line in buttons, and a tone button. The speakers are ideal for listening to music with high bass, clear sound, and a lot of power. They also have an inline jack for connecting a second audio source. If you want to play music, but don't care about having modern looking speakers, these are the way to go.