Automotive Safety Technology – DOT Launches Test of V2V Security
Automotive Safety Technology – DOT Launches Test of V2V Security
What is V2V? It could be the most important automotive safety technology of the future, if tests go right. The DOT (Department of Transportation) has just launched a year-long test including nearly 3,000 cars, trucks and busses to test out V2V communications. V2V (Vehicle to vehicle) is a new, WiFi like communications system that will allow vehicles to send messages to each other.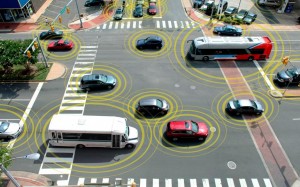 Automotive Safety – DOT Launches Test of V2V
In the world of Automotive Safety technology, there have been no real major breakthroughs since the addition of motion sensors in the front and rear of cars to warn drivers when they approach too close to an object. Before that, the seatbelt, air bags and cushioned paneling were about as close to automotive safety technology as anyone could get.
But now, the DOT in association with the University of Michigan's Transportation Research Institute (UMTRI), are conducting a test (based in Michigan)of V2V technology that will last approximately one year.
Automobiles from Ford, Nissan, Hyundai, Chevy and other major auto corporations have all been donated and are being used in the test; that will hopefully reduce the number of accidents for the year. If the test is successful, this automotive safety technology will be implemented into all new manufacture cars as early as next year.
How the V2V Automotive Safety Technology Works
In the same way that a BlueTooth connection allows a user to connect to any device within range, the V2V automotive safety technology allows drivers to 'connect' to other cars as they drive by. The cars pick up a WiFi like signal, allowing them to communicate in order to realize dangers and etc. A computer on board each V2V vehicle analyzes the data, allowing the car to warn drivers of potential road hazards.
Some of the possible hazards that have worked out during tests include warnings for potential rear end collision, blind intersections and even lane changing.
The test also includes the installation of sensors on road signs, so that cars can automatically notice their presence and warn the driver to adjust.
NHTSA Administrator David Strickland says, "Vehicle-to-vehicle communication has the potential to be the ultimate game-changer in roadway safety – but we need to understand how to apply the technology in an effective way in the real world,"
The test automotive safety technology test launched by the DOT this year is the largest ever in history. While the technology is relatively new, it is very clear that much is expected of it.
This launch of the 'model' or 'real life' test is the second phase of V2V technology testing. The first involved showing volunteers what the technology could do in a private clinic. Most drivers exposed to this new automotive safety technology were extremely positive about it, many quoting that they are looking forward to its implementation in real vehicles.
Is DOT Automotive Safety Technology Worth It?
Currently the V2V automotive safety technology has a budget of some 25 million dollars. Many people might be concerned about the use of the funds, considering the very obvious lack of them in many other areas. However; most experts believe that the funds are being well spent. More than 32,000 people died in the U.S in 2011 alone due to car crashes, and 1 in 52 Americans is likely to be involved in a car accident each year. As a result, this automotive safety technology could save thousands of lives.
Studies show that only 36 percent of car related deaths are due to drunk driving, meaning that at least 80% of the remaining 64% of deaths can be saved with this technology.
"Many significant advances in roadway safety resulted from the collaborations between government, industry, and academia," says Gregory D. Winfree, RITA Deputy Administrator. "The deployment today is the culmination of years of cooperative research on forward-thinking technology designed to save lives and prevent injuries on America's roads."
The automotive safety technology test has been launched, and will hopefully provide good results in the following year. If so, we could see cars equipped with V2V technology as early as the end of 2013!
For more tech news, subscribe to our RSS feed. For updates on tech how to's, computer information, Mac updates and game reviews, bookmark us in your browser and come back often!